About
Trade a day of your city life with us. Join for half a day in the morning or afternoon to learn about the cuisine and food culture of Bali.
Start with a visit to the morning market to see day to day life of countryside people interact in the traditional market. We will have a chance to taste and sample some local tropical fruit or family recipe cake during our visit.
As part of our farm cooking school, we proudly cultivate our own exotic organic vegetation. Upon arrival, you will be given a tour around our organic farm and learn how a Balinese family expertly uses the natural resources surrounding them to create a self-sustaining farm.
The fresh ingredients you pick from this very field will be used to prepare your favourite dishes in your Balinese cooking school later on.
Our kitchens are spacious and well equipped. You will learn about the herbs and spices used, interesting myths behind them, and of course how to cook them.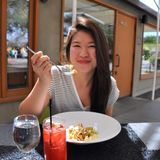 Expert Tips
by Cat Lau

Food Writer · Trained Cook · Hungry Traveler
"
This is a special cooking class for those who are interested in seeing the beautiful countryside of Ubud and spending time in a relaxing organic farm.
"
What I liked: I really enjoyed being surrounded by so much greenery! It's special to be so deep in nature, especially while you're in Ubud. I also enjoyed that we cooked and learned all the dishes and made them all by hand in a relaxing environment.
What to know: This cooking class offers vegan and vegetarian classes and I would highly recommend this class to anyone with a special interest in organic produce.
Good for: People into the slow and natural life
How to get there: Pick up and drop off is offered by the cooking school.
Select 8 Dishes
Pesan Be Pasih (fish dumpling)
Tum Ayam (chicken dumpling)
Be Pindang Mebase Tomat (salted cooked fish with tomato sauce)
Sate Lilit Ayam (traditional chicken kebab)
Sate Lilit Babi (traditional pork kebab)
Sate Manis (sweet kebab with pieces pork meat)
Sate Serapah (chicken satay with liver sauce)
Lawar Celeng (mixed vegetable and pork salad)
Timbungan (pork bone soup)
Gerang Asem Bali (chicken bone soup)
Nasi Goreng (Balinese fried rice)
Bebek Megoreng (deep fried duck)
Lawar Be Siap (mix vegetable with chicken)
Lawar Kalungah (young coconut salad)
Jukut Undis (black peas soup)
Ayam Pelalah (Balinese shredded chicken)
Ayam Panggang Sere Tabia (grilled chicken with chili sauce)
Be Tutu Ayam (slow cooked chicken)
Babi Kecap (pork in sweet soy sauce)
Jukut Nangka (young jackfruit soup)
Jukut Ares (young banana trunk soup)
Jukut Pusuh Biu (soup of banana flower)
Jukut Paku Mekalas (wild fern salad)
Pesan Wong (mushroom dumpling)
Babi Genyol (slow cooked pork)
Select 1 Sambal
Sambal Matah (fresh shallot and chili sambal)
Sambal Ulek (tomato and chili sambal)
Sambal Mbe Goreng (deep fried shallot and chili sambal)
Select 1 Dessert
Godoh Biu (fried banana with coconut)
Biu Lalung (boiled coated banana with flour)
Bubuh Sumsum (rice flour porridge with palm sugar)
Kolak Pisang (sweet stewed banana)
Kue Dadar Gulung (roll cake fill with coconut and palm sugar)
Sumping Waluh (sweet flour and pamkin dumpling)
If you are interested in Cooking Class with Market&Organic Farm Tour please here
If you are interested in 7-Dishes-Cooking Class please click here
Free pick up from the hotels in Ubud Center area. Please add your hotel address in the comments. If your hotel is located outside of the Ubud area, the meeting point is at the front of Ubud Food Court (front of Sens Hotel on Jalan Sukma No. 1, Banjar Tebesaya, Ubud) at 07:30 (morning class) or 12.30 (afternoon class).
*50K IDR for the transportation outside Ubud area*
You will receive the confirmation of your booking's availability within 24 hours. Once confirmed, please present your booking reference number at the cooking school.
Full refund will be issued for cancellation made at least 48 hours prior to the activity