Free pick-up included
Instant booking: get your confirmation immediately after booking
---
About
Your day will start with a 1 hour guided tour to the Kuta traditional Market to learn about how to choose your herbs and spices. During the market visit, you will also learn about our rich local culture. After the market visit you will enjoy a Balinese breakfast and snacks.
Before the class, our chef will explain how ingredients are used to cook in the traditional Balinese way. You will then be taught how to cook using traditional techniques and utensils. With the assistance of our professional cooking teachers you will be taught how to prepare a complete menu based on Balinese recipes.
The classes ends with the tasting of the dishes you prepared which will be accompanied by traditional hibiscus tea and a Balinese rice wine.
---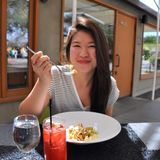 Expert Tips
by Cat Lau

Food Writer · Trained Cook · Hungry Traveler
"
This is a big cooking class where you take turns cooking, but do all the prep in individual stations.
"
What I liked: Cooking as a group made the cooking class easy and fun to go through.
What to know: Good for large groups.
Good for: People interested in a mix of hands-on cooking and cooking demonstrations.
How to get there: Pick up and drop off is offered by the cooking school.
---
Included Highlights
All ingredients
Bailanese rice wine
Certificate
Hibiscus tea
Market tour
Recipe booklet
Traditional bailanese breakfast
---
Schedule
Morning class
8:00 am: Market tour
9:00 am: Introduction to Balinese recipe
9:30 am: Cooking class
12:00 pm: End of the course, enjoy dishes you've made.
---
If you are interested in Cooking a Balinese Meal please click here
Monday & Thursday:
Grilled Fish in Banana Leaves
Balinese Beef Satay (Charcoal Grilled Beef Sticks)
Chicken Curry
Spinach in Tomato-Chilli Sambal
Balinese Gado-Gado (Vegetable Salad with Peanut Dressing)
Balinese Nasi Goreng (Fried Rice)
Carrot & Cucumber Salad
Fresh Sambal (Spicy Sauce)
Green Pancakes with Coconut
Black Rice Pudding
Tuesday & Friday:
Beef in Balinese Sauce
Grilled Fish
Fried Noodles
Fried Rice
Balinese Chicken Satay (Charcoal Grilled Chicken Sticks)
Roasted Eggplant Sambal
Tofu Fritters
Bean & Coconut Salad
Bubuh Sumsum (Rice Pudding)
Pisang Rai (Banana and Coconut Bites)
Wednesday & Saturday:
Fish Curry
Shredded Spiced Beef
Chicken Satay (Charcoal Grilled Chicken Sticks)
Fern Lawar (Mixture of Vegetables, Coconut, Fern, Herbs and Spices)
Sweet Corn Patties
Fragrant Yellow Rice
Fried Rice
Fruits in Coconut Milk
Fried Banana
Hibiscus Tea
---
Additional Information
Pickup Option
Pick up service from your hotel within Kuta. Please write the address of your hotel in the booking page.
---
Confirmation
Book now and receive your confirmation instantly. Please present your booking reference number at the cooking school.
Cancellation
Full refund will be issued for cancellation made at least 48 hours prior to the activity