About
For the more adventurous, we offer an amazing exploration of Bangkok's historic landmarks, where you'll experience the true feel of Thailand, before heading to a bustling food market to follow the guide/chef and discover the ingredients that you'll need for the cooking class later in the day! The Combo Class truly lets you experience the sights, sounds and smells of this vibrant country!
Once you've learned about all the ingredients you'll start your biking tour through the city. You'll be visiting many of the main attractions in the city including Chinatown, flower & vegetable markets, Princess Mother Memorial Park, Wat Prayoon, Wat Kalayanamitr, Wat Arun and Chao Phraya with your bike.
After the tour, you'll head back to the school and prepare some of the key items before heading up into the brilliantly-equipped kitchen to cook up a storm! Under the clear guidance of the talented chefs you'll take note and bring the items together deftly to create some fantastic flavors and experiences that you'll cherish for a lifetime!
Get fully involved in the biking and cooking, safe in the knowledge that our team will be following closely and taking photos, which will be sent to you at the end of the tour/class through e-mail, along with the recipes of the day!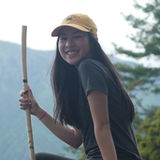 Expert Tips
by Bebe Phornprapha
"
The experience of cooking Thai food with such a helpful and passionate chef is as equally fun and delicious as eating the food itself.
"
What I liked: Passionate attitude of instructor: Good cooking in Thailand is everywhere. However, a passionate instructor is rare. Our instructor was not only full of knowledge, but was also able to explain any questions about the ingredients that we used in our cooking. Whatever level of experience that you have in the kitchen, the instructor was able to provide help and useful guidance in helping us cook one of the best Thai meals we've ever had.
What to know: Morning classes include a market tour where we were able to see the raw ingredients that went into our cooking. After every dish that we cooked, the entire group would eat the meal together, which allowed us to get to know the other members in our cooking class.
Good for: Family, friends, and singles. Whatever form of group you go in, the instructor will give you the guidance to cook your meal.
If you are interested in Cooking Class with Market Tour please click here
Monday & Saturday:
Kao Phad Goong (Fried Rice Shrimp)
Poh Piah Thod (Deep Fried Spring Rolls)
Tom Kha Gai (Chicken in Coconut Soup)
Pha Neang Gai/Moo (Chicken/Pork Curry)
Khaw Neaw Mamuang (Sticky Rice with Mango)
Tuesday & Sunday:
Gai Pad Med Ma Muang (Chicken with Cashew Nuts)
Tom Yum Goong (Spicy Sour Shrimp Soup)
Som Tam (Green Papaya Salad)
Pad Pak Bung Fai Dang (Stir Fried Morning Glory)
Kluai Buad Chee (Banana in Coconut Milk)
Wednesday:
Pad Thai (Fried Noodles)
Geang Khew Waan Gai (Green Curry with Chicken)
Pad Pak Ruam Mit (Thai Mix Vegetables)
Yum Woonsen (Glass Noodle Salad)
Khaw Meaw Mamuang (Sticky Rice with Mango)
Thursday:
Yum Woonsen (Glass Noodle Salad)
Pad See Uw (Stir Fried Flat Noodle)
Poh Piah Tor (Deep Fried Spring Rolls)
Massaman Curry (Massaman Curry with Chicken and Potato)
Khaw Neaw Mamuang (Sticky Rice with Mango)
Friday:
Laab Kai (Minced Chicken Salad)
Pha Neang Gai/Moo (Chicken/Pork Curry)
Pad Thai (Fried Noodles)
Som Tam (Green Papaya Salad)
Khaw Neaw Mamuang (Sticky Rice with Mango)
If you are interested in Exotic Food Cooking Class please click here
You will receive the confirmation of your booking's availability within 24 hours. Once confirmed, please present your booking reference number at the cooking school.
Full refund will be issued for cancellation made at least 48 hours prior to the activity