About
Choose between making sushi, bento box or a Japanese main dish in this class. We will teach you how to prepare Japanese food the way that locals eat it. Learn how to prepare these meals with us in a private little kitchen in the middle of Tokyo. You will learn the basics of Japanese food, seasonings, and table customs in a warm, friendly atmosphere.
---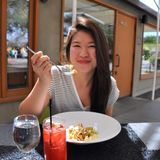 Expert Tips
by Cat Lau

Food Writer · Trained Cook · Hungry Traveler
"
Intimate cooking class in Mayuko's little kitchen!
"
What I liked: Mayuko has so many cute and whimsical objects in her kitchen that she uses for cooking. We were also given delicious tea before we started our cooking class.
What to know: Mayuko's cooking class is just a 5 minute walk to Shinjuku Gyoen Park. Take a beautiful stroll to walk off your meal after the class.
Good for: Families and those looking for a personal cooking class.
How to get there: Mayuko will meet you at Sendagaya metro station.
---
Included Highlights
All ingredients
Every day dishes
Intro to japanese customs
Seasonal side dishes
Small group
Starwars bento box
Sushi workshop
---
Schedule
Morning Class:
10:00 am: Introduction to sushi, bento and Japanese main dishes
10.30 am: Cooking class
13:00 pm: End of course, enjoy dishes you've made
Evening Class:
17:00 pm: Introduction to sushi, bento and Japanese main dishes
17.30 pm: Cooking class
20:00 pm: End of course, enjoy dishes you've made
---
Japanese Dish Options:
Japanese Dumplings (Gyoza)
Okonomiyaki
Teriyaki Chicken
Salmon and Vegetable in Foil
Lotus Root and Pepper Stuffed with Minced Pork
Crispy Tempura
Chicken Karaage
Ginger Pork
Japanese Curry
Teriyaki Yellowtail
Mushroom Hot Pot Rice
Seafood Hot Pot Rice
Pickled Plum and Young Sardines Hot Pot Rice
Bento Box Options:
Regular Bento Box
Panda Bento Box
Star Wars Bento Box
Sushi Options: (Including a seasonal side dish and Miso Soup)
Regular Sushi
Vegan/Vegetarian Sushi
If you are interested in Two Dishes Class please click here
---
Additional Information
Meeting Point
Meeting point is at JR Sendagaya station (in front of the ticket machine)
---
Confirmation
You will receive the confirmation of your booking's availability within 24 hours. Once confirmed, please present your booking reference number at the cooking school.
Cancellation
Full refund will be issued for cancellation made at least 48 hours prior to the activity