About
Washoku Club provides courses for Sushi, Tempura, Sashimi, Wagashi and home-cooking. Cooking classes are held at the chef's home. As classes are small and have a homey atmosphere, feel free to participate even as an individual. All of these courses will take you to the amazing world of Washoku.
---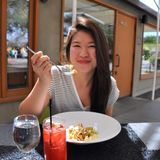 Expert Tips
by Cat Lau

Food Writer · Trained Cook · Hungry Traveler
"
Learn how to make Japanese food from a professional chef!
"
What I liked: Furuya-san's focus on what he is teaching inspired me to really learn all the tricks so that I would be able to make it at home after the class. He made sure that I got all the techniques down before moving on to the next step in the cooking class!
What to know: Furuya-san was a chef in a restaurant for many years and he knows all the best techniques to make restaurant-quality food in a home kitchen.
Good for: Anyone interested in focusing on nailing Japanese cooking techniques with sushi, sashimi, tempura, or wagashi.
How to get there: Short walk from Fujimidai or Shimoigusa metro station.
---
Included Highlights
3 types of japanese dessert
3 types of sushi
All ingredients
Essentials of household cooking
Make sushi rice
Tempura tips & tricks
---
Schedule
Sunday and Saturday
1:00 pm: Cooking Class
1:30 pm: Demonstration by chef
2:00 pm: Let's cook
3:00 pm: Eating
Monday to Friday
8:00 pm: Cooking Class
8:30 pm: Demonstration by chef
9:00 pm: Let's cook
10:00 pm: Eating
---
Please pick one of these menus below:
Sushi course:
Futomaki Sushi
Temari Sushi
Oshi Sushi
Dashimaki Tamago
Miso Soup
Sushi rice
Tempura:
Tempura of the seasonal ingredients
Rice
Miso Soup
Home-Cooking:
A basic arrangement of a Japanese meal (called "Ichiju-Sansai")
consisting of one kind of soup
one main dish and two side dishes
Wagashi:
Nerikiri (unbaked cake)
Matcha mousse (green tea mousse)
Kuzukiri (noodle made from arrowroot starch)
---
Additional Information
Meeting Point
401GOU TAKIZAWABILL 1-4-1 MINAMITANAKA NERIMAKU TOKYO 177-0035
15 min walk from Fujimidai Station 20 min walk from Shimoigusa Station
---
Confirmation
You will receive the confirmation of your booking's availability within 24 hours. Once confirmed, please present your booking reference number at the cooking school.
Cancellation
Full refund will be issued for cancellation made at least 48 hours prior to the activity