About
Fruit carving is believed to have originated in central Thailand several hundred years ago. One account describes the art beginning with a royal servant who wanted to create a more visually pleasing decorative raft during the Loi Kratong festival.
Since its beginning, fruit carving has been immensely popular during various periods of Thai history including present day. Our one day course teaches students the essential foundation of this historically and signifcant art form, covering a number of different Thai designs.
---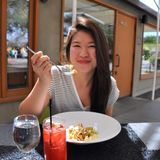 Expert Tips
by Cat Lau

Food Writer · Trained Cook · Hungry Traveler
"
Another way to make art out of food! This is an intensive class on traditional fruit and vegetable carving. You will learn a rare and important art in Thai culture.
"
What I liked: This class starts with the introduction of fruit carving, and you will feel comfortable with this new skill by the end of the class. The teacher is very attentive and patient and will always be there to guide you through every step.
What to know: This is a 6 hour class completely dedicated to fruit and vegetable carving.
Good for: Those who want to acquire this rare skill.
Best way to get there: Go to Ratchathewi BTS station and the get on a motorbike that should cost you 100 baht to Khaosan.
---
Included Highlights
All ingredients
Basic fruit carving
Complex carving
Intricate designs
Photography
---
Schedule
From Monday to Sunday
2:00 pm: Basic Leaf & Flower design
2:30 pm: Complex & intricate Floral design
3:15 pm: Watermelon Flower
4:15 pm: Small Floral designs (continued)
4:45 pm: Animal Fruit carvings
5:30 pm: Photography session and discussion
6:00 pm: End of course
---
Apple design
Carrot design
Cucumber design
Pumpkin design
Watermelon design
If you are interested in Vegan/Vegetarian Thai Cooking Class please click here
If you are interested in Vegan/Vegetarian Thai Cooking Class (Express) please click here
---
Additional Information
Meeting Point
Meet at the cooking school
---
Confirmation
You will receive the confirmation of your booking's availability within 24 hours. Once confirmed, please present your booking reference number at the cooking school.
Cancellation
Full refund will be issued for cancellation made at least 48 hours prior to the activity