About
Washoku Club provides courses for Sushi, Tempura, Sashimi, Wagashi and home-cooking. The cooking classes are held at the chef's home. As classes are small and have a homey atmosphere, feel free to participate as an individual. All of these courses will take you to the amazing world of Washoku.
---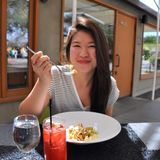 Expert Tips
by Cat Lau

Food Writer · Trained Cook · Hungry Traveler
"
Learn how to make Japanese food from a professional chef!
"
What I liked: Furuya-san's focus on what he is teaching inspired me to really learn all the tricks so that I would be able to make it at home after the class. He made sure that I got all the techniques down before moving on to the next step in the cooking class!
What to know: Furuya-san was a chef in a restaurant for many years and he knows all the best techniques to make restaurant-quality food in a home kitchen.
Good for: Anyone interested in focusing on nailing Japanese cooking techniques with sushi, sashimi, tempura, or wagashi.
How to get there: Short walk from Fujimidai or Shimoigusa metro station.
---
Included Highlights
All ingredients
Basic knife workshop
How to cut sashimi
Picking fresh fish
Sashimi arrangement
---
Schedule
1:00 pm: Cooking Class
1:30 pm: Demonstration by chef
2:30 pm: Let's cook
3:00 pm: Eating
---
Specially-Selected Sashimi
Arajiru (fish soup)
Rice
If you are interested in Sushi, Tempura, Wagashi Class with Private Local Chef please click here
If you are interested in Tsukiji Market Tour with Cooking Class with a Sushi Chef please click here
---
Additional Information
Meeting Point
Meet at the cooking school
---
Confirmation
You will receive the confirmation of your booking's availability within 24 hours. Once confirmed, please present your booking reference number at the cooking school.
Cancellation
Full refund will be issued for cancellation made at least 48 hours prior to the activity