About
In this private home-style Japanese class, you see how the Japanese culture, lifestyle, and food look like closely with the guide and chef. The dishes you will learn is the dish that Japanese has in every day. You will learn to create your own Japanese dish. We offer a different menu on a different day so you can decide what dish you prefer. In all dishes, we will discuss the history and the story behind that become a dish of Japanese. You would be totally surprised at the variety of food you cook, but eventually, you would feel very close to Japan.
---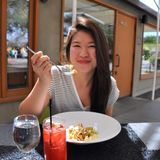 Expert Tips
by Cat Lau

Food Writer · Trained Cook · Hungry Traveler
"
Meet a passionate home-cook who wants to share Japanese culture and food with you!
"
What I liked: Meeting Sato-san was my highlight! He welcomed us into his home kitchen and shared everything that he knows about preparing Japanese staples like miso soup and rice. He shared his mother's homemade miso with us and showed us how to properly make miso soup from start to finish. Sato-san was so excited to share his rice burger recipe with us because he wants travelers to experience this local favorite! His recipe was also extremely delicious!
What to know: Take the class with the tour! That would be my biggest tip. Exploring Tokyo's hidden gems with Sato-san will give you an unforgettable experience.
Good for: People interested in getting to know Tokyo and Japanese food with a local.
How to get there: Shinjuku metro station.
---
Included Highlights
Alcohol available with extra charge
All ingredients
Home cooking
Japanese junk food
Private class
---
Schedule
Morning class:
10:25 am: Meeting at the Shinjuku Station East Exit Police Box (Koban)
10:30 am: Introduction to Japanese home-style dishes
11.00 am: Cooking class
1:00 pm: End of course
Evening class:
5:55 pm: Meeting at the Shinjuku Station East Exit Police Box (Koban)
6:00 pm: Introduction to Japanese home-style dishes
6:30 pm: Cooking class
8:30 pm: End of course
---
Sunday, Monday, Tuesday
Teishoku (Japanese set meal included main, soup, rice, and pickles)
Donburi (Japanese Rice Bowl dish with meat, fish, and vegetable simmered)
Obento ( Japanese lunch box)
Tonjiru and Rice Ball (Miso soup with pork and vegetable)
Wednesday, Thursday, Friday
Japanese Snack, Pop and Junk Food (Okonomiyaki, Riceburger, Kara-age, Yakisoba, Gyoza, Ramen)
Saturday
Temaki-Sushi (self-hand-rolled-sushi) or Bara-chirashi (sushi rice/fish bowl)
Alcohol (Beer/Sake) available with an extra charge of 500JPY
The menu changes depending on the day of the week. We'll cook one of the menus with 2 to 4 items and afterward,
---
Additional Information
Meeting Point
The meeting point is at the East Exit of JR Shinjuku Station (in front of Police room: KOBAN)
Meeting time: Morning class: 10:30 AM / Evening class: 6 PM
---
Confirmation
You will receive the confirmation of your booking's availability within 24 hours. Once confirmed, please present your booking reference number at the cooking school.
Cancellation
Full refund will be issued for cancellation made at least 48 hours prior to the activity