このクラスについて
Traditional Japanese cuisine, known as "washoku".
If you have an interest in Japanese cuisine 'Washoku' cooking is the easiest way to get closer! By joining us, you'll learn not just about the recipes and the methods but also the history and the stories related to Japanese cooking. Our cooking classes are suitable for anyone who loves Japanese food and culture!
You will learn about why wagyu beef is so tasty, how kaiseki meal developed.
---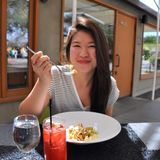 専門家からのヒント
by Cat Lau

Food Writer · Trained Cook · Hungry Traveler
"
A very hands-on class where we made everything from start to finish by ourselves! This means that we really learned by listening to our instructor and using our recipes to guide us.
"
What I liked: We learned how to make so many dishes! I loved how our instructor, Aya-san, taught us everything with ease. She made it seem so simple. Our cooking stations were also always organized and clean with the help of the team at Cooking Sun!
What to know: You will learn the about the history and the philosophy of Japanese food during the class as you cook each dish.
Good for: People interested in food and culture.
How to get there: Short walk from Yotsuya-sanchome or Shinanomachi
---
このクラスに含まれる注目ポイント
Appitizer to dessert
Intro to japanese cuisine
Japanese luxury cuisine
Wagyu beef prep
Welcome tea
---
スケジュール
Morning Class:
9:30 am: Introduction to Japanese cooking
10:00 am: Cooking class
12:00 pm: Taste Japanese dishes you've made
12:30 pm: The end of the class
---
===Autumn and Winter Menu (October 2019 to February 2020)===
Accordion Cucumber Salad (蛇腹きゅうりの酢の物)
Gomamiso-ae potate - Sesame & Miso sauce (じゃがいものごま味噌和え)
Dashimaki tamago - Rolled Egg- (だし巻玉子)
Grilled stuffed Lotus roots (レンコンのはさみ焼き)
Wagyu Sukiyaki (和牛すき焼き)
Dashi Based Clear Soup (お吸い物)
Sweet potato rice (さつまいもご飯)
Daifuku Mochi with Japanese chestnut (栗大福)
* Please inform us regarding any dietary requirements upon booking.
If you are interested in Sushi Class please click Here
---
追加情報
集合場所
Meet at Cooking Sun Tokyo(Shinanomachi 18, Shinjuku-ku, Tokyo).
Show this to taxi driver: Cooking Sun Tokyo, 住所:東京都新宿区信濃町18 マヤ信濃町2番館 314号室, 電話:03−6380−6028
---
確認
24時間以内にお客様のご予約状況確認をお受け取りいただけます。一度確認された場合、クッキングスクールにてお客様のご予約参照番号をご提示ください。
キャンセル
Full refund will be issued for cancellation made at least 48 hours prior to the activity