---
このクラスについて
In this version of our vegetarian cooking class, we offer you a market tour along with our organic farm visit. Pemulan Bali is one of the newest cooking and eating place on the island. The location is north of Ubud (around 30-40 minutes drive). Our farm is based on a community project to preserve organic farms and contribute to local people in the village.
---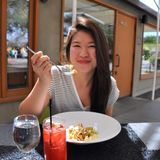 専門家からのヒント
by Cat Lau

Food Writer · Trained Cook · Hungry Traveler
"
This is a special cooking class for those who are interested in seeing the beautiful countryside of Ubud and spending time in a relaxing organic farm.
"
What I liked: I really enjoyed being surrounded by so much greenery! It's special to be so deep in nature, especially while you're in Ubud. I also enjoyed that we cooked and learned all the dishes and made them all by hand in a relaxing environment.
What to know: This cooking class offers vegan and vegetarian classes and I would highly recommend this class to anyone with a special interest in organic produce.
Good for: People into the slow and natural life
How to get there: Pick up and drop off is offered by the cooking school.
---
このクラスに含まれる注目ポイント
7 dishes
All ingredients
Hands on cooking
Local market tour
Organic farm visit
Picking fresh ingredients
Recipe book
Vegetarian vegan option
---
スケジュール
Everyday schedule
7:15 am: Pickup at your hotel (or meet at Ubud Meeting Point at 7:40 am if you stay outside Ubud)
8:00 am: Local market tour
8:45 am: Arrive at our farm school and organic farm tour
9:45 am: Introduction and coffee or tea is served
10:00 am: Cooking session 1 and tasting
11:30 am: Cooking session 2 and tasting
1:00 pm: Dessert session and time to enjoy your dish
1:45 pm: End of the cooking class and ready to go back to Ubud
2:30 pm: Back in Ubud
---
If you are interested in 7-Dishes Cooking Class please click here
Regular Class
Base Gede (Traditional spices paste)
Sayur Urab (Mix green salad with coconut and spice)
Opor Ayam (Balinese Chicken curry)
Sate Lilit (Traditional Balinese Kebab made with Pork meat and Balinese spice)
Tuna Sambal Matah (Tuna with raw sauce)
Tempe Asam Manis (Sweet Sour Temple)
Black Rice Pudding or Pisang Goreng (Our Banana fritters with coconut and melted palm sugar)
Vegetarian Class
Base Gede (Traditional spices paste)
Gado Gado (Steamed veggies with peanut sauce)
Bamboo Shoot Tum (Young bamboo shoot wrap in the banana leaf)
Bergedel (Fried corn with Balinese spice)
Opor Temple – Tofu (Balinese curry)
Tempe Asam Manis (Sweet Sour Temple)
Black Rice Pudding or Pisang Goreng (Our Banana fritters with coconut and melted palm sugar)
If you are interested in Advanced Cooking Class please click here
---
追加情報
送迎オプション
If your hotel is located outside of the Ubud area, the meeting point is at the front of Ubud Food Court (front of Sens Hotel on Jalan Sukma No. 1, Banjar Tebesaya, Petulu, Ubud) at 07:30. Free pick up from the hotels in Ubud Center area. Please add your hotel address in the comments. If your hotel is located outside of the Ubud area, the meeting point is at the front of Ubud Food Court (front of Sens Hotel on Jalan Sukma No. 1, Banjar Tebesaya, Ubud) at 7:30. *50K IDR for the transportation outside Ubud area*
---
確認
24時間以内にお客様のご予約状況確認をお受け取りいただけます。一度確認された場合、クッキングスクールにてお客様のご予約参照番号をご提示ください。
キャンセル
Full refund will be issued for cancellation made at least 48 hours prior to the activity