课程介绍
Are you enjoying your staying in Thailand? Enjoying the local cuisine? Want to learn how to make the delicious Thai food that you've tried during your holiday? Then let Lemongrass Cooking School show you how to make simple and authentic Thai dishes in a friendly environment with our experienced English speaking, Thai cooking instructor Tatsani. Come and have fun with us!
---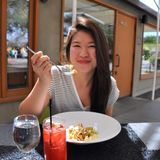 专家指南
by Cat Lau

Food Writer · Trained Cook · Hungry Traveler
"
You will see Khaosan in a completely new way when you walk around with Kaew on the way to the market. The menu that we cooked was from Kaew's family's recipe. A quick visit to a rice paper factory is included, something you would never see if you were exploring Khaosan by yourself.
"
What I liked: She will show you the backstreets and the secret local markets that you will miss if a local didn't show you around. The market is as local as it gets. About 6 families come together and sell what they buy from the wholesale flower market nearby. Kaew's helpful tips on Thai cooking are also very insightful.
What to know: This is a simple cooking school in the Khaosan area.
Good for: Backpackers staying near Khaosan
How to get there: National Stadium BTS and then take a taxi or tuk tuk to Khaosan.
---
特色项目
All ingredients
Area tour
Cook 6 dishes
Halal applicable
Hotel pick up in khao san area
Local market tour
Recipes
Rice paper factory
---
日程表
Morning Class
8:45 am: Market Tour
9:00 am: Learn how to make 6 dishes
1:00 pm: End of Class
Afternoon Class
1:00 pm: Learn how to make 6 dishes
5:00 pm: End of Class
---
Tom Yum Kung (Spicy Thai Soup with Shrimp) or Tom Kha Kai (Chicken Galangal Soup)
Pad Thai (Thai Fried Noodles)
Massaman Curry (Chicken Peanut Curry)
Green or Red curry paste
Fried Chicken with Cashew nuts
Deep Fried Spring Rolls
Peanut Sauce
Mango Sticky Rice (dessert)
---
更多信息
集合地点
在烹饪教室集合
---
确认
您将在24小时内收到您的预订确认信息。确认之后, 请在烹饪学校出示您的订单号。
取消预订
Full refund will be issued for cancellation made at least 48 hours prior to the activity