---
About
All classes are conducted in English by Balinese chefs fully conversant with Balinese cuisine and culture in a relaxed, friendly atmosphere in our beautiful kitchen- garden. Locally grown and sourced ingredients. Experience authentic coconut-oil processing plus learn to make a simple offering. Discover Balinese family life by exploring Laplapan village, chatting with local farmers and residents or by touring our temple.
Recipes and notes supplied for you to keep. Your choice of meat or vegetarian dishes.
Read more +
---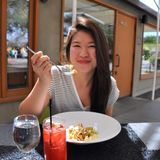 Expert Tips
by Cat Lau

Food Writer · Trained Cook · Hungry Traveler
"
An easy breezy cooking class for those who are more interested in a fun basic cooking class.
"
What I liked: It was a very organized class and the food was delicious.
What to know: You cook as a group and combine everything in the same pan at the end. It is then taken to the kitchen to fine-tune and serve as a buffet for the whole group for lunch.
Good for: People looking to meet like-minded traveling foodies.
How to get there: Pick up and drop off is offered by the cooking school.
Read more +
---
Included Highlights
All ingredients
Bailanese tea & coffee
Certificate
Fresh market tour
Pickup drop off service
---
Schedule
Visit to a Traditional Ubud Fresh Market
Cooking Class
Degustation of your dishes
Read more +
---
Kolak Biu Kolak Pisang (Boiled banana in palm sugar syrup)
Base Gede Bumbu Kuning (Basic Yellow Sauce)
Kuah Wong Sup Jamur (Clear Mushroom & Vegetable Soup)
Be Siap Mesanten, Kare Ayam (Chicken in Coconut curry)
Pepesan Be Pasih , Pepes Ikan (Steamed Fish in Banana Leaves)
Jukut Urab (Coconut and snake bean salad)
Sate Siap Sate Lilit Ayam (Minced chicken grilled on Bamboo Sticks)
Tempe Me Goreng
Tempe Kering (Deep Fried Tempe in Sweet Soy Sauce)
Kacang Me Santok
Gado Gado (Vegetables in Peanut Sauce)
Read more +
---
Additional Information
Pickup Option
Free pick up at 3pm and Drop-Off at Ubud area. We charge extra Rp 400,000 per car including return from Kuta, Legian & Seminyak and Rp 450,000 from Canggu.
Please write your hotel address in the booking page.
---
Confirmation
You will receive the confirmation of your booking's availability within 24 hours. Once confirmed, please present your booking reference number at the cooking school.
Cancellation
Full refund will be issued for cancellation made at least 48 hours prior to the activity