About
At Sompong Thai Cooking School, you will find that we use only the freshest ingredients purchased that day. You too will get to pick your own exotic fruits and vegetables and take in all the sights and smells when we visit the local market. There are always an abundance of new things to see.
We change our menu daily, but we always select popular Thai dishes for you to learn how to make from scratch. By the end of our cooking class, you will know how to make your favorite Thai dishes from start to finish.
---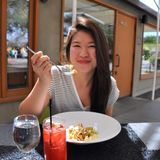 Expert Tips
by Cat Lau

Food Writer · Trained Cook · Hungry Traveler
"
Engaging and entertaining! Irene explained a lot without overwhelming us. It is a comfortable, warm and cozy place to spend your time. The class is mostly demonstrations and we prepared dishes in groups but cooked individually. There was also some time for a little fruit carving!
"
What I liked: It's a warm and friendly environment that makes you feel welcomed and comfortable. The recipes came in a little booklet- a nice souvenir to bring home!
What to know: This class is fun and everything is done with some group effort, which can be good for families and friend groups.
Good for: Good for groups and families
Best way to get there: Station Chong Nonsi BTS (Skytrain) and meet your group at exit 3.
---
Included Highlights
4 dishes
All ingredients
Bts meeting point
Fruit carving
Local market tour
Recipe book
Welcome drink
---
Schedule
Morning Class:
9:00 am: Meeting point at BTS Chongnonsri - Exit 3
9:40 am: Welcome Drink and Small Snack
9:45 am: Market Tour *Only for Morning Session
10:15 am: Cooking Session
1:00 pm: Lunch
2:00 pm: End of session
Afternoon Class:
2:45 pm: Meeting point at BTS Chongnonsri - Exit 3
3:00 pm: Welcome drink and small snack
3:30 pm: Cooking Session
6:30 pm: Dinner
7:00 pm: End of session
---
*Vegetarian dishes are available upon request. If you have any special requirements or allergies please let us know when you book.
Monday:
Green Chicken Curry+ Paste (Kang Keaw Wan Gai)
Stir Fried Chicken with Cashew Nut (Gai Pad Met Muang Himapan)
Thai spicy mixed friuts salad (Tam Polamai)
Egg Custard in Pumpkin (Sangkaya Fakthong)
Tuesday:
Chu Chee Curry with Prawn
Red Curry Paste (Nam Prik Gang Daeng)
Chicken Galangal in Coconut Milk Soup (Tom Kha Gai)
Pomelo Salad (Yum-Som-O)
Mango and Sticky Rice (Khao Niaw Mamuang)
Wednesday:
Panaeng Chicken Curry+ Paste (Panaeng Gai)
Thai Papaya Salad (Som Tam Thai)
Phad Thai
Golden Banana in Syrup (Kluay Kai Chuam)
Thursday:
Yellow Chicken Curry+ Paste (Gaeng Karee Gai)
Spicy Prawns with Lemongrass Salad (Yum Ta Krai Kung)
Stir Fried Noodles with Chicken (Phad See Ew)
Mango and Sticky Rice (Khao Niaw Mamuang)
Friday:
Chicken Massaman Curry+ Paste (Gaeng Massaman)
Chicken Fried Rice (Khao Phad Gai)
Spicy Prawn Soup (Tom Yum Kung)
Pumpkin in Coconut Milk (Fak Thawng Kang Buat)
Saturday:
Prawns Curry with Pineapples (Kang Kua Supparod)
Red Curry Paste (Nam Prik Gaeng Daeng)
Stir Fried Basil Chicken (Phad Krapao Gai)
Spicy Thai Omelette with Herb Salad (Yum Kai Samunprai)
Mango and Sticky Rice (Khao Niaw Mamuang)
Sunday:
Chicken Red Curry (Kang Phed Gai)
Red Curry Paste (Nam Prik Gang Daeng)
Stir Fried Prawns with Tamarind (Kung Phad Sauce Makham)
Northern Spicy Chicken with Mint (Laab Gai)
Mango and Sticky Rice (Khao Niaw Mamuang)
---
Additional Information
Meeting Point
Meeting point is at BTS Station Chong Nonsi - Ext 3
---
Confirmation
You will receive the confirmation of your booking's availability within 24 hours. Once confirmed, please present your booking reference number at the cooking school.
Cancellation
Full refund will be issued for cancellation made at least 48 hours prior to the activity