About
Imagine yourself cooking on the mezzanine in the late afternoon with a local Thai chef who has experiences cooking Thai food around the world at the old Bangkok. Chef Alyssa will share with you her signature Chicken Massamun recipe and you will leave the class with skills that help define Thai food culture. All menus can be made Vegetarian/Vegan.
---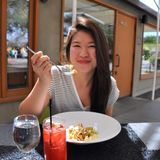 Expert Tips
by Cat Lau

Food Writer · Trained Cook · Hungry Traveler
"
Learn to cook with an experienced restaurant chef and master the art of wok cooking in a private class. Alyssa will teach you Thai recipes that she has adapted and created herself.
"
What I liked: I learned recipes that had personality and showed me a different way to cook Thai food. I enjoyed picking herbs and edible flowers from Alyssa's home garden to use in our cooking.The fried edible flowers that she made into a "som tum" was beautiful and creative. She doesn't just teach you how to cook Thai food, but to put your own personality into the food that you cook.
What to know: The cooking class is at Alyssa's house, which is roughly a 30 minutes drive from Bang Wa BTS station. Alyssa will pick you up and show you suburban Bangkok. We saw a few temples and stopped at a local market.
Good for: The curious cook who is already familiar with Thai food. People interested in private classes.
Best way to get there: Alyssa will pick you up from Bang Wa
---
Included Highlights
All ingredients
See the bangkok flower market
Vegetarian and vegan applicable menu
---
Schedule
2:00 pm: Meeting at Thanachart Bank if you come by taxi/ Starbucks if you come by boat
2:15 pm: Introduction for 4 menus (flower snack, salad/soup, curry, stir fried dish/dessert)
2:30 pm: the market experience
3:40 pm: Back to cook salad/soup
4:20 pm: 10 mins break to taste
4:40 pm: Food preparation for curry and last dish
5:00 pm: Cooking 2 dishes
6:00 pm: Finish cooking
---
Monday
Thai herbs mixed wrap in lotus petals, Thai sweet and sour sauce
TodManPla: fish cakes with prawn and fish, curried patties
TomKaGai: Chicken, coconut, creamy soup
Paneang Moo: Red pork curry
Tuesday
Thai herbs mixed wrap in lotus petals, Thai sweet and sour sauce
Prawn banana flower salad with chili jam and coconut dressing
Massaman curry beef with sweet potatoes and peanuts
Chicken drunken noodle with holy basils, green peppers and wild gingers
Wednesday
Thai herbs mixed wrap in lotus petals, Thai sweet and sour sauce
Tom Yam Pla: Thai fragrant soup with snake-head fish
Thai green curry laksa: green curry chicken with Thai fermented noodle
Assorted Thai steamed cakes: lotus stems, Thai melon, and pumpkins
Thursday
Thai herbs mixed wrap in lotus petals, Thai sweet and sour sauce
Three flavors fish: deep fried fish nuggets with sweet, sour, and spicy sauce
Chicken Jungle curry with red curry broth, green peppers, finger ginger and holy basils
Thai pumpkin custard
Friday
Thai herbs mixed wrap in lotus petals, Thai sweet and sour sauce
Pla Ghoong: Spicy ceviche prawn with lemongrass, chili jam, lime, and sawtooth coriander
Kao Soy: egg noodle with northern style Thai curry broth and chicken thigh
KaNomBaiToey: Thai coconut mini muffin with pandan juice and coconut ssugar
---
Additional Information
Meeting Point
We are hidden away on the 2nd floor (mezzanine floor) of the main Yodpiman Flower Market building. This is the building between the main road and Yodpiman River Walk (the newer restaurant / shopping area by the river) and they will be selling a lot of flowers used for offerings. The easiest way to get to us is to take the river ferry and get off at Pak Klong Talad pier (pier N6/1). You can get the local orange flag ferry (15THB - runs from early morning) or the blue flag tourist ferry (40THB – first boat is 9am). If you are staying near a skytrain station you can get the Skytrain to Saphan Taksin and then the ferry.
When you get off the ferry you will be in Yodpiman River Walk and need to walk into the main flower market/ you can wait at Starbucks and we will come and pick you up. If you take a taxi (or Uber), please keep in mind that the traffic can be bad and it can take longer than expected.
If you take a taxi or need to ask someone for assistance you can also show this instructions in Thai.
ปากคลองตลาด จอดหน้าธนาคารธนชาติ, Bank Thanachart, and we can come and pick you up.
---
Confirmation
You will receive the confirmation of your booking's availability within 24 hours. Once confirmed, please present your booking reference number at the cooking school.
Cancellation
Full refunds will be issued for cancellations made at least 48 hours prior to the activity