Thanks for dropping by Cookly! Get ready to experience food cultures like never before.

Cookly is the leading online booking platform for cooking classes all over the world. We connect foodies and travellers with local professional chefs and established cooking schools in major culinary destinations across the world. Learn how to roll Sushis in Tokyo, cook a Pad Thai in Bangkok, or even taste red wines in the middle of a French vineyard. Choose from over 500+ cooking classes in 60+ destinations globally.

So get ready to embark on your next culinary adventure. Just enter code HOSTEL10 at checkout and redeem your 10% off on a cooking class. This exclusive offer is part of a brand partnership with Hostelling International. Valid until 30th Sept'19.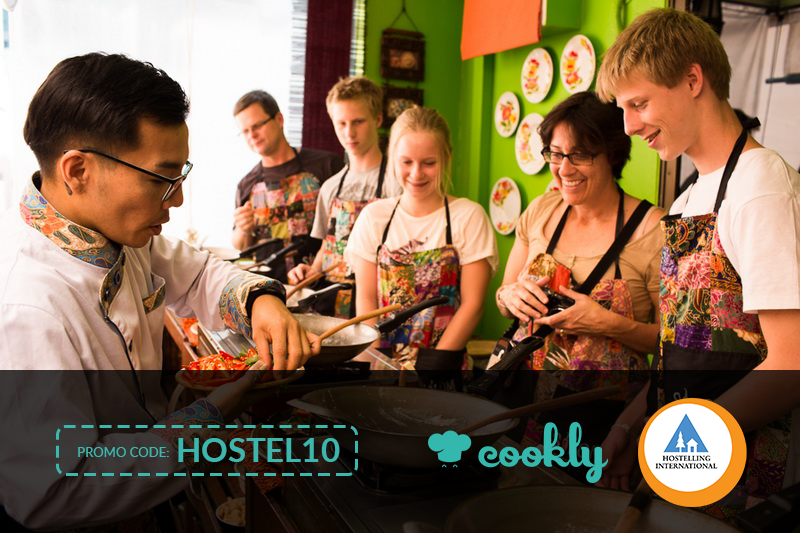 Terms and Conditions for 10% off:
Discount will apply 10% off on one cooking class booked through Cookly
Code HOSTEL10 must be entered at checkout to apply 10% discount
Discount will only be applied to bookings made directly at www.cookly.me
Discount cannot be used in conjunction with any other discount and does not apply to voucher purchases
Full payment is required at time of booking
Cannot be combined or used in conjunction with any other offers
Cookly booking conditions apply
By booking you are agreeing to be subscribed to our mailing list