---
About
Balinese Cuisine is one of the most complex cuisines in the world. Using an incredible variety of spices, blended with the freshest vegetables, meat and fish, eating real Balinese food is an unforgettable cultural experience, and our Balinese Chef is very honored to welcome you personally to our Cookery Class and to share with you the secret of Balinese cuisine.
Discover the intricate flavours and culinary traditions of Balinese cuisine during this hands-on cooking class. Learn to prepare 3 different dishes, and then savour your meal in a serene setting with your chef.
---
If you are interested in Cooking Class with Fish Market Tour please click here
Monday, Wednesday, Friday & Sunday:
Lawar Salad (Green Bean, Fresh Coconut & Chicken Salad)
Tum Ikan (Steamed Fish in Banana Leaves)
Dadar Gulung (Coconut Pancake with Palm Sugar and Coconut Split)
Tuesday, Thursday & Saturday:
Jukut Gedang Mekuah (Young Papaya Soup with Seafood)
Sate Lilit Ayam (Chicken Satay on Lemongrass Stick & Steamed Rice)
Godoh Biu (Balinese Fried Banana)
Vegetarian Menu:
Gado-Gado (Vegetable Salad with Peanut Dressing)
Pepes Tahu (Steam Bean Curd in Banana Leaves)
Godoh Biu (Balinese Fried Banana) or Bubur Injin (Balinese black rice pudding)
---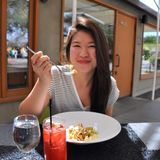 Expert Tips
by Cat Lau

Food Writer · Trained Cook · Hungry Traveler
"
This is the class for you if you are interested in all the details of how to cook delicate Balinese dishes.
"
What I liked: You can take a private cooking class at The Amala with a knowledgeable chef.
What to know: This is a very hands-on class and you will chop everything yourself, with the chef's help. You will leave the class saying that you can cook Balinese food from scratch.
Good for: People looking to take a private class where all the chef's attention is on them.
How to get there: Pick up and drop off is offered by the cooking school.
---
Schedule
Morning class:
11:00 am: Meet the Chef
11:30 am: Cooking class
1:00 pm: Lunch
1:45 pm: End of course
Afternoon class:
4:00 pm: Meet the Chef
4:30 pm: Cooking class
6:00 pm: Dinner
6:45 pm: End of course
---
Included Highlights
Apron gift
Certificate
Vegetarian option applicable
Welcome drinks
---
Additional Information
Pickup Option
Free pick up from Seminyak, Legian and Kuta area. Please write your address in the Booking page.
Confirmation
You will receive the confirmation of your booking's availability within 24 hours. Once confirmed, please present your booking reference number at the cooking school.
Cancellation
Full refund will be issued for cancellation made at least 48 hours prior to the activity