このクラスについて
In this private home-style Japanese class, you see how the Japanese culture, lifestyle, and food look like closely with the guide and chef. The dishes you will learn is the dish that Japanese has in every day. You will learn to create your own Japanese dish. We offer a different menu on a different day so you can decide what dish you prefer. In all dishes, we will discuss the history and the story behind that become a dish of Japanese. You would be totally surprised at the variety of food you cook, but eventually, you would feel very close to Japan.
This tour also included a short walk after lunch. You will see many attraction places with an explanation from the guide closely. You can ask about anything you want to know about Japan. This is the special cooking class and walks tour for you. This is how you spend time in Japan with friend and family.
---
Saturday, Sunday, Monday, Tuesday
Japanese set meal(rice, traditional soup, main dish, 2 more seasonal vegetable dishes)
Wednesday, Thursday, Friday
Ramen/Gyoza, Kara-age, Okonomiyaki,Yakisoba, Curry rice(katsu curry rice), Rice burger, etc
Alcohol (Beer/Sake) available with an extra charge of 500JPY
The menu changes depending on the day of the week. We'll cook one of the menus with 2 to 4 items and afterward,
we'll have a walking trip which already included.
※※※For vegetarian or guluten free→If you are vegetarian or gluten free, I can accept your booking from more than one person(In this case, the class will be private, so please find 3 seats available).
---
Teachers Profile
Get to know your instructors for this class.
---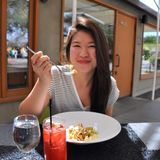 専門家からのヒント
by Cat Lau

Food Writer · Trained Cook · Hungry Traveler
"
Meet a passionate home-cook who wants to share Japanese culture and food with you!
"
What I liked: Meeting Sato-san was my highlight! He welcomed us into his home kitchen and shared everything that he knows about preparing Japanese staples like miso soup and rice. He shared his mother's homemade miso with us and showed us how to properly make miso soup from start to finish. Sato-san was so excited to share his rice burger recipe with us because he wants travelers to experience this local favorite! His recipe was also extremely delicious!
What to know: Take the class with the tour! That would be my biggest tip. Exploring Tokyo's hidden gems with Sato-san will give you an unforgettable experience.
Good for: People interested in getting to know Tokyo and Japanese food with a local.
How to get there: Shinjuku metro station.
---
スケジュール
10:25 am: Meeting at the Shinjuku Station East Exit Police Box (Koban)
10:30 am: Cooking class
12:30 pm: End of course and eating
1:00 pm: Walking Tour by 3PM
---
このクラスに含まれる注目ポイント
Alcohol available with extra charge
All ingredients
Home cooking
Japanese junk food
Private class
Walking tour
---
追加情報
確認
24時間以内にお客様のご予約状況確認をお受け取りいただけます。一度確認された場合、クッキングスクールにてお客様のご予約参照番号をご提示ください。
キャンセル
Full refund will be issued for cancellation made at least 48 hours prior to the activity