このクラスについて
Washoku Club provides courses for Sushi, Tempura, Sashimi, Wagashi and home-cooking. Cooking classes are held at the chef's home. As classes are small and have a homey atmosphere, feel free to participate even as an individual. All of these courses will take you to the amazing world of Washoku.
---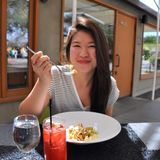 専門家からのヒント
by Cat Lau

Food Writer · Trained Cook · Hungry Traveler
"
Learn how to make Japanese food from a professional chef!
"
What I liked: Furuya-san's focus on what he is teaching inspired me to really learn all the tricks so that I would be able to make it at home after the class. He made sure that I got all the techniques down before moving on to the next step in the cooking class!
What to know: Furuya-san was a chef in a restaurant for many years and he knows all the best techniques to make restaurant-quality food in a home kitchen.
Good for: Anyone interested in focusing on nailing Japanese cooking techniques with sushi, sashimi, tempura, or wagashi.
How to get there: Short walk from Fujimidai or Shimoigusa metro station.
---
このクラスに含まれる注目ポイント
3 types of japanese dessert
3 types of sushi
All ingredients
Essentials of household cooking
Make sushi rice
Tempura tips & tricks
---
スケジュール
Sunday and Saturday
1:00 pm: Cooking Class
1:30 pm: Demonstration by chef
2:00 pm: Let's cook
3:00 pm: Eating
Monday to Friday
8:00 pm: Cooking Class
8:30 pm: Demonstration by chef
9:00 pm: Let's cook
10:00 pm: Eating
---
Please pick one of these menus below:
Sushi course:
Futomaki Sushi
Temari Sushi
Oshi Sushi
Dashimaki Tamago
Miso Soup
Sushi rice
Tempura:
Tempura of the seasonal ingredients
Rice
Miso Soup
Home-Cooking:
A basic arrangement of a Japanese meal (called "Ichiju-Sansai")
consisting of one kind of soup
one main dish and two side dishes
Wagashi:
Nerikiri (unbaked cake)
Matcha mousse (green tea mousse)
Kuzukiri (noodle made from arrowroot starch)
---
追加情報
集合場所
401GOU TAKIZAWABILL 1-4-1 MINAMITANAKA NERIMAKU TOKYO 177-0035
15 min walk from Fujimidai Station 20 min walk from Shimoigusa Station
---
確認
24時間以内にお客様のご予約状況確認をお受け取りいただけます。一度確認された場合、クッキングスクールにてお客様のご予約参照番号をご提示ください。
キャンセル
Full refund will be issued for cancellation made at least 48 hours prior to the activity