If you're a foodie, you probably tend to frequent restaurants known for their culinary delights and creative flavor combinations. Perhaps you eagerly read Saveur magazine looking for the newest tastes to explore and enjoy.
But did you know that many major cities have vibrant and exquisite street foods? While you may think of street food as limp hot dogs being served out of warm water, if you know where to go, you can eat like a king.
Let us be your guide. Here are 10 of the best cities in the world for street food lovers.

There is mouth-watering street food everywhere in Bangkok, and the food you'll find depends on the time of day you go on the prowl.
During breakfast you'll find a lot of sweet soy milk and beancurd being consumed. Over lunch you'll catch the fragrant odors of rice and poached chicken. If you're a night owl, you've got dozens of options, from pad Thai to grilled satay.
You'll see roasted chickens and ducks, papaya salads, crispy fried mussels, catfish, deep-fried pork belly, and hundreds of other options that will satisfy all of your street food cravings.
Basil, garlic, and chili are used liberally here, but a serving of mango and sticky rice can easily help you manage the spicy food that you come across.
It's a food lover's dream.
Here's a sample of the sites and sounds you'll encounter:
2.
New Orleans, Louisiana

New Orleans sits at a unique juncture in the United States. It's a melting pot of people with French, Cajun, Italian, and African cultures swirling together to create complexity in music and food.
At lunch time treat yourself to red beans and rice, or a steaming bowl of jambalaya. Top it off with a generous serving of andouille sausage and buttered French bread. Maybe you're in the mood for something a little more exotic, like pho noodles or taquerias.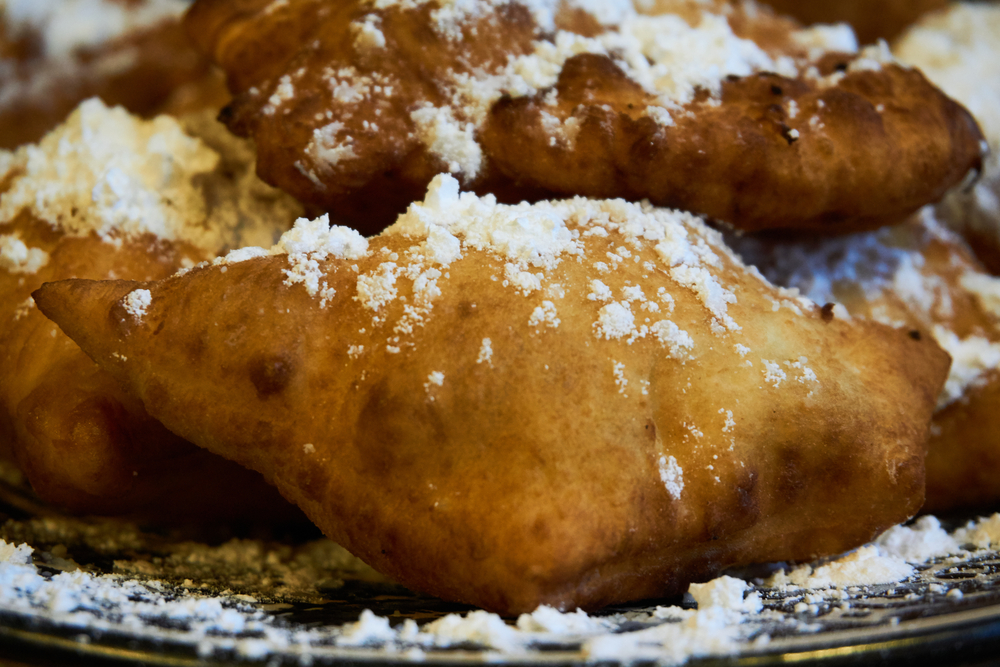 A plate of beignets
For dinner, dive into a plate fried alligator or catfish. For desert, scarf down some beignets followed by a fragrant Cafe Au Lait at the Cafe Du Monde. Don't forget to sample some crawfish while you're in the area!

The unique blend of cultures in Durban results in delectable street foods that will make any foodie's mouth water. Zulu, Indian, and white South African tastes and flavors come together, creating some very interesting dishes.
There is literally something for everyone. If you're a vegetarian, head on over to Little Gujarat for their Durban "bunny chow". You'll bite into a hollowed out half-loaf of bread filled with curry.
If you're in the mood for something freshly grilled, make your way to Afro's Chicken, a beachside grill with an ocean view.
And, of course, if you're a wine connoisseur you'll certainly find a vintage to your liking.
If you want to know how to make your own Durban bunny chow, here's a simple guide (note: this isn't the vegetarian version):

There are few cities better for food than Tokyo. With more Michelin-starred restaurants than anywhere else in the world, the city is clearly a culinary mecca for discerning palettes.
Of course, you'll be able to secure some outstanding sushi while you're there, but you'll discover much more than this.
If you're in the mood for a beer, you can get one right out of the numerous street vending machines (clearly something other countries could learn).
At Tsukiji (translates to "seafood heaven") you'll find a smorgasbord of sashimi samples, raw oyster, and nigiri rolls of incredible size.
If you follow the local businessmen, you'll find them lining up to purchase bento boxes, which are a standard staple in Tokyo.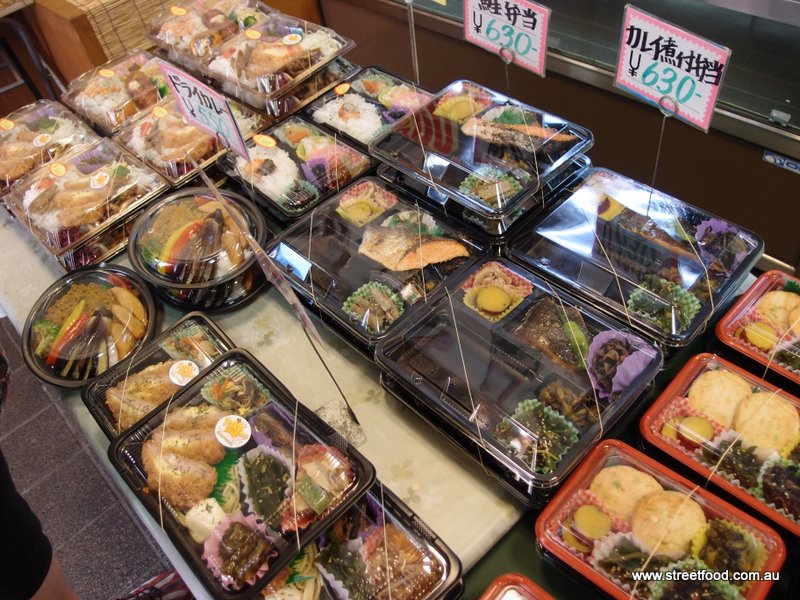 Bento boxes for sale
And during street festivals, vendors craft mouth-watering pancakes which you won't want to miss out on.
It truly is a food paradise.

Because of its unique location in the Pacific, Hawaiian food is a beautiful blend of tastes from the United States, Asia, the Philippines, and Latin America.
If you're hungry for something a bit light, consider eating poke (pronounced "poh-kay"). This salad, which is typically prepared with raw tuna or octopus, is infused with flavors of everything from kimchi to cerviche.
If you're in a food truck mood, head over to Kamehameha Highway and sample the fare provided by the various vendors. Giovanni's Shrimp Truck serves a shrimp dish that is to die for, Opal Thai serves up authentic pad Thai, and Mike's Huli Huli Chicken creates delectable chicken treats.
When it's time for dessert, grab a Hawaiian rainbow shaved ice.

When it comes to the perfect "fusion" cuisine, Turkey comes first. The blend of eastern and western flavors come together harmonically in the beautiful city of Istanbul. The result is a glorious array of tastes, flavors, smells, and cultures.
As you walk the streets, you'll smell simit cooking, which is like a bagel and pretzel combined.
Durum wraps can be found anywhere, and lahmacun, a Turkish pizza covered in minced beef, lamb, and peppers, will satisfy your deepest hunger. The pistachio flavored Turkish ice cream compliments any meal, satisfying that sweet craving that comes after dinner.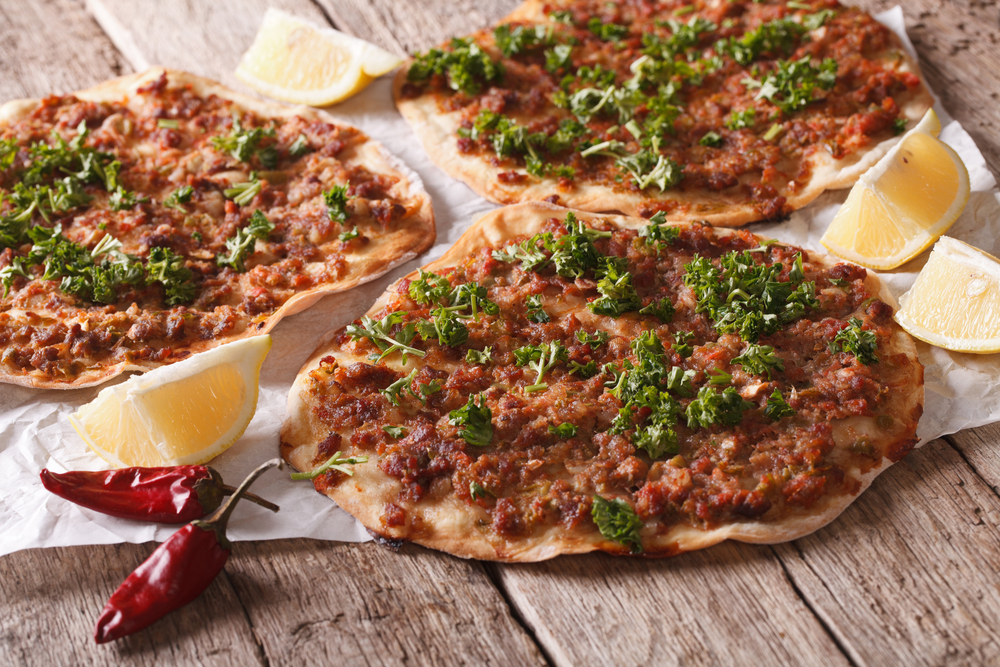 Lahmajoun
The city's close proximity to the sea makes seafood widely available. Balik ekmek sandwiches, which contain grilled mackerel, greens, onions, and a dash of lemon will hit the spot for any seafood lover.
If you want something a bit more exotic, try kokoreç, which is spitted lamb intestines. Yum!

Marrakech is simply incomparable in terms of street food options. The quality and diversity is staggering, and every night delicious smells waft through the air.
As you walk through the streets, you can satisfy your thirst with freshly squeezed fruit juices, whet your appetite with snail soup, and then dive into a sheep head. If you're a pastry person, you can enjoy a meloui, which is a type of pancake often filled with savory foods like spicy onion.
And for your sweet tooth, the options are endless. Stacks of high-caloric cookies and pastries can be purchased everywhere.
For a deeper dive into the street food of Marrakech, here's an amazing short documentary:
8.
Rio de Janeiro, Brazil

Though some food in Rio de Janeiro may be a bit expensive, you can fill up on street food.
If you're just in the mood for a snack, you'll definitely want to sample some pão de queijo, which are warm balls of cheese bread.
Then head on down to the beach and sample fried pastel pastries, cheese roasted to order, and skewered shrimp.
If you're a meat lover, Rio de Janeiro will be your heaven. There are dozens of multi-meat kebab vendors, and you can gorge to your heart's delight.
Finally, you can finish your meal with the superfood, acai.
The city may not have been the best venue for the Olympics, but it is a fantastic destination when it comes to food.

We'd be remiss if we didn't include at least one city from mainland United States. We could have included New York or Chicago, but Portland truly has embraced the street food culture. Every day, there are an estimated 400-700 food carts on the street, creating an huge variety of culinary options.
The carts, which are often grouped together in pods, serve everything from Ethiopian cuisine to steak fries to lobster rolls. You can snag some octopus balls, a fried pie, a burrito, and hand churned ice cream in one run.
If you're in the mood for a waffle cone stuffed with pulled pork, that's on the menu too. If you happen to be from Chicago and are hankering for a hometown hot dog, you can also get a Chicago-style dog.
Frankly, it's pretty hard to beat Portland.

If you love jerk chicken, you must make your way to Kingston. The chicken is always cooked over charcoal and green pimento wood, both of which infuse the chicken with a distinct smoky flavor. The meat is rubbed with all-spice and Scotch bonnet pepper, and the whole meal is usually served with a side of peas and rice.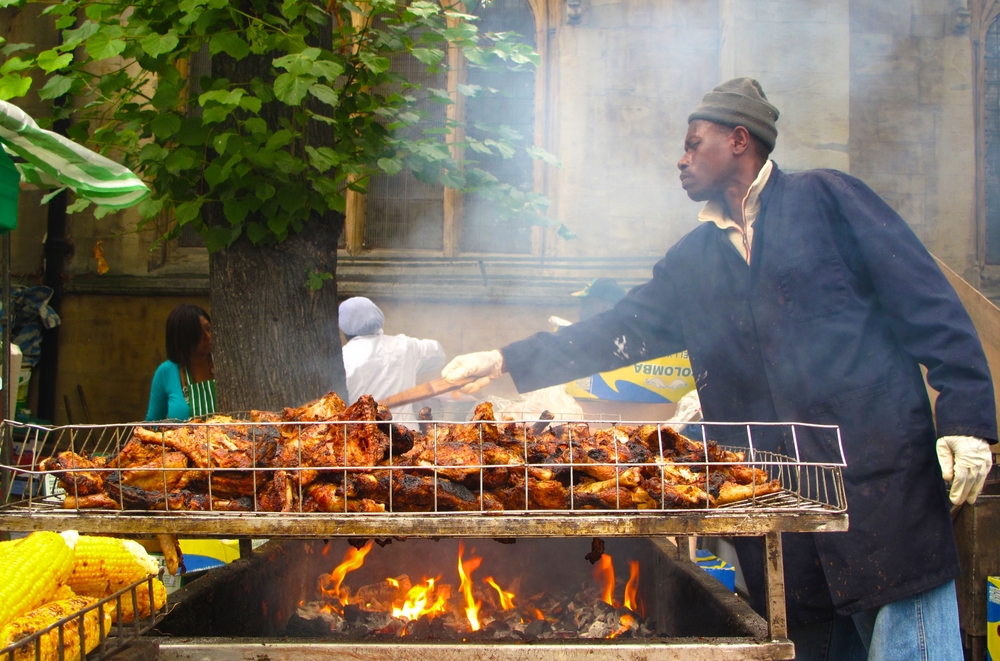 Jerk chicken being prepared
Of course, that's not all you can get in the city. Delicious curry abounds, and festival bread is a common late-night snack as well as savory beef patties.
It's also not uncommon to encounter a variety of Asian flavors in the various sichuan chicken dishes that are common.
Conclusion
Clearly, you have a lot of traveling to do!
While you can certainly explore the tastes, flavors, and cultures within a city through its restaurants, you don't want to miss out on the street food. Not only will you usually be able to eat inexpensively, you'll also encounter foods you won't find anywhere else.
Additionally, you'll get a much higher variety by moving from vendor to vendor rather than eating at a single restaurant.
So what are you waiting for? Get out there and start eating!