About
Traditional Japanese cuisine, known as "washoku".
If you have an interest in Japanese cuisine 'Washoku' cooking is the easiest way to get closer! By joining us, you'll learn not just about the recipes and the methods but also the history and the stories related to Japanese cooking. Our cooking classes are suitable for anyone who loves Japanese food and culture!
You will learn about why wagyu beef is so tasty, how kaiseki meal developed.
Special in Sakura season: We will stamp out and do some decorative cut into a sakura shape. We also cook some seasonal food such as sakura shrimp, bamboo shoot, strawberry.
You can walk to the famous Shinjuku Gyoen National Park to enjoy cherry blossom, it's near the cooking studio.
---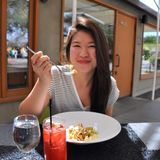 Expert Tips
by Cat Lau

Food Writer · Trained Cook · Hungry Traveler
"
A very hands-on class where we made everything from start to finish by ourselves! This means that we really learned by listening to our instructor and using our recipes to guide us.
"
What I liked: We learned how to make so many dishes! I loved how our instructor, Aya-san, taught us everything with ease. She made it seem so simple. Our cooking stations were also always organized and clean with the help of the team at Cooking Sun!
What to know: You will learn the about the history and the philosophy of Japanese food during the class as you cook each dish.
Good for: People interested in food and culture.
How to get there: Short walk from Yotsuya-sanchome or Shinanomachi
---
Included Highlights
Appitizer to dessert
Intro to japanese cuisine
Japanese luxury cuisine
Sakura Season
Wagyu beef prep
Welcome tea
---
Schedule
Morning Class:
9:30 am: Introduction to Japanese cooking
10:00 am: Cooking class
12:00 pm: Taste Japanese dishes you've made
12:30 pm: The end of the class
---
Spring Menu from March 2019.
Accordion Cucumber Salad-(蛇腹きゅうりの酢の物)
Gomamiso-ae Potate -Sesame & Miso sause-(じゃがいものごま味噌和え)
Dashimaki Tamago -Rolled Egg-(だし巻玉子)
Bamboo shoot Kimpira-(筍のきんぴら)
Wagyu Sukiyaki taste stewed dish- (和牛すき煮)
Dashi Based Clear Soup- (お吸い物)
Wakame & Umeboshi Rice-(わかめと梅干のご飯)
Daifuku Mochi with Fruit- (フルーツ大福)
* Please inform us regarding any dietary requirements upon booking.
If you are interested in Sushi Class please click Here
---
Additional Information
Meeting Point
Meet at Cooking Sun Tokyo(Shinanomachi 18, Shinjuku-ku, Tokyo).
Show this to taxi driver: Cooking Sun Tokyo, 住所:東京都新宿区信濃町18 マヤ信濃町2番館 314号室, 電話:03−6380−6028
---
Confirmation
You will receive the confirmation of your booking's availability within 24 hours. Once confirmed, please present your booking reference number at the cooking school.
Cancellation
Full refund will be issued for cancellation made at least 48 hours prior to the activity