About
Often called as Japanese pizza by most people, Okonomiyaki(Japanese savory pancake) is one of Japan's most loved dishes. Yummy and easy to make, it's mostly found being sold in the streets and is even the main attraction and dish to most high-end restaurants.
There are many styles of how to make okonomiyaki and in this class, you will learn the basics of how to prepare and make delicious okonomiyaki. Aside from okonomiyaki, you will also enjoy two complimentary side dishes to complete the meal.
All our classes offered by Non MSG, Non Additives policy. Vegetarian, Gluten free, Dietary free, Non-Allergenic available. Please inform us in such cases.
---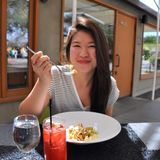 Expert Tips
by Cat Lau

Food Writer · Trained Cook · Hungry Traveler
"
At Chagohan, they know the best sources for all of their ingredients and I could tell by the look and the taste of everything there!
"
What I liked: Cooking in a charming and beautiful kitchen. Everything was very organized and the quality of the ingredients that we cooked with were of the highest quality!
What to know: This cooking class is in an awesome neighborhood called Asakusa. It's worth taking a little walk around Kappabashi Kitchen Town-- an absolute dream for any chef!
Good for: Small groups or private classes. This is the perfect class for those interested in the techniques of traditional Japanese cooking because everything is so thoroughly explained.
How to get there: A short walk from Tawaramachi or Asakusa metro stations.
---
Included Highlights
Apron
available to order sake tasting
No additives
No msg
Recipe book
Recipe card
Vegan vegetarian applicable
Vegetarian applicable
---
Schedule
Morning Class:
11:00 am: Introduction to Okonomiyaki, and preparation
12:30 pm: Enjoying the Okonomiyaki you've made and seasonal side dishes
1:00 pm: End of the class
Afternoon Class:
4:00 pm: Introduction to Okonomiyaki, and preparation
5:30 pm: Enjoying the Okonomiyaki you've made and seasonal side dishes
6:00 pm: End of the class
---
---
Additional Information
Meeting Point
Meet at the cooking school
---
Confirmation
You will receive the confirmation of your booking's availability within 24 hours. Once confirmed, please present your booking reference number at the cooking school.
Cancellation
Full refund will be issued for cancellation made at least 48 hours prior to the activity