About
Like ramen, sukiyaki will always warm up the cold days and gives way to delicious time spent eating and relishing the goodness of beef, tofu, and its savory broth. Generally, sukiyaki is a winter dish but you can always enjoy a hot pot of it any time of the year.
In this class, you will learn how to prepare and make sukiyaki using premium Wagyu beef, butchered and chosen by a renowned butcher from Asakusa. You will make a few side dishes that would go well with the sukiyaki. You can expect high-class beef from the renowned butcher in Asakusa, MATSUKI-松喜!
You can order sake for tasting at an additional charge of 500JPY- /glass (approx. 5USD).
---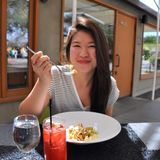 Expert Tips
by Cat Lau

Food Writer · Trained Cook · Hungry Traveler
"
At Chagohan, they know the best sources for all of their ingredients and I could tell by the look and the taste of everything there!
"
What I liked: Cooking in a charming and beautiful kitchen. Everything was very organized and the quality of the ingredients that we cooked with were of the highest quality!
What to know: This cooking class is in an awesome neighborhood called Asakusa. It's worth taking a little walk around Kappabashi Kitchen Town-- an absolute dream for any chef!
Good for: Small groups or private classes. This is the perfect class for those interested in the techniques of traditional Japanese cooking because everything is so thoroughly explained.
How to get there: A short walk from Tawaramachi or Asakusa metro stations.
---
Included Highlights
All ingredients
Apron
available to order sake tasting
No additives
No msg
Recipe book
---
Schedule
Morning Class:
11:00 am: Introduction to Sukiyaki and starting to prepare
12:30 pm: Enjoying the Sukiyaki you've made from scratch
1:00 pm: End of the class
Afternoon Class:
4:00 pm: Introduction to Sukiyaki and starting to prepare
5:30 pm: Enjoying the Sukiyaki you've made from scratch
6:00 pm: End of the class
---
---
Additional Information
Meeting Point
Meet at the school. It's nearby Asakusa district, can sightseeing around before/after the class
---
Confirmation
You will receive the confirmation of your booking's availability within 24 hours. Once confirmed, please present your booking reference number at the cooking school.
Cancellation
Full refund will be issued for cancellation made at least 48 hours prior to the activity