Cookly co-founder and food aficionado Ben is taking you on his journey to Ho Chi Minh City (also known as Saigon), Vietnam's largest metropolis! Feel the energy of this vibrant city and the influence of the French culture from the colonial period. What to do when you've got only one day to get to know Ho Chi Minh City? Enjoy our 24 hours insider tour and get to know the 10 best things to do in Ho Chi Minh City! Obviously food will be on the programme, as it is one of the main part of the Vietnamese culture.
Most of the things to do in Ho Chi Minh City are situated within walking distance – very handy to stop whenever you want and taste the delicious street food you will find along your way.
1. Pho at Pho Quynh
Do it like the locals and start your day with Pho, which Vietnamese people usually eat for breakfast. Pho is the famous and traditional Vietnamese noodle soup, usually served with beef or chicken. Try this flavoured Pho at Pho Quynh, a little street restaurant where even locals go to enjoy a good noodles soup bowl.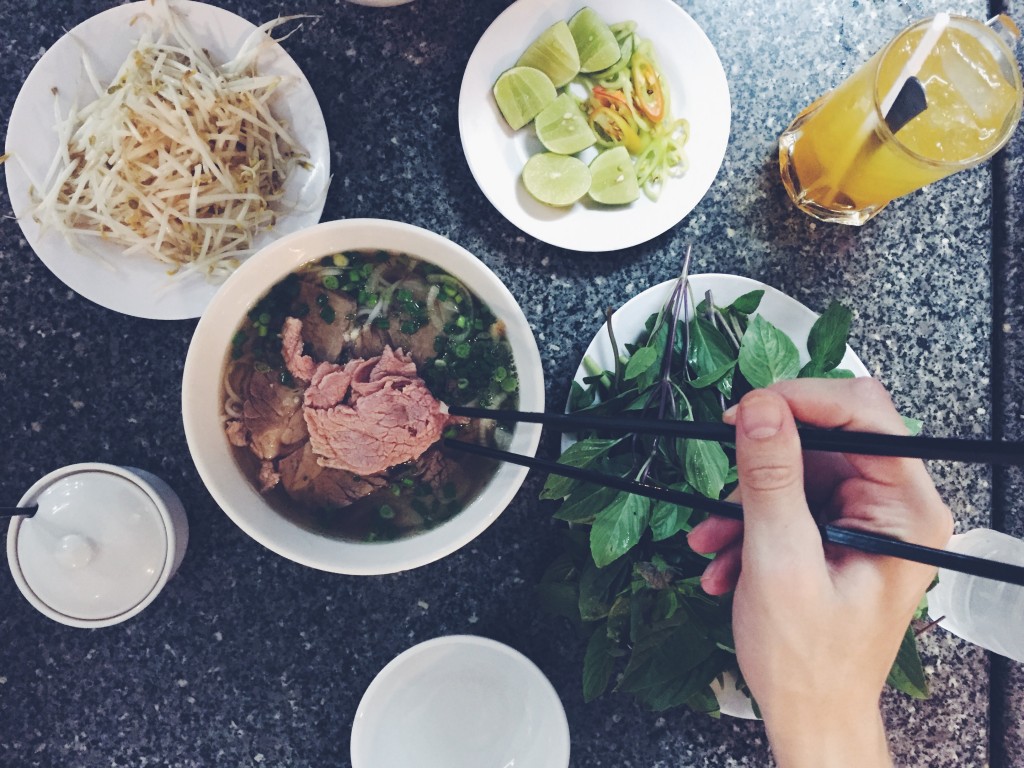 Pho Quynh, Ho Chi Minh City
2. Banh Mi sandwich on the streets
If Vietnamese and French foods had a baby together it would be a Banh Mi sandwich. Banh Mi is actually just the Vietnamese term for bread. After its first introduction by the French during the colonial period, baguette has evolved into a very popular dish in Vietnam: Banh Mi sandwich, which is filled with meat, pickles, cilantro, cucumbers and chilli sauce. Vietnamese people often eat it for breakfast. You can buy Banh Mi sandwiches basically everywhere from street food vendors.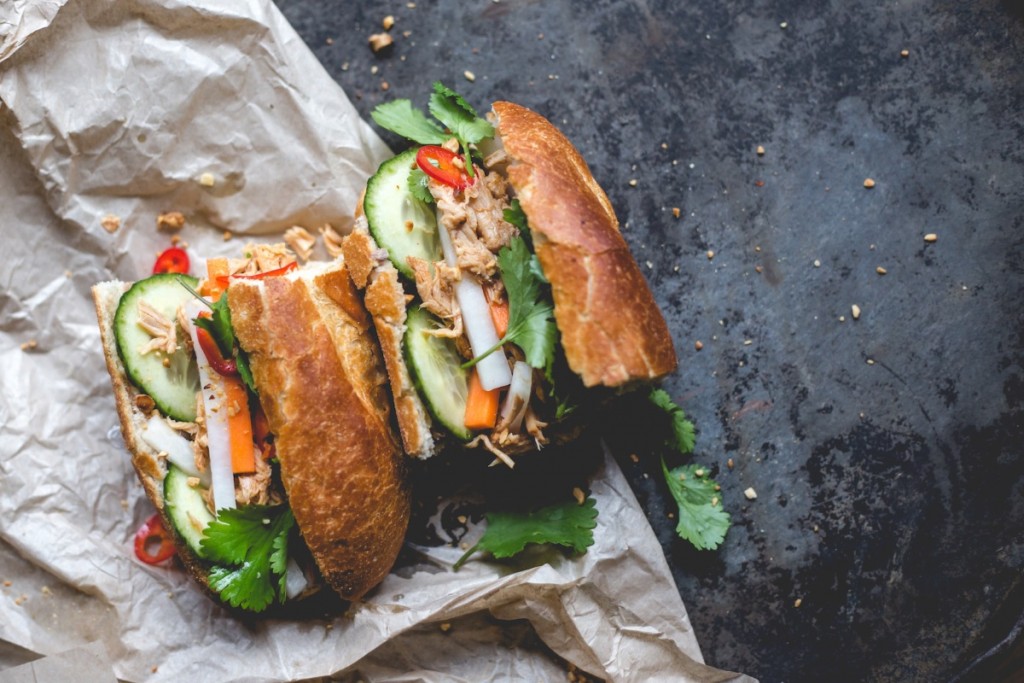 Banh Mi. Pho: NOTED magazine
9 a.m. | Get your hands on Vietnamese food
3. Market tour and Cooking class at Saigon Cooking Class
Breakfast should have sharpened your curiosity about what Vietnamese food has to offer. Saigon Cooking Class has got you covered. You will first be taken by a Vietnamese chef to a tour at the popular Ben Thanh Market to buy the ingredients needed for the cooking class. Learn about how the locals experience food at this central market where locals and tourists alike come to eat and shop. The food you find in the markets in Vietnam is always very fresh and locals go to the market twice a day to buy what they need to cook lunch then dinner.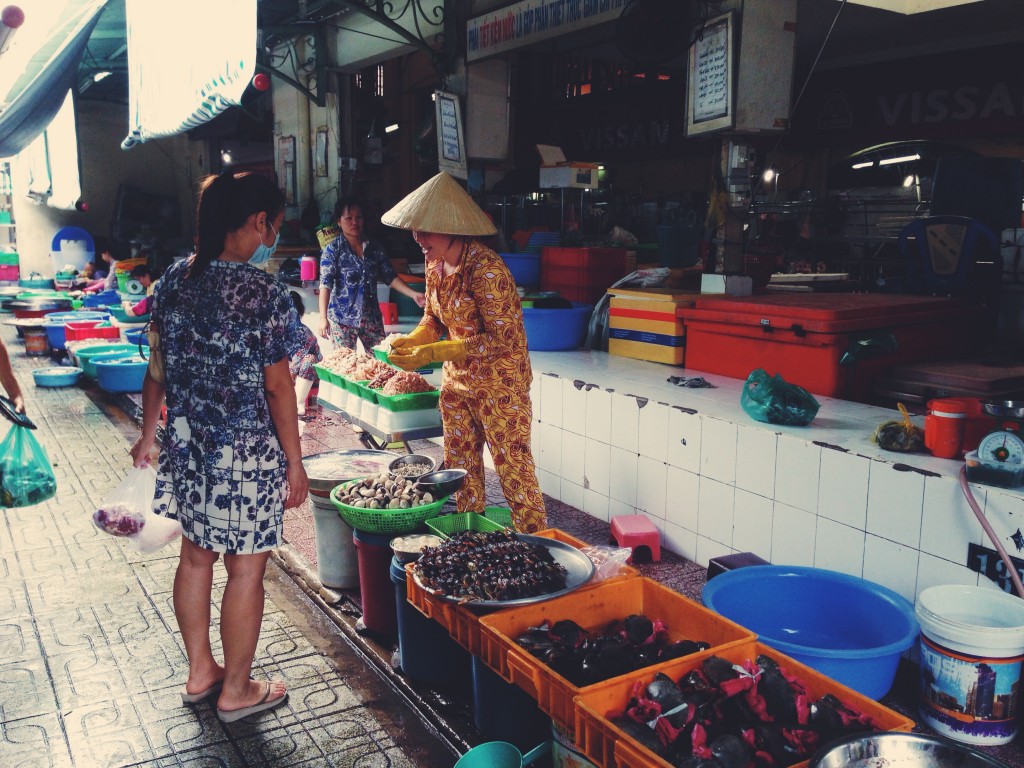 Ben Thanh Market, Ho Chi Minh City
Once you got everything you need, it's time to get your hands dirty and learn from the pros: I had the chance to learn how to make a chicken stew in coconut water, fresh spring rolls as well as a typical Vietnamese glass noodle salad with grilled squid. Then after the fun comes the serious things: eating what you just prepared. Yum!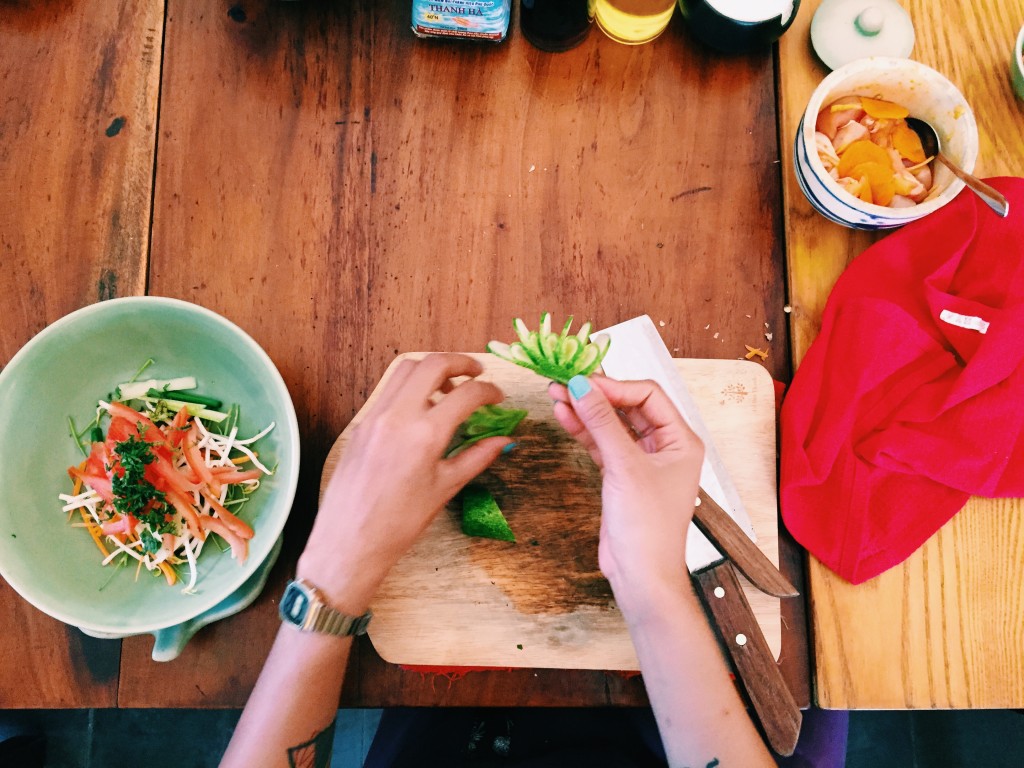 Glass noodle salad with grilled squid, Saigon Cooking Class, Ho Chi Minh City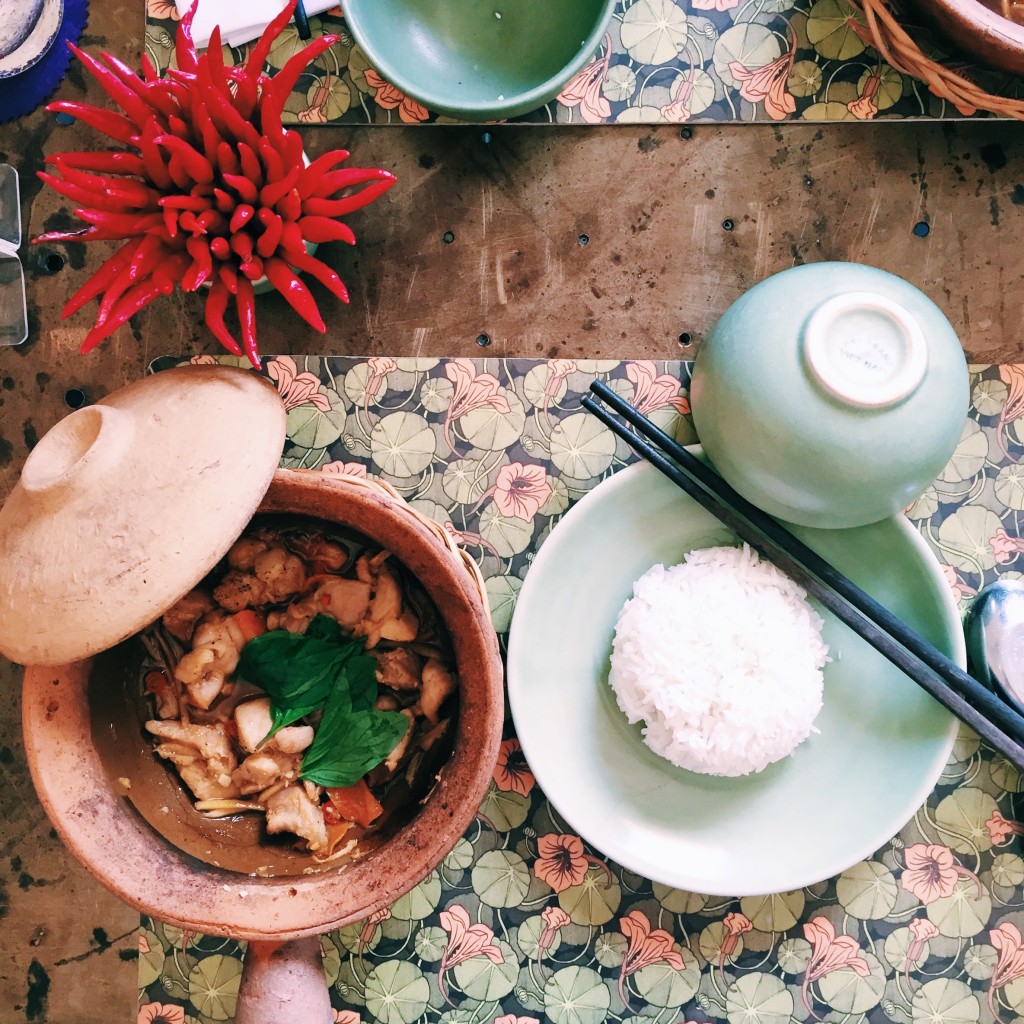 Chicken stew in coconut water, Saigon Cooking Class
1 p.m. | Walking and Shopping
4. Ginkgo Concept Store
Don't forget to grab souvenirs from your time in Ho Chi Minh City! Ginkgo Concept Store is a very nice place to start. Head over this hipster style shop full with sustainable products, from handmade chocolate to clothes made by local designers.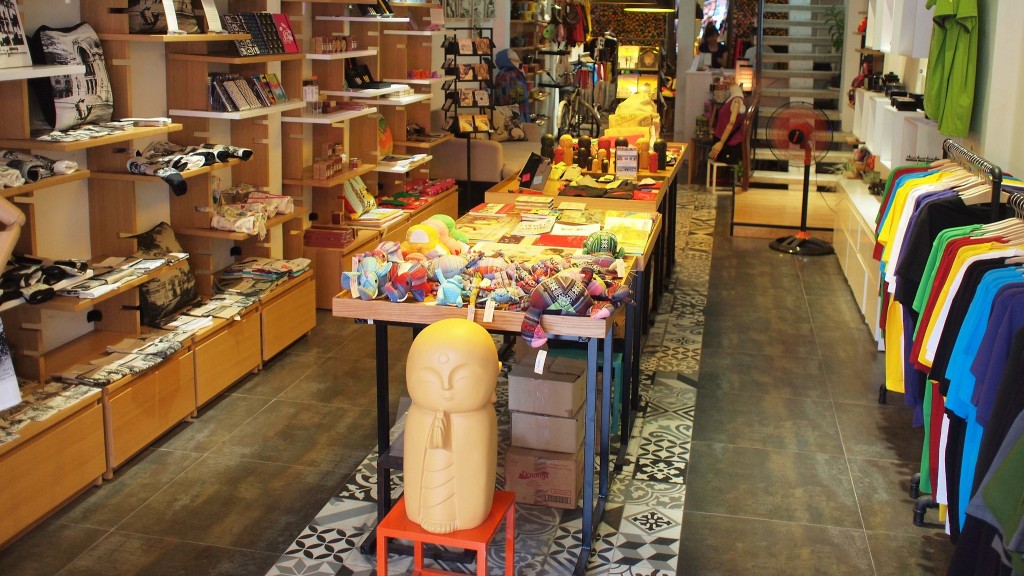 Ginkgo Concept Store, Ho Chi Minh City. Photo: Ginkgo Concept Store
5. L'usine
Try this café-boutique where you can shop clothes and housewares. On the 2nd floor you will find a very cool and modern French café where you can sit down, relax and enjoy some French pastries.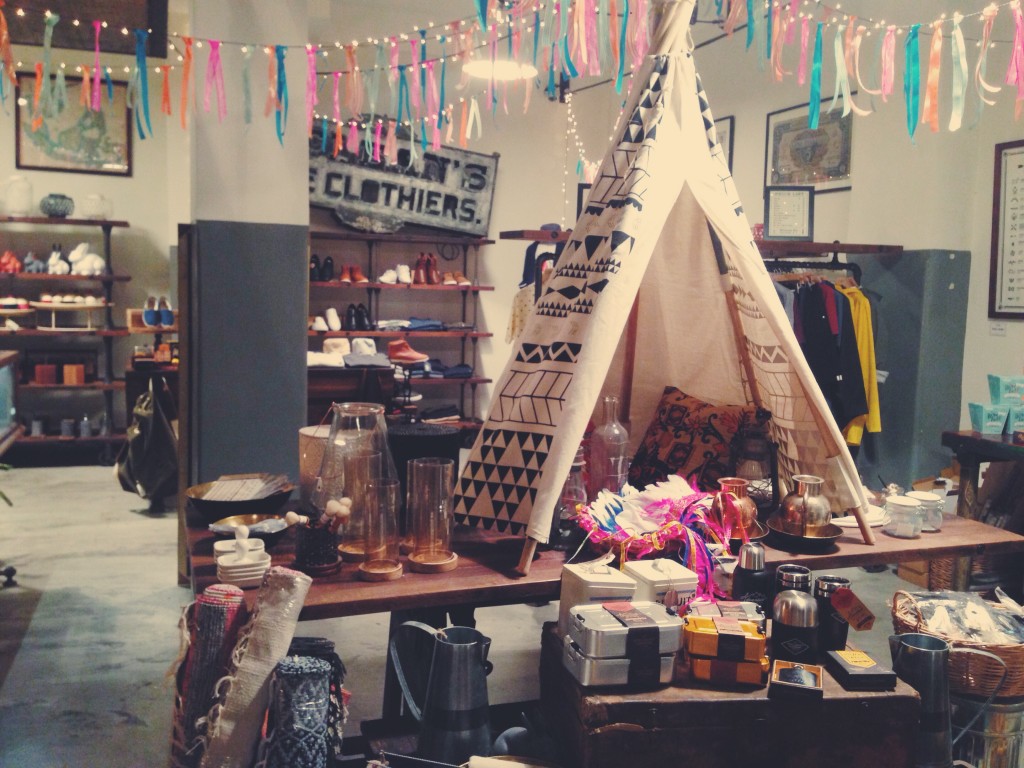 L'Usine, Ho Chi Minh City
6. Coffee at i.d. Café
Coffee shops are a big thing in the Vietnamese culture, influenced by the occupation of the country by France. Vietnam is the second largest producer of coffee in the world so the coffee scene in the country is pretty huge. Stop at i.d. Café in District 1 to enjoy a good cup of coffee in this cosy, modern-retro style decor. i.d. Café has another location in District 3 but you will have to walk a bit further.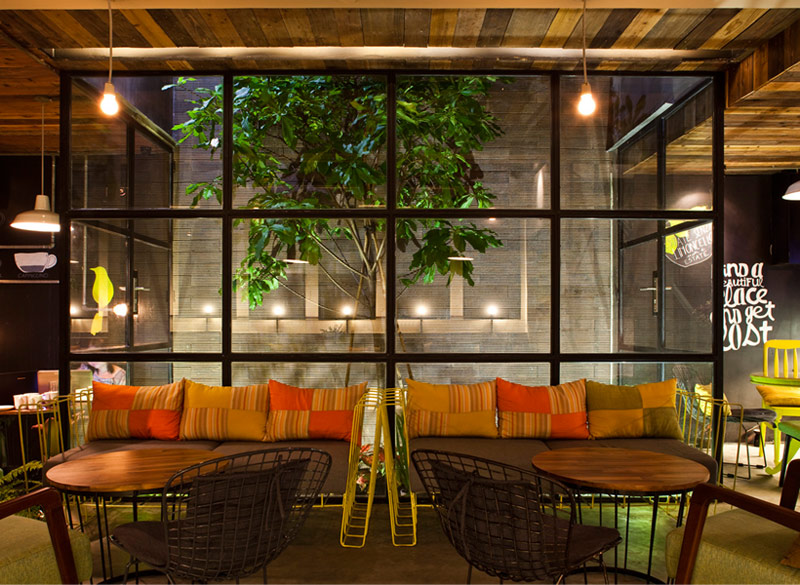 i.d. Café, Ho Chi Minh City. Photo: i.d. Café
7. Galerie Quynh
Walk through Nguyen Hue Street, one of the most beautiful street of the city, towards the City Hall building at the end of the street. If you're interested in the local art scene you should not miss Galerie Quynh, a contemporary art gallery located in a former factory showcasing Vietnamese artists as well as artists from around the world.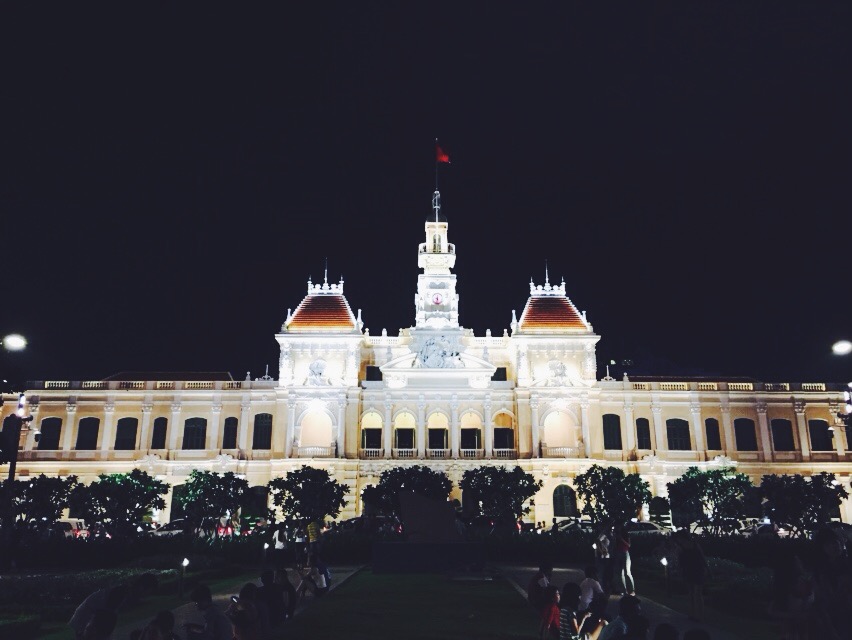 City Hall, Ho Chi Minh City
8. Ngon Restaurant
By that time you should start getting hungry. A short 5 minutes walk will take you from the gallery to Ngon Restaurant. Ngon means "delicious" in Vietnamese and I can tell you the food was amazing. This is the place to be for amazing, fresh and authentic Vietnamese food with reasonable prices.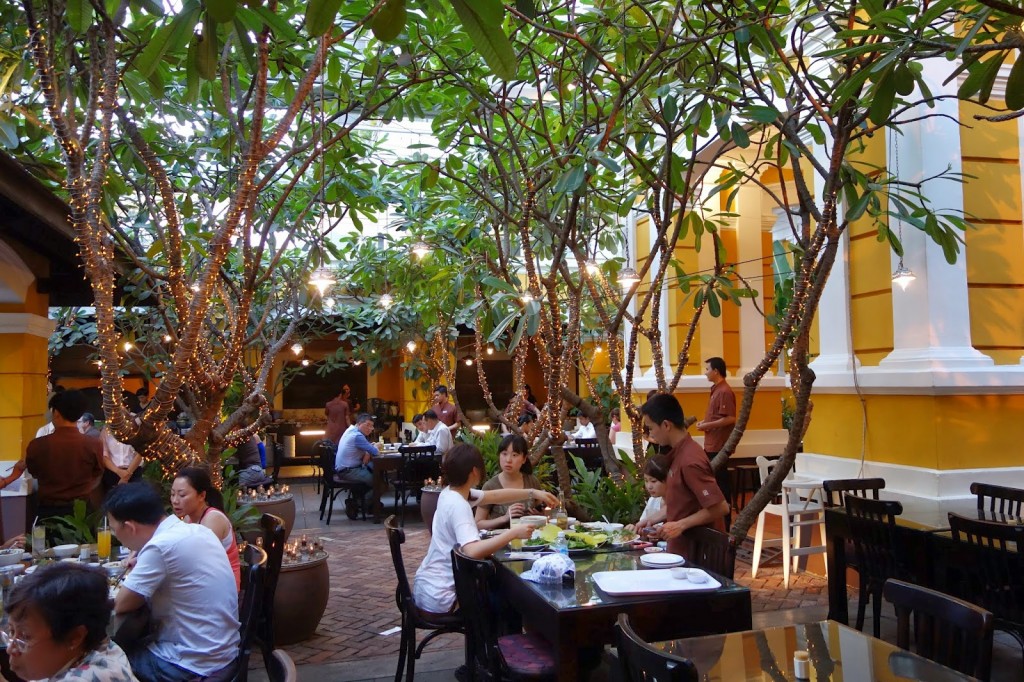 Ngon Restaurant, Ho Chi Minh City. Photo: Motley Blend
9. La Fenêtre Soleil
Start the night off right with a few drinks at La Fenêtre Soleil. The place is a popular café during the day that turns into a trendy lounge club at night and often hosts some live bands and DJs during weekends. Situated in an old French colonial villa, the place offers a very nice atmosphere with an art deco feel.
10. Chill Sky Bar
After a day walking around the busy streets of the city, having some well-deserved cocktails with a view sounds like a good plan. The Chill Sky Bar is one of the most popular nightspots of Ho Chi Minh City. Enjoy the stunning view over the city at the sky bar as you walk down the stairs when you get to the rooftop. Chill out with a cocktail in hand before heading to the dance floor inside when the DJ starts spicing things up. Drinks are pretty expensive but if you do like a good view while dancing, then it's worth the experience!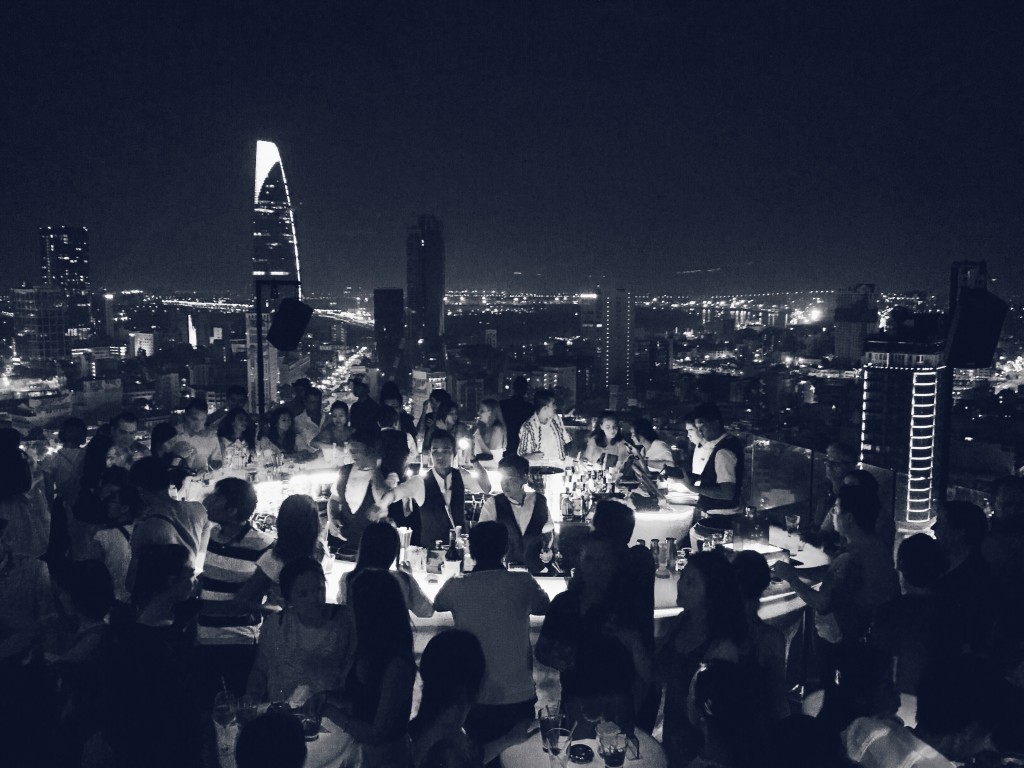 Chill Sky Bar, Ho Chi Minh City
Off to Ho Chi Minh City soon? Those 10 things to do in Ho Chi Minh City should be just what you need to be able to feel the atmosphere of the city in only one day.
Any other cool place to share? Drop a comment bellow!
Say Hi on Facebook and Instagram
Pho Quynh – 323 Pham Ngu Lao
Banh Mi sandwich – Anywhere on the street
Saigon Cooking Class – 74/7 Hai Bà Trưng
Ginkgo Concept Store – 254 De Tham
L'Usine – 70B Le Loi St.
i.d. Café – 34D Thu Khoa Huan St.
Galerie Quynh – 151/3 Đong Khoi St.
Ngon Restaurant – 162 Pasteur St.
La Fenêtre Soleil – 2F 44 Ly Tu Trong St.
Chill Sky Bar – AB Tower, 76A Le Lai