---
このクラスについて
Chef Bagus has been working at the hotel and restaurant for almost 28 years. He started his career on 1989 with Grand Hyatt Bali, then 2 years with Grand Hyatt Dubai and 10 years traveling around the World promoting Balinese food: GUAM, Australia, Switzerland, Malaysia, Sri Lanka, India and back to Dubai to Fairmount Hotel and Burj Al Arab Hotel.
Since the last 2 years, Chef Bagus was running a Balinese Restaurant a cooking school in Seminyak with the Anika Group.
Now Chef Bagus has opened and running his own cooking school.
Market tour are currently on hold due to Covid but you will learn the ingredients in the cooking school.
もっと読む+
---
Menu:
Basic spice paste for Chicken
Roasted Chicken in Banana Leaf
Braised Pork in Sweet Soy sauce
Traditional minced seafood sate
Minced chicken into banana leaf
Green papaya or green bean salad
Assorted vegetable with peanut dressing
Peanut sauce
Sweet corn and coconut snack
Fried noodle with Chicken
Rib Menu Included
Vegetarian Menu:
Spice paste for vegetable.
Soya bean sate
Grill mushroom in to banana leaf
Green papaya salad
Mix vegetable with peanut dressing.
Vegetable curry
Sweet corn and coconut snack
Black rice pudding
Vegetarian fried rice
もっと読む+
---
Teachers Profile
Get to know your instructors for this class.
---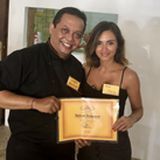 専門家からのヒント
by Shahrzad Shabani pour

Founder and Writer at thehitlist.net.au
"
If you love to eat and want to take a piece of Bali home with you, you need to meet Chef Bagus. In his class you will learn to prepare a selection of "basic" everyday and "complicated" ceremonial dishes.
"
What I liked: You'll learn about the main ingredients used to make Balinese dishes, general cooking tips and a range of common techniques used in Balinese cooking. The poultry is juicy and the spices are fragrant! We made a total of 10 mouthwatering menu items, we couldn't wait to feast on. The braised pork in sweet soy sauce was incredible! The class was educational and easy to follow. Highly recommend!
What to know: Transport will be organised for you as they offer a pickup from Seminyak and other areas.
Good for: Great activity to do for people of all ages.
もっと読む+
---
スケジュール
8:00 - 8:30 am: Pick up from your hotel (For Kuta Area, Legian & Seminyak)
9:00 am: Cooking class begins
12:00 pm: Cooking class ends, Enjoy the dishes you've cooked
1:00 pm (Approx.): Drop off at your hotel
*Pick up time between 7.45 am to 8.00 am at the hotel lobby for other area: Sanur, Nusa Dua, Canggu, Jimbaran, Uluwatu and Pecatu.*
もっと読む+
---
このクラスに含まれる注目ポイント
Certificate
Free pick up and drop off
Recipes
Vegetarian option applicable
Welcome snacks and drinks
---
追加情報
送迎オプション
Free pick up and drop off is included from Kuta, Legian, Seminyak and Canggu areas. If your hotel is in Sanur, Nusa Dua, Uluwatu or Pecatu the pick up will be with an additional charge of IDR 75,000
Pick up time: For Kuta Area, Legian, and Seminyak: 8.00am to 8.30am at the hotel lobby. Other areas such as Sanur, Nusa Dua, Canggu, Jimbaran, Pecatu, and Uluwatu: 7.45 am to 8.00 am at the hotel lobby.
確認
24時間以内にお客様のご予約状況確認をお受け取りいただけます。一度確認された場合、クッキングスクールにてお客様のご予約参照番号をご提示ください。
キャンセル
Full refund will be issued for cancellation made at least 48 hours prior to the activity