About
Our cooking school is known to vegetarians and vegans throughout the world. Our standard class is held over half a day either in the morning or afternoon. Schedules for both the morning and afternoon classes are listed below.
May Kaidee's cooking school has been around since 1988 and we've proudly hosted thousands of students since then from over 50 different countries.
---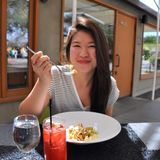 Expert Tips
by Cat Lau

Food Writer · Trained Cook · Hungry Traveler
"
Cook, Dance, and Sing. The entertainment is not just the cooking in this special class! The teachers really seem to be having just as much fun as we were, which made it a smashing time.
"
What I liked: We learned how to prepare raw Thai dishes. The recipes were explained to us and we were encouraged to take our own notes on each dish before we cooked them. This is useful for when it comes time to cook the dishes by ourselves at home.
What to know: No market tour here but they make up for it with other fun activities! The recipes are not traditionally Thai because they take a few short cuts with the dishes, but you will see that it is pretty easy to substitute meat for vegetables in Thai food.
Good for: Friends and family. There are some activities like Thai dancing that are fun and are good for those that are always up for a good laugh.
Best way to get there: Go to Ratchathewi BTS station and the get on a motorbike that should cost you 100 baht to Khaosan.
---
Included Highlights
6 dishes
All ingredients
Recipe book
Thai dancing
Vegan
Vegetarian
---
Schedule
From Monday to Sunday
Morning class:
9:00 am: Welcome drink and course presentation

9:10 am: Learn how to make Chili Paste

9:30 am: Cooking class

12:00 pm: Raw food tutorial and break

12:45 pm: Traditional Thai dancing & enjoy some dessert

1:00 pm: End of course
Afternoon class:
2:00 pm: Welcome drink and course presentation
2:10 pm: Cold recipes preparations and discussion of Thai herbs & spices
2:30 pm: Cooking class
3:30 pm: Break & group discussion
4:00 pm: Cold food recipies, Traditional Thai dancing & enjoy some dessert
5:00 pm: Closing discussion & review of techniques
6:00 pm: End of course
---
If you are interested in Vegan/Vegetarian Thai Cooking (Express) please click here
Morning class:
Tom Yum Soup (Spicy and Sour Soup)
Tom Kha Soup (Coconut Soup)
Issan Vegetables
Fried Vegetables with Ginger and Cashew Nuts
Pad Thai (Stir-Fried Rice Noodles)
Peanut Sauce
Masaman Curry (Mild Thai Curry)
Green Curry (Coconut Milk and Fresh Green Chilli Curry)
Afternoon class:
Choose at the start of the class
If you are interested in learning the art of fruit carving please click here
---
Additional Information
Meeting Point
Meet at the cooking school
---
Confirmation
You will receive the confirmation of your booking's availability within 24 hours. Once confirmed, please present your booking reference number at the cooking school.
Cancellation
Full refund will be issued for cancellation made at least 48 hours prior to the activity