Chiang Mai: Thailand's northern city filled with decadent delights around each corner.
Founded in 1296, Chiang Mai is a city rich with culture and history. It's packed with elaborate Buddhist temples, sights to see, and of course, food to eat. 
Chiang Mai cuisine is comprised of large impossible to finish dishes alongside smaller snack foods and appetizers. The city is filled with street food vendors and markets just waiting for you to try their delicious dishes. With all the options Chiang Mai has to offer when it comes to amazing food, it can be hard to pick what to eat. 
So, we've come up with a short list of just 12 dishes that are an absolute must-try on your Chiang Mai visit. There's countless more, but let's get started with these 12 top tier dishes! 
We also have a little surprise waiting for you at the end of the article!
But let's have a look first at our list below with 12 Dishes You Must Eat in Chiang Mai: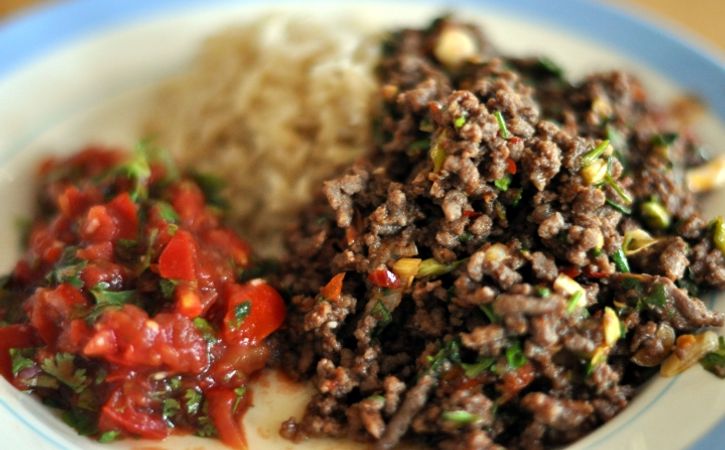 Nam Prik Ong is delicious pork tomato chili dip and is commonly seen served alongside a larger platter with cabbage, okra, cauliflower, eggplant, and long beans. While veggies are the most common addition to Nam Prik Ong, fried pork cracklings (kap moo), sausages, boiled eggs, are also popular to dip into this amazing Chiang Mai dish. 
Nam Prik Ong has a flavor reminiscent of very thick spaghetti sauce without the traditional european spices. This dish lacks the Thai flavors like fish sauce, and soy sauce and the garlic really makes this dishes flavor. Nam Prik Ong is the perfect appetizer for getting a taste of Chiang Mai food culture!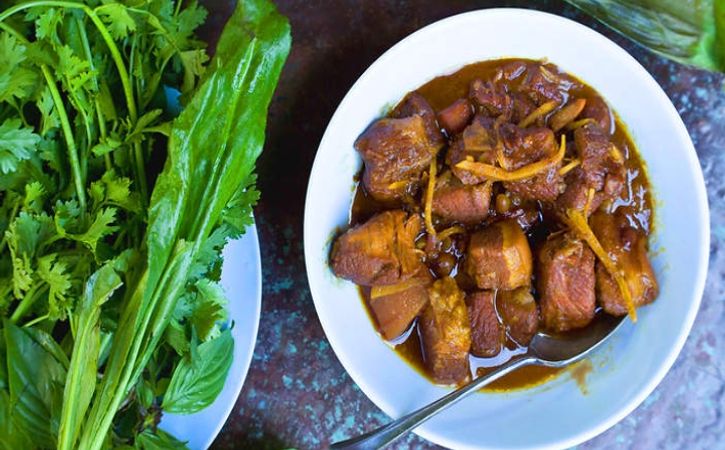 Gaeng Hung Lay is a northern Thai dish made of pork and ginger curry. When you order this dish you'll be presented with a generous amount of big, fatty slow cooked pork belly inside of an oily reddish broth. You'll see ginger shreds and soft peanuts throughout the dish and stuck, clinging to the pork cubes. It's commonly served next to a side of either steamed jasmine rice, sticky rice, or kanom jeen noodles. 
Gaeng Hung Lay has a smoky curry flavor with ginger, of course, being the most prominent flavor along side soy sauce, garlic, and tamarind. The pork itself is cooked to perfection and will melt in your mouth with every bite. If you're feeling hungry after a long day of exploring Gaeng Hung Lay is the dish to go to. It'll keep you full into the night, you may even have leftovers!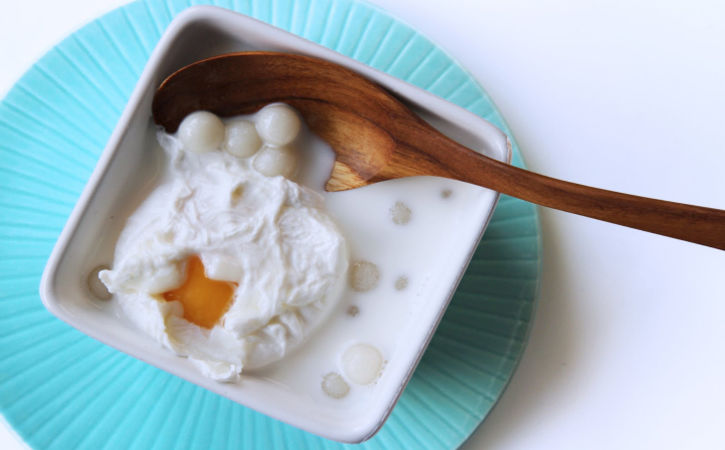 Khanom Bua Loi at first glance looks like a white creamy pool of marbles. Bua Loi means "floating lotus" and just by looking at it, it's easy to see where that name comes from. This dish is a warm dessert filled with a coconut milk base and tiny chewy rice balls. The softness of the rice balls perfectly combine with the creaminess of the coconut milk to create a delicious, sweet explosion upon taking just one bite.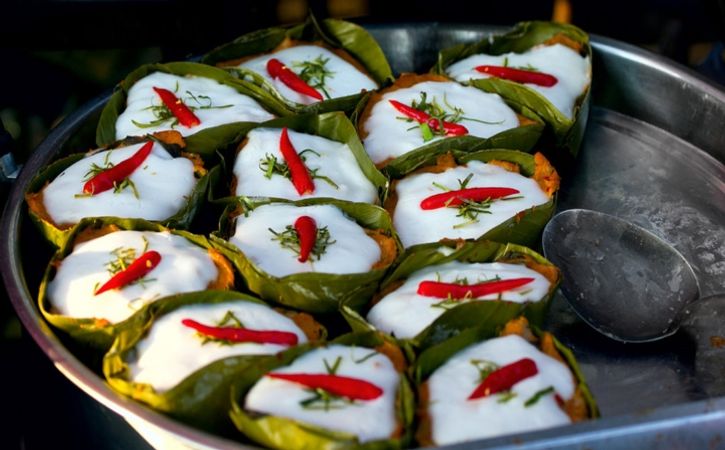 Hor Mok is a delicious Chiang Mai street food snack. It's otherwise known as steamed fish custard and is served in little banana leaf cups. To make this dish, chefs first prepare the banana leaf cups. After the cups are prepared a mixture of curry paste, coconut milk, and fish is combined to make the soft custard filling. The filling is poured into the cups and steamed together. After spending some time in the steamer the Hor Mok is ready to go!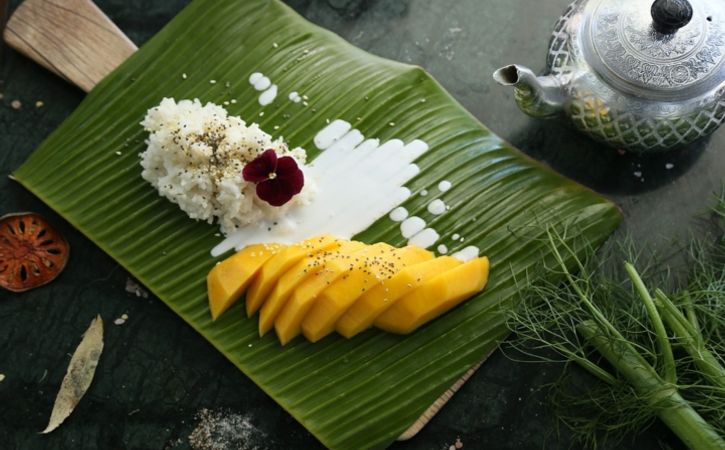 Probably the most popular Thai dish in existence, mango sticky rice. This dish is so popular that there's no way you can visit Chiang Mai without trying it. It's as simple as the name suggests, sticky rice with coconut sauce, and succulent fresh mango.
You'll see this everywhere in the Chang Puak Market stalls. Honestly, you may see this dish as a dessert item in any Chiang Mai restaurant!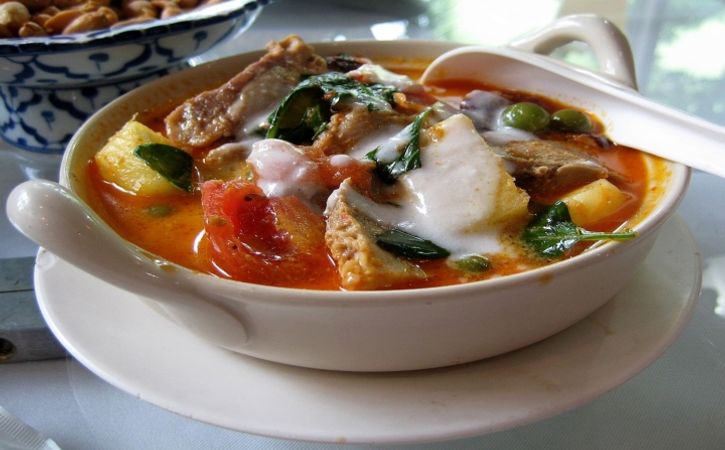 The name Gaeng Hoh means "all mixed up" which is exactly what this dish is. Gaeng Hoh is a dry curry dish that is traditionally made from kitchen leftovers. Today, Gaeng Hoh is typically made from fresh ingredients like fermented bamboo shoots, red curry paste, hang lay curry paste, and kae curry paste. The combination of these ingredients creates the base for Gaeng Hoh. After mixing them together a variety of veggies are added in addition to herbs, glass noodles, shrimp paste, chilies, and pork belly. 
Gaeng Hoh is the perfect way to experience the taste of a Chiang Mai home without having grown up in the city. Don't forget to try out this unique dish on your visit! 
If you want to learn how traditional Chiang Mai homes cook, check our one of our many courses which specialize in traditional Thai home cooking!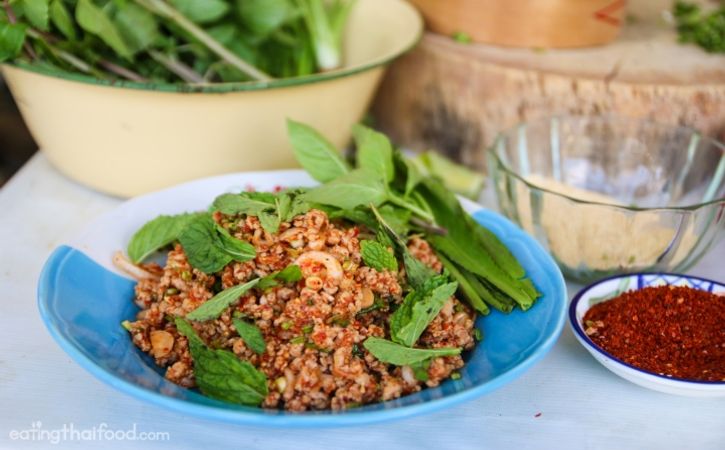 Larb Kua is a northern Thailand dish and is packed with more spices than its northeastern version. It uses either fish, pork, chicken or beef as the protein base. It's then chopped together with blood chunks and innards and quickly heated in cooking oil. Dried chilies, larb curry, blood cubes, and a healthy dose of herbs and spices are also added during the cooking process. 
Larb Kua goes perfectly with sticky rice and it's a must try dish in Chiang Mai!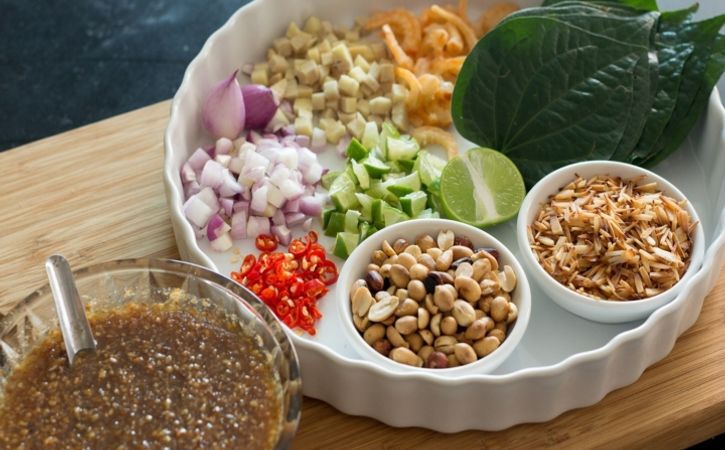 Miang Kham is a traditional do-it-yourself finger food. It's delicious to eat and fun to make. When you receive an order of Miang Kham you'll see it comes with fresh betel leaves, sweet syrup, and various fillings. Most commonly you'll see shallots, red or green chilies, garlic, lime, ginger, dried shrimp, or roasted coconut. 
You'll want to place the fillings however you like inside the betel leaf, top it with the sweet syrup, roll it up, and you're ready to go! Miang Kham takes a little effort to get started, but it's definitely worth the work to try this amazing Chiang Mai dish.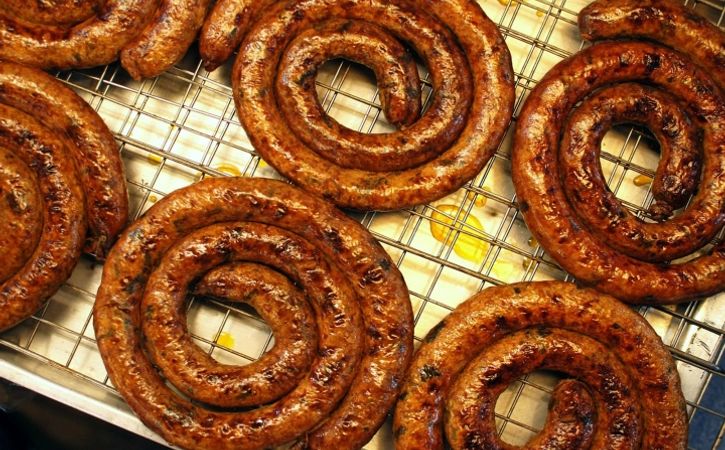 Sai Oua is best eaten as an appetizer and is definitely a must-try in Chiang Mai. It's a pork sausage mixed with dried chilies, shallots, garlic, and a variety of herbs and spices. It's a northern-style Chiang Mai dish that similar to northeastern style sausages, but has its own specific flavor which is more meaty and filled with herbs and chilies.  
Sai Oua is perfect to eat on its own, with a bowl of rice, or even wrapped in a lettuce leaf. Whichever way you try Sai Oua, just make sure you have a bite before heading home!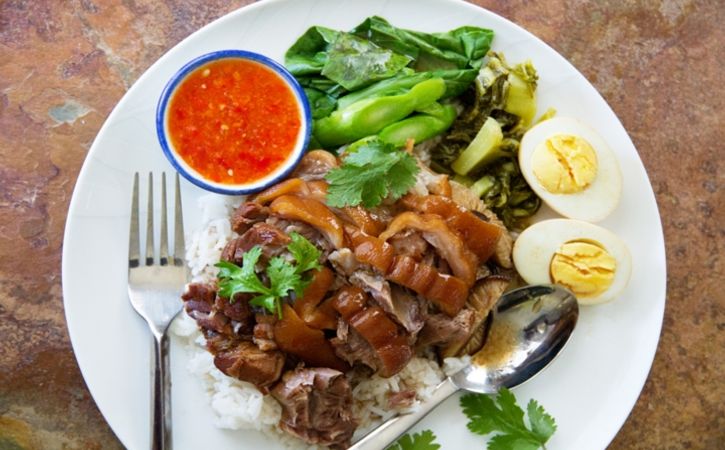 This Chiang Mai dish will have you coming back for more. Khao Kha Moo is a succulent plate of stewed pork leg served over rice with an egg. It also comes with pickled mustard greens, garlic chili sauce, as sides to mix into the pork and rice.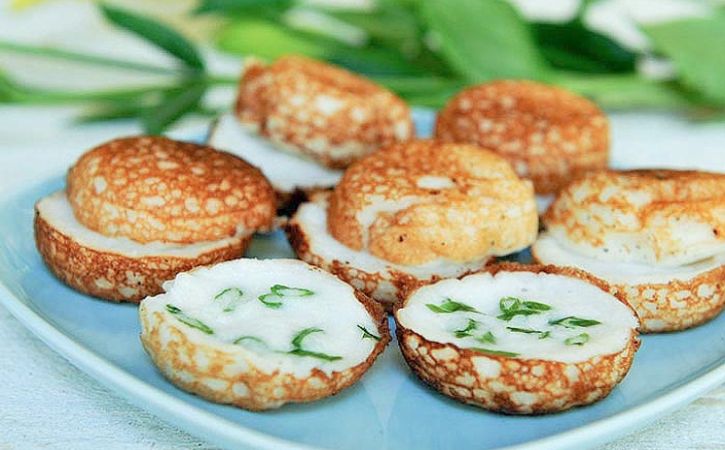 Khanom Krok is a delicious, light snack perfect for walking around and enjoying the Chiang Mai sights. They're essentially coconut rice pancakes and are best eaten as a dessert. It's crispy outside is paralleled by the gooey, soft inside which just melts in your mouth.  
Khanom Krok typically features green onions as a topping. It sounds strange as a dessert, but trust us, it's amazing. Corn is also a very popular Khanom Krok topping and adds a bit more sweetness to this dessert. After trying Khanom Krok you'll want want to take this dish home!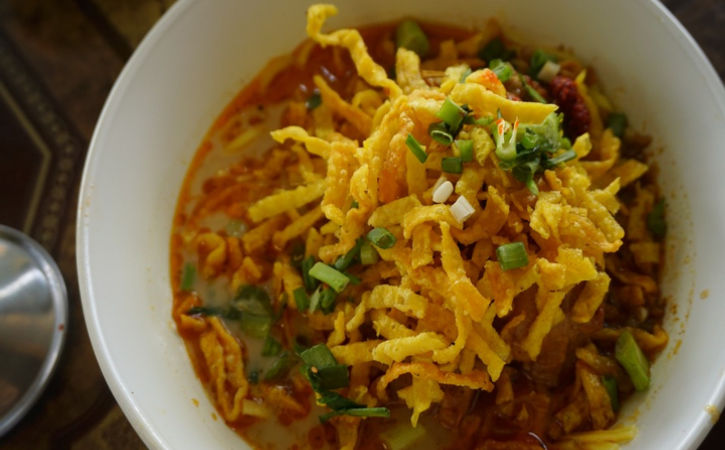 Khao Soi is the curry and coconut milk noodle soup you must try in Chiang Mai. Atop the yellow curry and coconut milk base you'll find fried noodles which add a crunchy, crispy texture that is to die for. Underneath the crunchy noodle topping lies a healthy handful of soft, boiled noodles. You're also encouraged to add condiments such as shallots, mustard greens, lime juice, and chili paste. 
It's traditionally made with chicken or beef, but there's several restaurants that will offer Khao Soi with seafood or pork. Try it with your favorite meat or with none at all, but no matter what make sure you try this staple Chiang Mai dish.