Chiang Mai: City of serpents, home to hundreds of intricate Buddhist temples, and filled with markets to explore.
Chiang Mai is located within the mountainous part of northern Thailand. It's a cultural and religious hub in Thailand. And many of its attractions revolve around the history of the city and its people.
This city is also bustling with exotic animals, great food, beautiful architecture, and serene landscapes to satisfy your wanderlust. Our guide will help you discover some of the must-see attractions and things to do in Chiang Mai.
Today we're going over just 14 of the most fun things to do in Chiang Mai, but there's countless more, so it's time to get exploring.
We also have a little surprise waiting for you at the end of the article!
But let's have a look first at our list below with 14 Fun Things You Must Do in Chiang Mai:
1. 
Take A Trip To The Chiang Mai Night Safari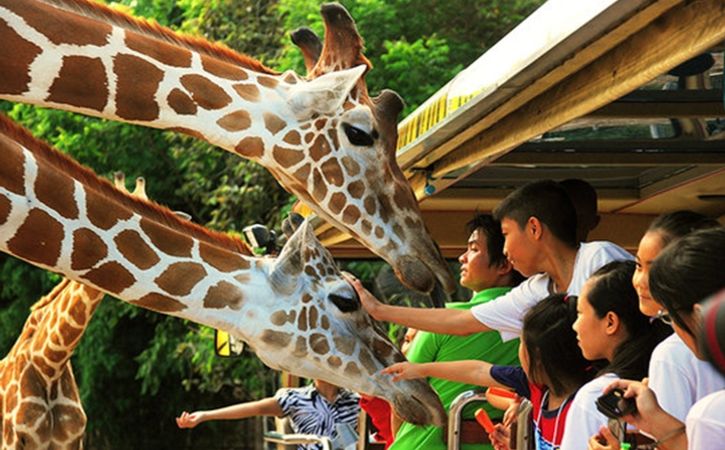 Kangaroos, otters, hyenas, bears, and more. This safari has everything!
Considered on of the most immersive things to do in Chiang Mai, the Night Safari features three animal zones: Savanna Safari, Predator Prowl, and Jaguar Trail. Each one of the them features animals and plant life relating to their name.
Visitors are able to interact with many of the animals on the safari through petting and hand feeding. You even get the chance to hold a baby tiger! There's also a variety of shows, a laser light show, and plenty of opportunities to learn about the animals you encounter.
Tip: It may be called the "night safari" but this Chiang Mai attraction can be visited during all times of day.
Price:
Adult tickets cost between 100 – 800 Baht
Kid tickets cost between  50 – 400 Baht
Operating Hours: 11:00 A.M. – 10:00 P.M. Daily
2. 
Learn How To Make Amazing Thai dishes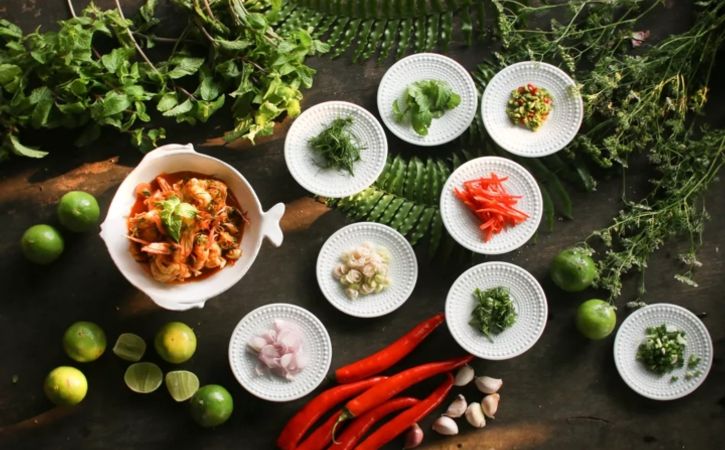 Take a piece of Chiang Mai home!
Chiang Mai is filled with delicious food around each corner. During your trip, what would be better than learning how to cook like a local?
Cookly offers a variety of cooking courses which will teach you how to make everything from pad thai to every curry imaginable. There's no better way to experience Thailand's culture than through food, so check out a course today!
3. 
Help Save The Elephants Inside The Elephant Jungle Sanctuary!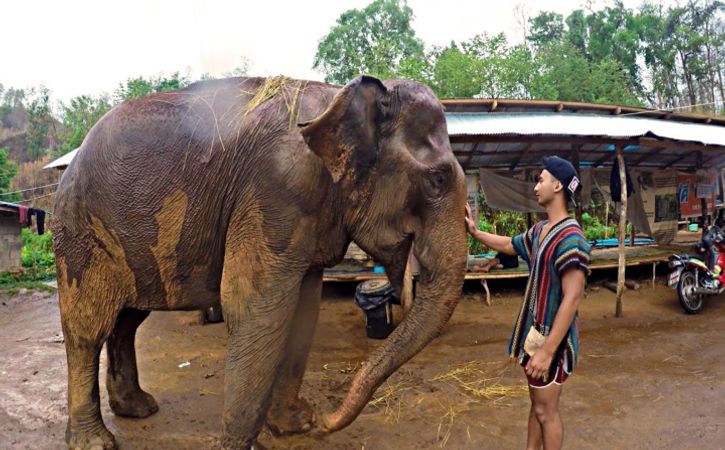 No elephants were harmed in the making of this attraction. 
The Elephant Jungle Sanctuary provides visitors a once in a lifetime opportunity on their trip to Chiang Mai. The sanctuary takes a spin on the traditional elephant trekking tourist attraction by turning it into an educational experience.
The sanctuary is all about protecting the elephants and ensuring they're able to live happily among us.If petting an elephant was your dream, fear not! The sanctuary allows patrons to play with the elephants.
Address: 119/10 Thapae Road, Chang Khlan, Amphoe Mueang Chiang Mai, Chang Wat Chiang Mai 50100, Thailand
4. 

Venture Chiang Mai's Many Markets Through A Guided Tour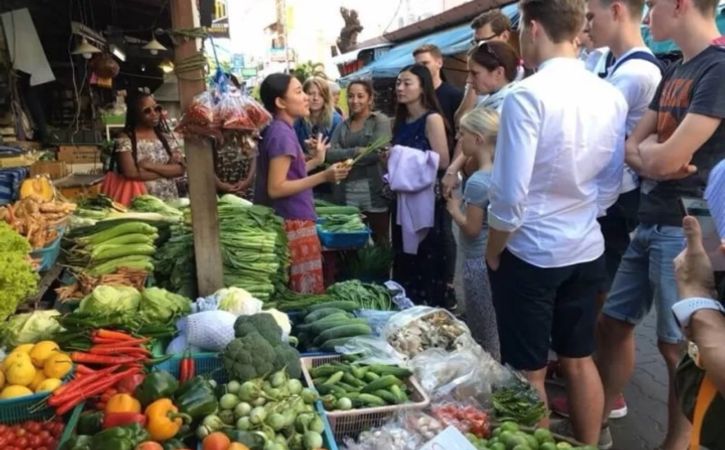 Chiang Mai is filled with amazing markets, it's hard to pick just one to choose! And even harder to fully explore by yourself. A great way to learn about Thailand's food culture is through a market tour. Cookly has multiple market tours to choose and many of them will teach you how to cook with the ingredients that can be bought in the markets!
5. 
Visit Wiang Kum Kam, The Underground City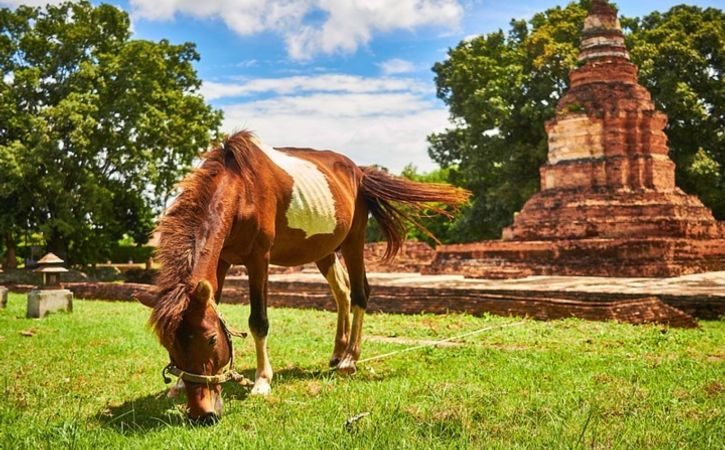 Before there was Chiang Mai, there was Wiang Kum Kam.
Located just a few kilometers south of Chiang Mai, Wiang Kum Kam is the 8th century capital of King Mangrai. Today you'll find it almost completely in ruins, but this makes it an adventurous site to visit in Chiang Mai. You'll find stone tablets, buddhist sculptures and architecture all around.
Tip: Try taking a horse and buggy ride around the city! It's the most popular way to enjoy the ruins.
6. 
Shop Until You Drop At The Night Bazaar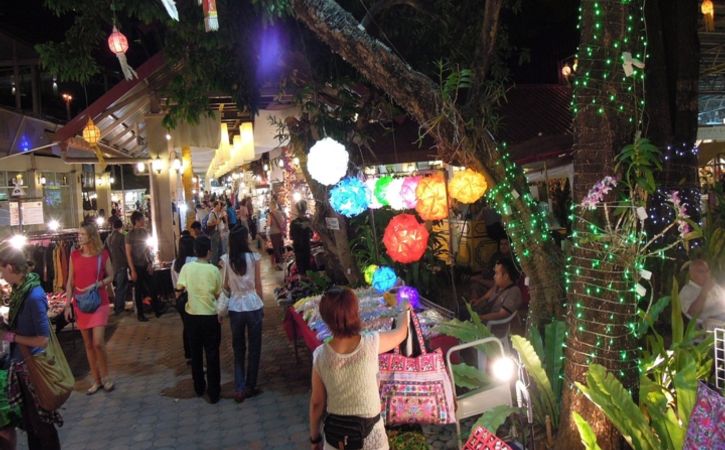 Two blocks of shopping in four directions makes for a night well spent.
Opening around 6 PM, the night bazaar is filled with clothes, housewares, food and more. Once sunset hits the bazaar is open for business and it gets packed fast. If you don't mind the crowds then feel free to venture around any time of the night. But if you think your claustrophobia might kick in, be sure to get there as soon as it opens.
Operating Hours: Sunset – 12 A.M.+ 
Location: Chang Klan Road
7. 

Hike To The Most S

acred Temple In Chiang Mai, Wat Phra That Doi Suthep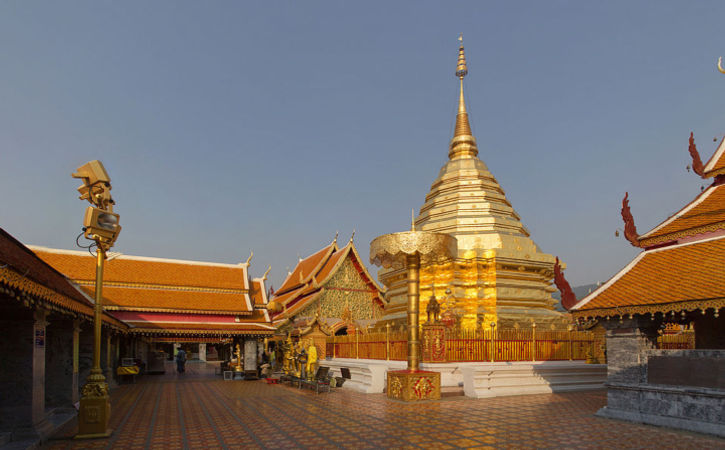 Wat Phra That Doi Suthep is named after the mountain it sits upon, Doi Suthep. This hits the list of top things to do in Chiang Mai because it's Chiang Mai's most sacred temple. Everybody and their mother's learn the story behind the temple at a young age.
It's position atop the mountain allows for a wonderful view of Chiang Mai and it perfectly displays Thailand's architecture. The stairs leading up to the temple are flanked by "naga" or serpents and consist of 306 individuals steps. It's a long way up, but it's definitely worth the journey.
8. 
Relax In The Peaceful Huay Tung Tao Lake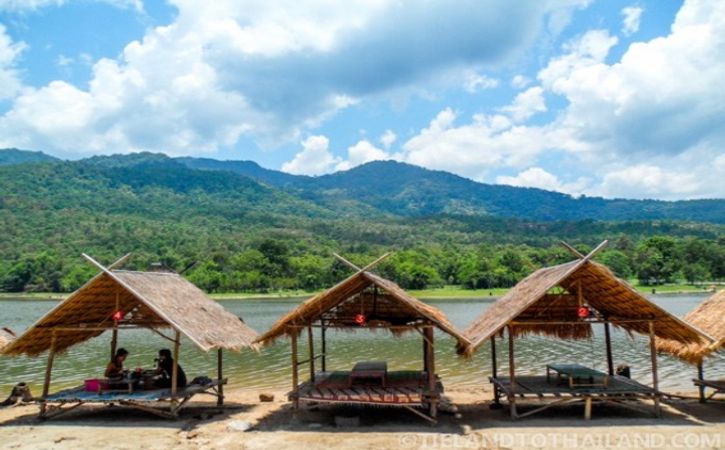 Rent a tube, rent a raft, or just go solo exploring! 
About 10 kilometers from the city is the beautiful lake of Huay Tung Tao. It's the perfect spot for a relaxing after a day of heavy exploring and a must-see destination in Chiang Mai. You're able to float along the river in a cheap rented inner tube or just swim freely. There's also the option to rent a hut where you'll be able to have your own private slice of paradise.
9. 
Discover The Art Of Parasol Crafting Inside Bo Sang Handicraft Village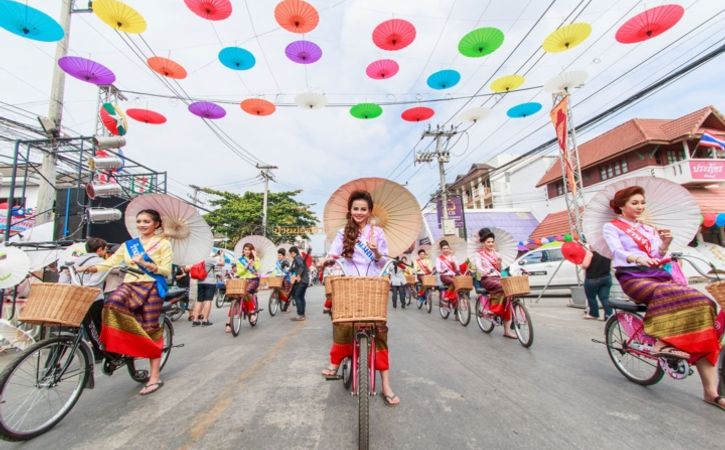 So that's why everyone's carrying umbrellas. 
Just southeast of Chiang Mai is the Bo Sang Handicraft Centre. This top attraction is known for having handmade umbrellas and parasols. Due to Bo Sang's popularity the umbrella has actually become on of Chiang Mai's city symbols.
Not only are you able to purchase these elegant parasols, you're also able to watch the entire process. The best part of the process has to be watching the workers hand paint the intricate details.
9. 
Take A Stroll This Weekend At The Sunday Walking Street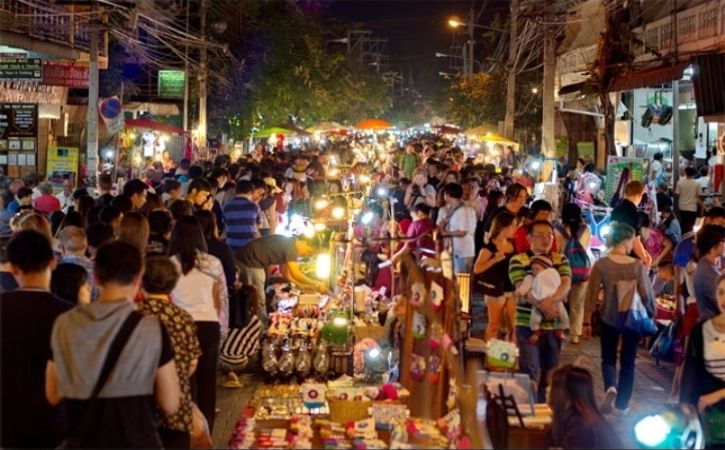 Much better than the Saturday Walking Street!
Everyday Sunday Th Ratchadamnoen turns into the boisterous Sunday Walking Street. This is the top market you have to go to in Chiang Mai for all things food and snack related. Take a look around the street and get filled up on all the delicious Thai goodies! There's also a variety of souvenirs, but the food is what makes this a must-do attraction.
Tip: Check out the Saturday Walking Street on Th Wualai's if you're in need of more shopping.
11. 
Take In The Lanna Culture At The Lanna Folklife Museum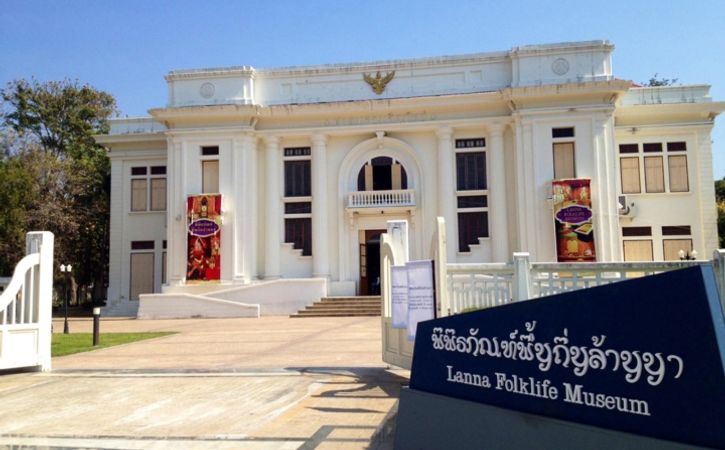 The Lanna Folklife Museum showcases exactly what its' name entails. It's a museum dedicated to the Lanna people's culture and history. The museum is a great way to learn more about Thailand, it's also foreigner friendly with much of the information available in English.
Price: 90 baht for adults, 40 baht for children
Opening Hours: Tue – Sun: 08:30 A.M. – 5:00 P.M.
Address: Ratvithi, Tambon Si Phum, Amphoe Mueang Chiang Mai, Chang Wat Chiang Mai 50200, Thailand
12. 
Discover The Ancient Doi Pui Tribal Village And Doi Suthep-Pui National Park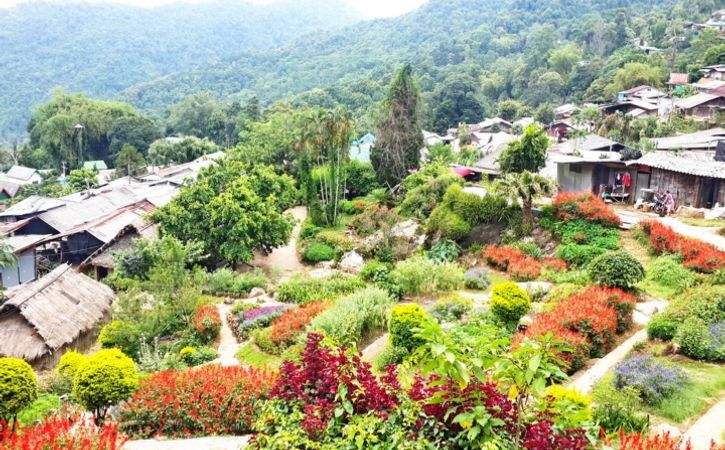 Famous for its beautiful waterfalls, Doi Pui, is a must-see for anyone venturing to Chiang Mai. Doi Pui is located 1,685 meters above sea level and is the highest point within the Doi Suthep-Pui National Park.
While the waterfalls are beautiful the true star of this attraction is the Hmong Tribal Village itself. This village provides an eye-opening view inside into the lives of the tribe. The villages are also very welcoming to foreigners and are more than happy to educate those who enter.
Address: Su Thep, Mueang Chiang Mai District, Chiang Mai 50200, Thailand
13. 
Climb Up The Sticky Bua Thong Waterfalls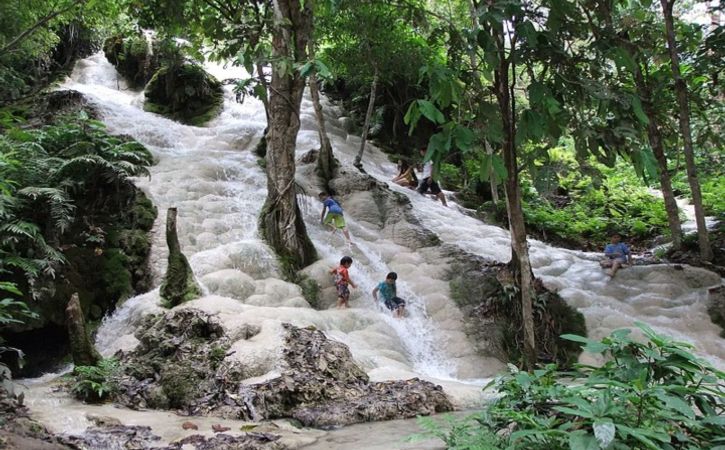 You're practically a gecko thanks to the sticky rocks! 
Located about an hour and a half from Chiang Mai lies the must-see Bua Thong Sticky Waterfalls. The waterfalls are made with "sticky" limestone. It sounds gross, but it makes for an easy climb up and down the falls.
The falls are surrounded by a beautiful forest. After taking a dip in the water, be sure to spend some time exploring the serene atmosphere.
14. 
Explore Chiang Mai's Oldest Market, Talat Warorot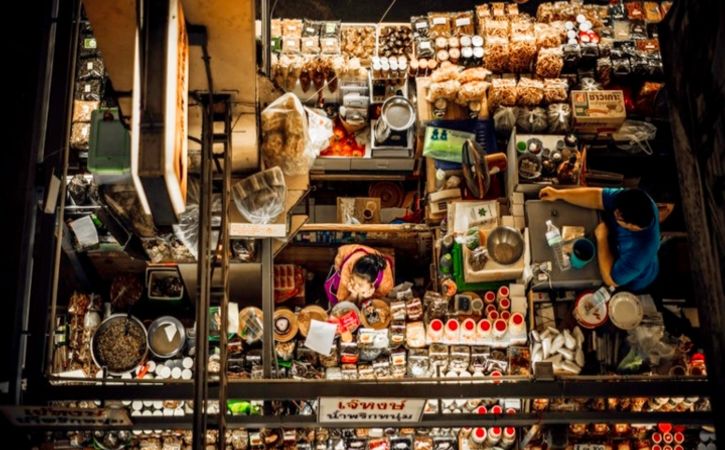 This market may be old, but it's still a contender for one of the best things to do in Chiang Mai. 
Talat Warorot is Chiang Mai's oldest public market and one of the best things you can do in the city. You'll find countless souvenirs along with a multitude of Thai household goods. It's also the best stop to try some Thai sausages known as kaab moo.