Explore the Fascinating Culture of Siem Reap
Siem Reap is a city that is full of history. The most prominent piece of history would have to be located in Angkor. There are many must-visit temples in this city but that can get kind of repetitive. That is why we created this guide to some of the best things to do in Siem Reap.
There are many fun and unique activities to do here. You might be surprised at some of the things you will learn from this guide. Some of these activities are things you might not imagine ever doing but if you're looking for an unforgettable experience then keep on reading.
Be sure to stay until the end of the article for a little surprise, but first here are 10 Fun and Unique Things to do in Siem Reap:
1. Visit Angkor Wat at the Angkor Archaeological Park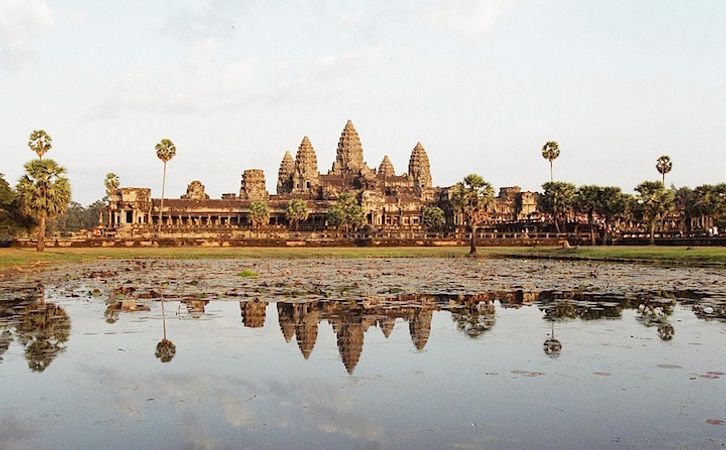 The largest religious monument in the world
You might recognize this because Angkor Wat is the most iconic landmark in Cambodia. This archeological site has remains that date back to the 9th century. Due to its rich history, this landmark was nominated as a UNESCO World Heritage Site. Angkor Wat is one of the many temples that are part of the Angkor Archaeological Park.
This is the largest and most well-known temple at this site. This park is so big that you might possibly need more than a day to get through all the temples. If you only have a day to spend at this site, then you should visit Angkor Wat.
Cost: There are 3 different day passes to the Angkor Archeological Park. A one day pass cost $37 USD, 3 Days Pass Cost $62, and a 7 Days Pass cost $72.
2. Explore the Famous Ta Prohm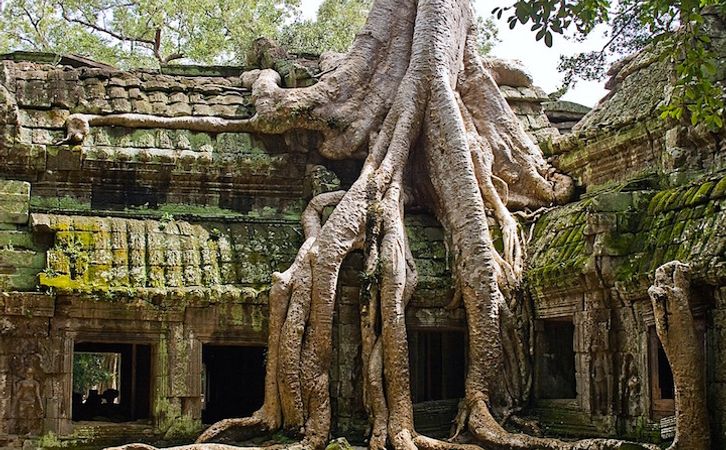 Also known as the "Tomb Raider Temple"
Ta Prohm is another temple that you must see at the Angkor Archeological Park. The most distinguished part of this temple would have to be the giant trees that grow over the temple. Visiting Ta Prohm is a unique experience and will make you feel like you're in another world.
Ta Prohm is also known as the "Tomb Raider Temple" because the movie was filmed here. The hefty money that was paid to film here was used towards restoration and preservation of the temples. Tomb Raider became a huge hit in Cambodia mainly because it raised a lot of awareness about the country.
Good to Know: In honor of Angelina Jolie and the movie, the Red Piano Restaurant in Siem Reap created a drink called the Tomb Raider cocktail.
3. 

Get a Pedicure from a Fish Spa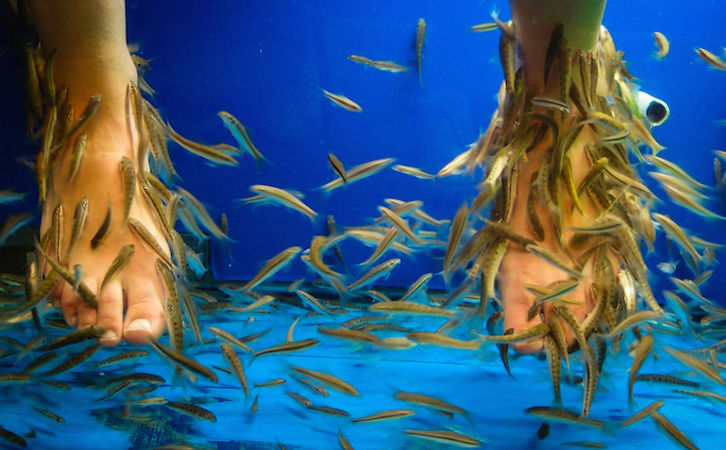 Get a unique pedicure
This may look really odd but it is actually really common in Siem Reap. You will find tanks filled with water and fish in many massage parlors. Just dunk your feet in the water for a few minutes and the fish will nibble away all the dead skin cells. Don't worry if you're scared, it just feels a little ticklish.
Fish spas are really popular around Asia and have been a trend for many years. If you're hesitant about this, then you can just get a regular massage. There are many massage parlors around the city that offers really inexpensive massages.
4. 
Take a Cooking Class in Siem Reap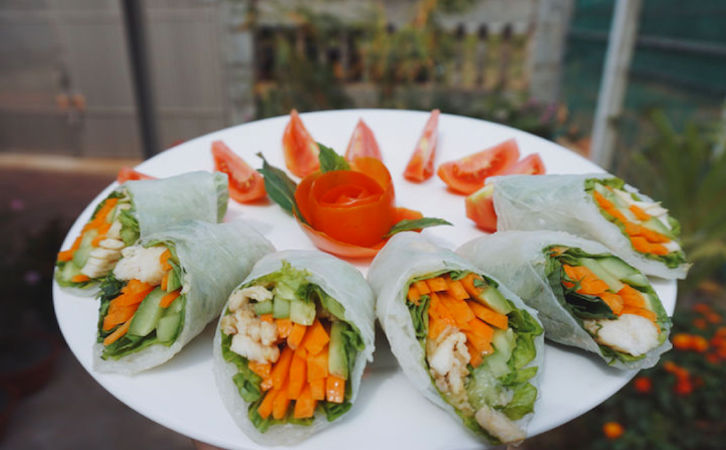 Get an authentic culinary experience
We believe that eating a country's cuisine is the best way to learn about its culture. So why not take a cooking class during your stay at Siem Reap? You'll learn to cook some traditional Cambodian dishes from local chefs. This is the most authentic way to learn about the country's food.
Aside from eating delicious food, some classes offer market tours and even a trip to Angkor Archeological Park! This unique experience that is offered in Siem Reap will make your trip unforgettable.
5. Experience the Nightlife at Pub Street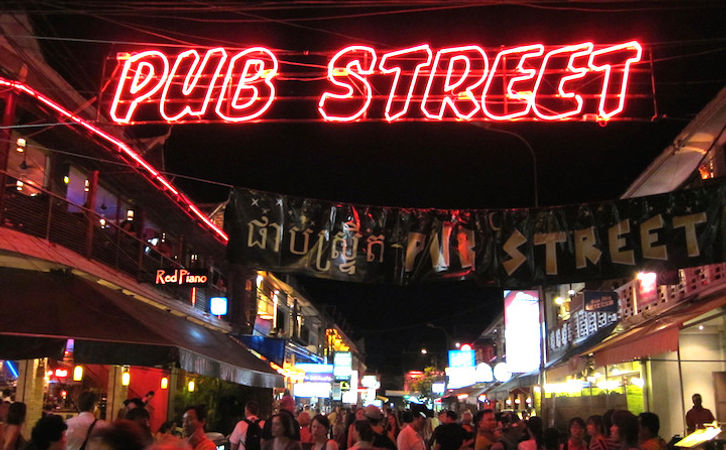 Walk around the bright and lively street
Just like it sounds, this street is a great place to go drink after a long day of exploring. There are many shops that sell cheap beer and street food. You can get beer as cheap as $0.50 USD a glass! This street is filled with restaurants, strange street food, loud music, and more.
If you can't tell from the picture above, the Red Piano is located on Pub Street! Stop by for a glass of beer or the Tomb Raider cocktail that was mentioned earlier. There are so many things to do in Pub Street. You can even get a foot massage if you're tired!
Good to Know: This area is known to have a lot of tourists and people that will try to scam you. You can avoid scams simply by saying no or walking away.
6. 
Visit a Floating Village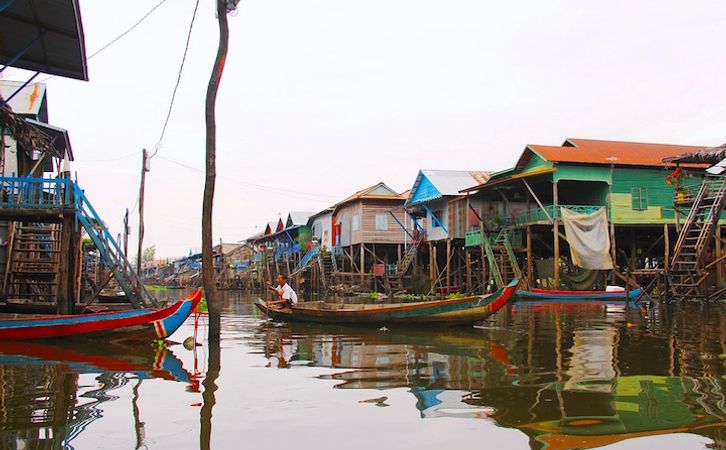 See how this village operates
Visiting a floating village is a great way to see how some people live in Cambodia. There are three main villages that are located at Tonle Sap Lake. You can choose to visit Kompong Phluk, Kompong Khleang, or Chong Kneas. The houses are able to "float" on the water because it is built on stilts.
Among the floating village, there are many houses, temples, and schools. You will also see a few vendors selling produce on a boat. The best time to go is when the sun is about to set.
Tip: Be sure to do a lot of research before you choose a tour. Some boat tours will ask for donations that do not go directly to the charity.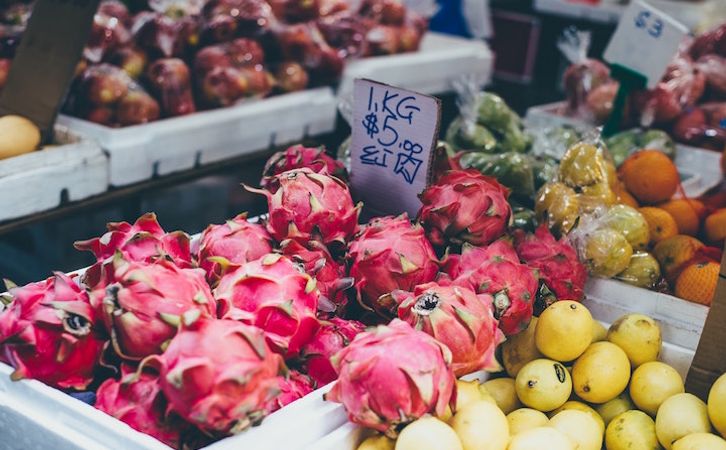 Taste some colorful and different fruits
Siem Reap has many tropical and exotic fruits that you cannot find in a lot of other countries. If you can find some of these fruits in Western countries, it would most likely be expensive and not fresh. Some fruits you must try are dragon fruit, mangosteen, jackfruit, passion fruit, and more.
The best place to get these fruits is at a local market. The most popular market that you should visit is Psar Chaa. A lot of locals like to go there for fresh fruit, produce, and meat. This is also a great place to buy souvenirs.
Address: Psar Chaa Road, Siem Reap 17252, Cambodia
8. Watch a Cambodian Circus Show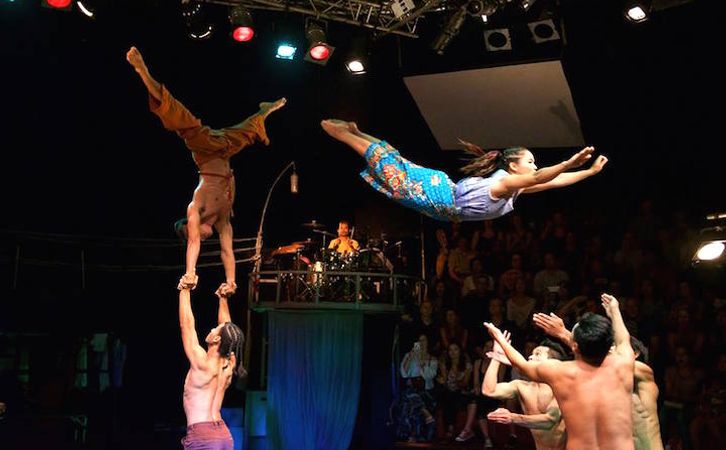 Support a great cause
Phare, The Cambodian Circus is must see when you visit Siem Reap. The circus show includes various acts in dance, acrobatics, storytelling, and more. You can enjoy a great show and contribute to a great cause. The money that is raised through tickets, merchandise, and food goes to a nonprofit organization called Phare Ponleu Selpak.
Phare Ponleu Selpak is a school that provides free education to disadvantaged children. The school mainly provide an education in visual art, dance, music, and circus. They also create employment opportunities for Cambodian artists.
Cost: Tickets range from $18- $38 depending on the seats you choose.
9. 
Zipline Through a Jungle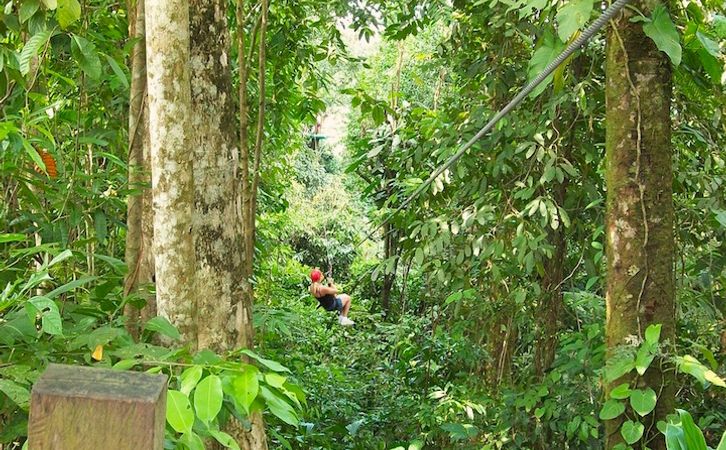 Enjoy an exhilarating adventure
To make your trip even more exciting, go zip-lining through a jungle! This is a fun activity that you must do in Siem Reap. Try this even if you are scared of heights, you will not regret it. You'll get an amazing view of nature as you walk through the jungle and zipline across it.
A great zipline company that a lot of visitors go to is Angkor Zipline. The employees there are friendly and the package includes a meal. Don't forget to book in advance if you are interested in this activity.
Cost: Packages start at $59 per person.
10. 
Eat Some Creepy Crawlers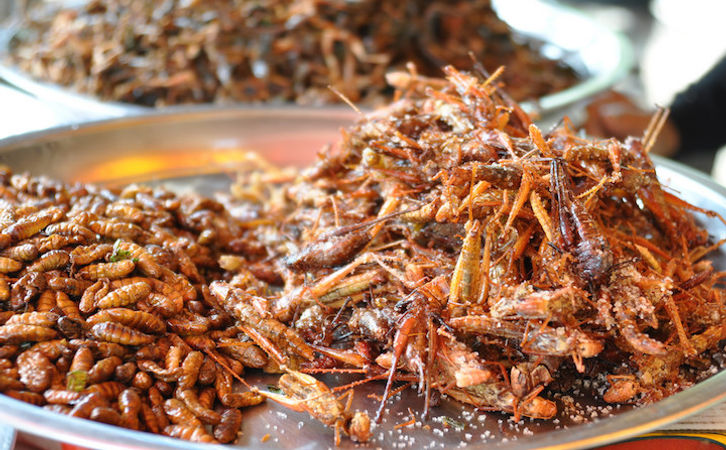 Try this if you dare!
You are bound to eat something weird when you are visiting a foreign country but have you ever tried scorpion? Many street vendors around Siem Reap sell insects and scorpions on a stick. You'll probably remember this experience for a long time if you are brave enough to try this.
If you really want to try some interesting bugs then you should visit Bugs Cafe. You can try a variety of dishes that have insects as the main ingredient. You can eat silk works, water bug, scorpions, and even a deep fried tarantula!
Address: Siem Reap, Siemreab-Otdar, Siem Reap, Cambodia 17000
Wait we have a little extra for you!
There are plenty of amazing things to do in Siem Reap but we hope you found this guide to be helpful.
If you are interested in taking a cooking class in Siem Reap, use the promo code SIEMREAPBEST10 to get a 10% discount on www.cookly.me