For the locals, Ubud has always been known for their artistic and unique tradition. Locals in Ubud are mostly artists and are very keen on preserving their heritage and culture. It is no wonder that this same idea is also important in their food culture. There are many wonderful foods and restaurants you can find in Ubud! Here are some of our best picks of things to eat in Ubud.
1. Ayam Betutu Pak Sanur (Sanur's Betutu Chicken)
If you get close to any small shop, you can already see people lining up for this renowned menu. Ayam Betutu is Bali's own special dish, made with chicken that is cooked to perfection with Bali's special spices for 12 hours. It might be a little bit spicy, but it's so worth it. The juicy meat just seems to fall off the bones the moment you take a bite. You couldn't get a more authentic dish than Ayam Betutu.
If you manage to find a restaurant that sells this traditional food, then consider yourself lucky. This was one of the main dishes eaten by the locals back in the day. Although it is considered hard to find nowadays, if you visit small stalls and street vendors there is a good chance that you could try it for yourself. Made from ketupat (condensed rice), steamed vegetables, and topped with a special, curry-like sauce, this savory treat might just be a hidden treasure for you to try!
Have you ever tried duck before? In Asia, duck dishes are very important and often regarded as a treat. This is because preparing duck requires a special method to get rid of the "smell" that often puts off some people from enjoying it.
Bebek Betutu (Betutu Duck) offers a similar, but different taste to Ayam Betutu (Betutu Chicken) since duck meat has a bit more fat than that of chicken. Take your chance and try out all the different local foods in Ubud while you can!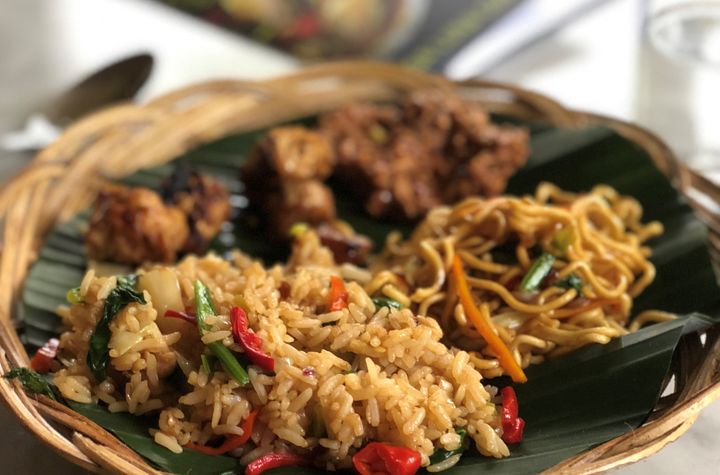 Ubud is blessed with a wonderful climate that helps the growth of their crops. There are a few places where you can get authentic farm to table food around Ubud. One such place is Casa Luna, which is one of the oldest places in Ubud that provides authentic and fusion of traditional foods. Try out some classic dishes like Ayam Betutu, or if you're feeling daring, Sambal Matah. Be sure to try their key lime tart and chocolate cake; they are to die for! They also have several cooking classes you can take during your trip! Click here to have a full list of the cooking classes you can take on during your trip!
5. Babi Guling (Suckling Pig)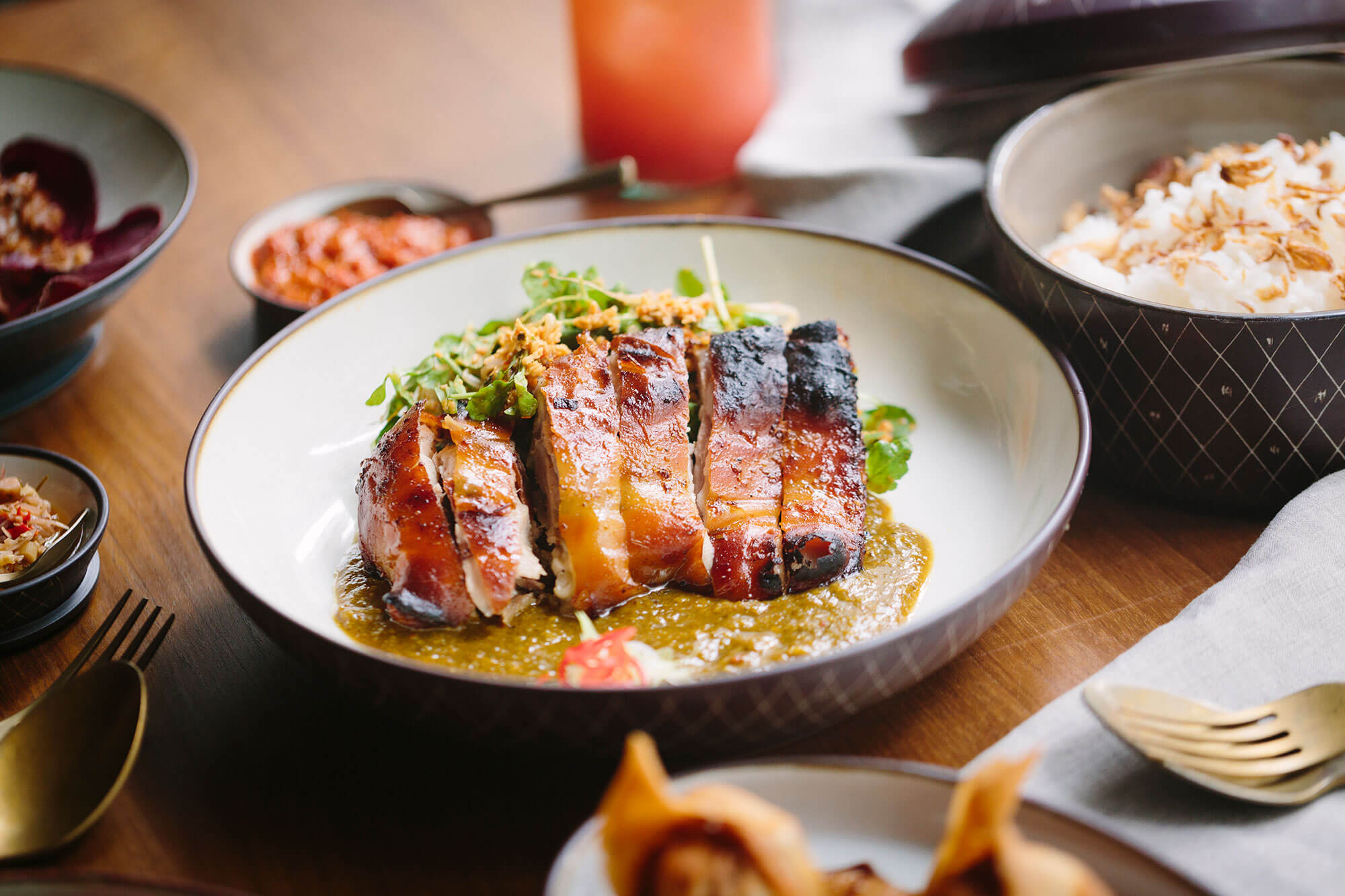 Your trip in Bali can't be complete without trying out this hyped dish. Babi Guling used to be a traditional ceremonial dish. However, it's unique taste and the high demand for this dish persuaded the locals to share it with others. Nowadays, you can get this item almost everywhere in Bali. Nonetheless, the locals know that the best suckling pig you can find is in Ubud. Try out this juicy dish during your stay and join the hype!
6. Balinese Traditional Coffee
A trip to Bali isn't complete without sampling their exquisite coffee! In Bali, coffee is in an integral part of their culture. One of the most interesting and most expensive coffees in the world can also be found in Bali: Luwak Coffee. Ubud is home to various unique and Instagrammable coffee shops, and there is one for each of your tastes! Go and drink a cup of coffee and fall in love with Ubud again.
Although you can find Nasi Campur in different places in Indonesia, Balinese Nasi Campur are known for their unique fragrance. Nasi Campur Ayam (Chicken Mixed Rice) is a rice plate set that consists usually of fried peanuts, shredded chicken, sauteed or steamed vegetables, and a stick of Sate Lilit. It is very famous in Bali since it is basically a plate of Bali's "All Star" dishes. It could be a bit spicy so be careful while eating it.
Where better to get authentic local food, other than the local marketplace? Although Pasar Ubud is known for its arts, little trinkets, and souvenirs you can pick up during the day, if you manage to go there a bit earlier (say, around sunrise) you can get the best local treats on the whole island from small food peddlers. From small traditional cakes to Bali's porridge to Nasi Jinggo, it's a haven of local foods to explore. Make sure to sleep early the day before to explore this food market!
Photo Source
If you want to have an original Balinese spicy chicken rice, there is no place better than Ubud. Specifically, in a restaurant called Nasi Ayam Kedewatan Ibu Mangku. Served with a hearty serving of chicken, rice, eggs, satay, local veggies, and some fried peanuts, this dish is a depiction of Balinese dishes; full of spices and fragrance. A main characteristic of Indonesian dishes is that most of them are spicy, and so it's better to keep an eye on the spice level in authentic Balinese dishes. Otherwise, this great dish shouldn't be missed during your trip in Ubud!