Planning a trip to Canggu? Known for delectable seafood dishes and a variety of international restaurants, Canggu is a foodie haven. In addition to delicious dishes, it is also the perfect place for cafe-hopping for those of you who love to explore coffee flavor profiles and unique coffee shop atmospheres! Here are our best picks of the must-eat foods in Canggu!
Photo Source
First up on our list is the classic Indonesian dish: Nasi Campur! This delectable, all-in-one dish is perfect for people who wanted to try everything all at once. This rice dish is served with a few other side dishes, such as steamed vegetables, meat, and fried nuts. Depending on the restaurant, you can also have vegetarian Nasi Campur.
2. Babi Guling (Suckling Pig)
Photo Source
This is a definite must-eat dish in Bali. Juicy, tender meat; this dish is usually served with a nice portion of rice and a special sauce. You can also choose all the different parts that you'd like to eat, such as the crispy skin or the tender meat. Depending on the restaurant, there are many different ways they'd serve the meat. One of the most common is by dipping it in a special sweet-savory sauce. You could also try the traditional pork sausage, which is made from the suckling pig's meat. You haven't actually visited Bali if you didn't eat this phenomenal dish.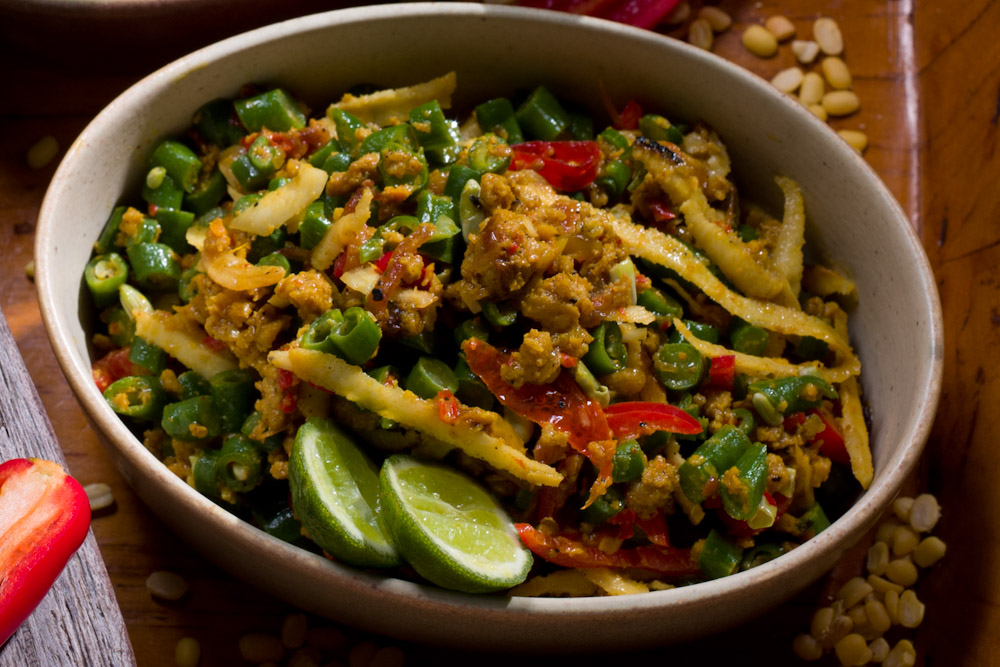 Photo Source
Lawar is basically a vegetable and meat salad. It is cooked together with Bali's traditional spices and herbs, giving off a unique aroma. This dish can be described as a bit spicy for those who aren't used to Bali's traditional foods. It is best eaten with a serving of rice and a stick (or more) of Sate Lilit.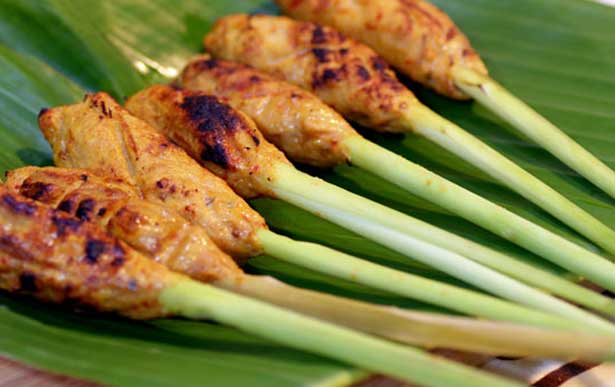 Photo Source
Satay (or Sate) is a staple dish amongst most Asian countries. However, countries and regions all have their own unique versions of this dish. Balinese Sate Lilit is created using minced and processed meat, which could be made from fish or pork mixed with local spices and herbs. It's usually eaten with other dishes, but you can also enjoy it by itself.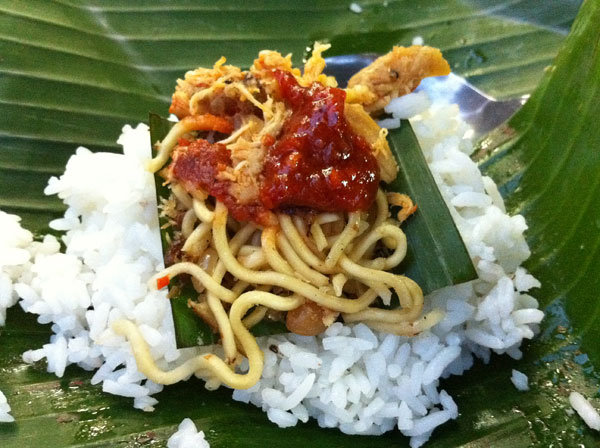 Photo Source
One serving of Nasi Jinggo is usually so small, you can finish it within two or three bites! This is why people usually eat more than one serving. The small serving of rice is eaten with chicken, sambal sauce, Tempe, and some other toppings such as fried noodle and shallots. It is then wrapped and eaten from a leaf packaging. You can't get any more local than this!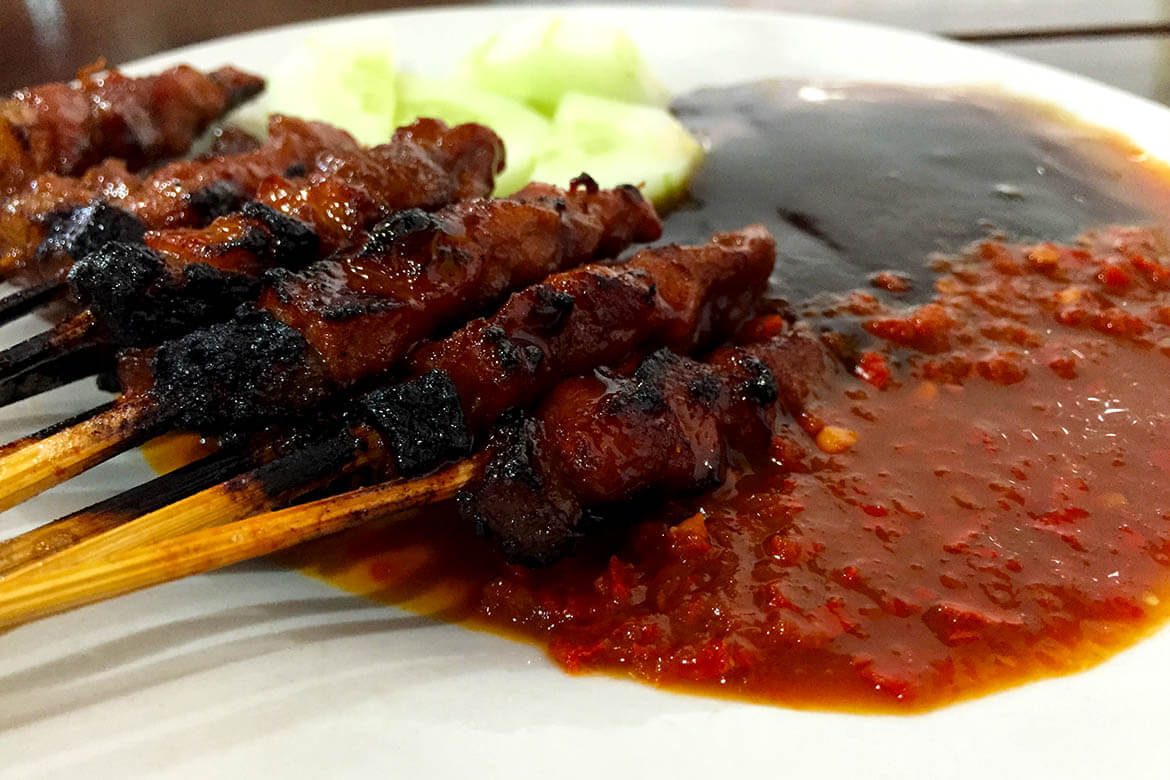 Photo Source
Your trip to Canggu is not complete without a taste of Sate Plecing. This satay dish can be made from chicken, pork, or even fish. It is marinated in a special sauce made from local ingredients unique to Bali. It can be a little spicy (or a lot), so be careful if you can't handle the heat!
Photo Source
This is another version of Sate Plecing! Made from clams, the clam meat is first marinated into the same sauce of Sate Plecing, before being grilled to perfection right in front of your eyes! If you love seafood, you should definitely try this dish.
Photo Source
For those of you who don't mind a bit of heat (or would like a little challenge!), Sambal Matah is the perfect treat for you. Indonesians love their sambal, and Canggu is no exception. Sambal Matah is usually made from freshly cut shallots, red and green chili, all drenched with boiling coconut oil. It is fragrant and refreshing, not to mention very spicy! You can eat Sambal Matah with almost any dish, be it fried chicken or grilled fish. Definitely a must-try dish in Bali.
9. Rujak Kuah Pindang (Rujak Gelogor)
Photo Source
This uniquely refreshing fruit salad is only available in Bali! It consists of various tropical fruits such as mango, pineapple, cucumber, and wax apple. It is then drenched in a fish broth made from a local fish called Ikan Pindang. It gives you a very refreshing taste, which is perfect for a humid, hot day. Note that it could be a bit spicy, just like most traditional Balinese food.
Photo Source
For those who want a taste from a traditional Balinese home, you can try Tum Ayam. Made from chicken, this dish can be described as something similar to a meatloaf. This mixture of minced chicken and spices and herb, which is then steamed until it's done. This warm dish is perfect to eat along with some white rice!