Explore the natural and historic wonders of Kyoto
Kyoto is one of the largest cities in Japan with a population of over one million people. The busy city is surrounded by serene nature, countless temples, and delicious food. There are so many fun things to do in Kyoto that you would probably need to stay for more than a week. We've picked out a few things you must do in Kyoto even if you're here for a short trip.
We've created a guide that is suitable for everyone whether you are the type of traveler that likes to learn about the history and culture, eat amazing food, or take breathtaking photos. Many of these activities are also great for families.
1. 
Enter the Gates to Fushimi Inari Shrine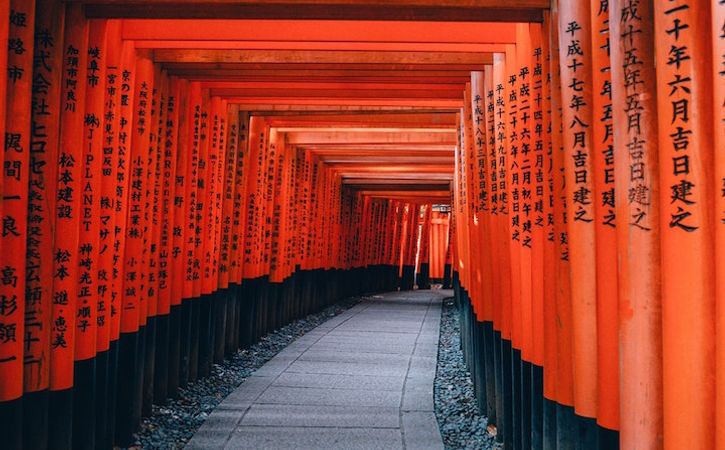 Get an impressive sight of Japan's culture
The torii path, orange gates, that lead to Fushimi Inari shrine is probably the most iconic landmark in Kyoto. You might have seen in movies and photos. Inari is the god of rice and is traditionally worshipped by merchants so that their businesses can prosper. There are over 5,000 torii gates at this shrine and each of them was donated by a Japanese business.
This shrine is located on top of a mountain so you will need to hike a little to get to it. As you walk towards the shrine, you might notice numerous fox statues scattered around the area. There are also many restaurants in this neighborhood that offer Inari and fox themed meals.
Tip: It is recommended to come here as early as 7am to avoid crowds.
How to get here: You can take the train to Inari Station on the JR Nara Line or to Fushimi-inari Station on the Keihan Main Line.
2. 
Learn How to Make Traditional Japanese Food in Kyoto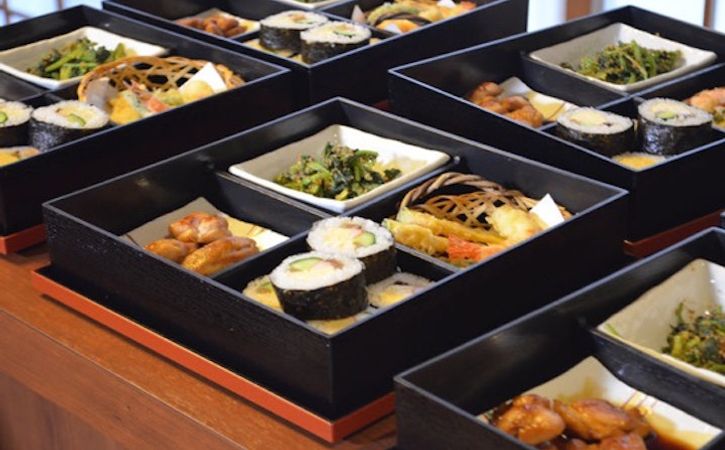 Get an authentic taste of Japan
You may be familiar with some popular Japanese foods such as ramen, sushi, and udon but have you ever wondered how it is made? The best way to learn more about a culture is through its food. Taking a cooking class can teach you more about the culinary delights of Japan beyond the foods that were just mentioned. You can also experience what a typical family eats by taking a class at a Japanese home.
We even have a 5 days intensive cooking class if you are serious about learning more about authentic Japanese cuisine. Some of the classes also include a market tour, cooking in a ramen factory, and much more!
3. 
Take the Sagano Romantic Train Ride at Arashiyama
The Arashiyama bamboo grove is a must visit!
The path along the grove is a short walk but it is a great place to take amazing photos. Although photos do a good job of capturing its beauty, it is best to come here and witness the beautiful view for yourself. Aside from the bamboo forest, Arashiyama is also famous for the Sagano Romantic Train Ride.
The Sagano Romantic Train travels 25 minutes from Saga Torokko Station to Kameoka Torokko Station. The train ride will take you on a scenic journey to the outskirts of Kyoto. The scenery is absolutely breathtaking, especially during the springtime.
Cost: It costs about 620 yen to ride the Romantic Train.
4. 
Hike Up to Monkey Park Iwatayama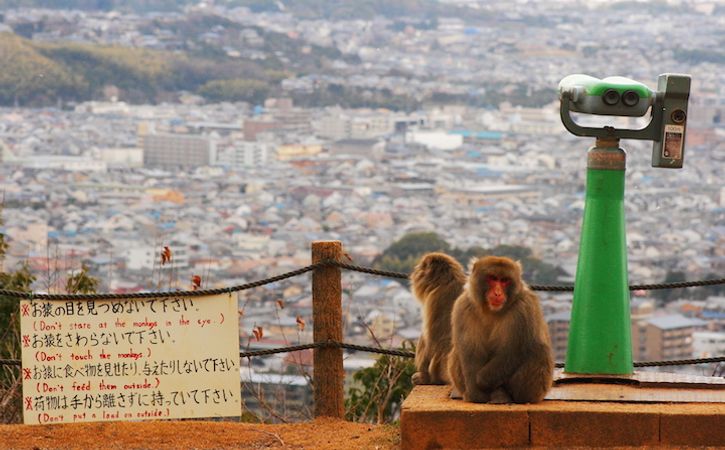 Have fun with the monkeys
The monkey park is also located in Arashiyama. If you are plan on going to the bamboo forest, be sure to stop by this monkey park as well! The park is about a 20 minute steep hike but it is worth it once you reach the top. You will get a great view of the city and watch the monkeys roam freely around the park.
The monkeys, especially the babies, are adorable and fun to watch. The park has over a hundred monkeys and is visited by many tourists so it can get a little hectic. There is a feeding area where guests can pay 50 yen for the food and feed the monkeys but be sure to only feed them in that area.
5. 
Try Some New Food at Nishiki Market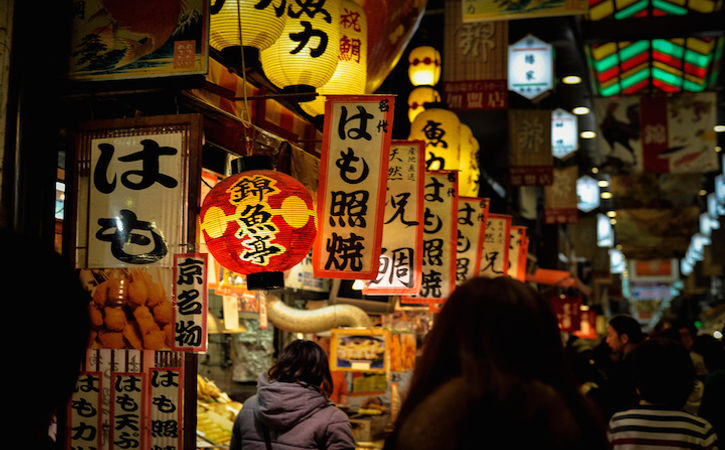 Get full off of free samples
Also known as Kyoto's Kitchen, the Nishiki Market is a shopping street that is lined up with over a hundred shops and restaurants. This place started out as a wholesale fish market but it evolved over the years and incorporated a variety of shops. You will see many vendors that sell sashimi, fresh produce, and ingredients used to make traditional Japanese food. Although this market attracts a lot of tourists, many locals like to shop here as well.
You will notice some interesting and different foods you may not have seen before. If you want a taste of different Japanese foods then Nishiki market is a great place to start. Many of the vendors provide free samples so be sure to come here on an empty stomach!
Tip: Come here in the morning if you want the freshest seafood
6. 
Take a Tour of Kinkakuji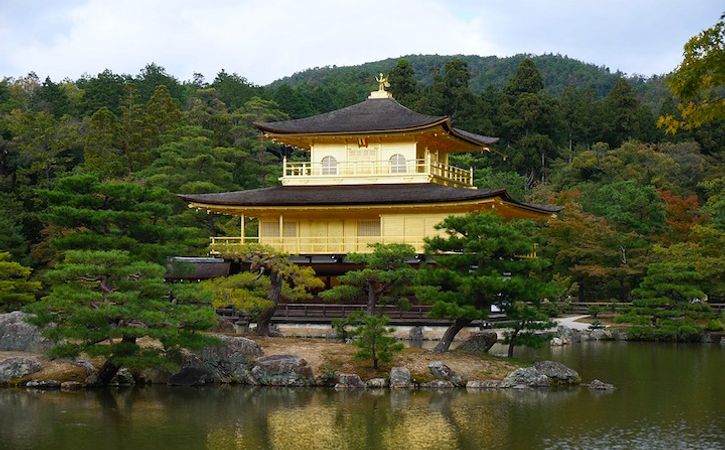 One of Japan's most important historic monument
There are a lot of temples in Japan but Kinkakuji is probably one of the most visited temples in Kyoto. The temple translates to Golden Pavilion because the top two floors are covered in pure gold leaf. This centuries old temple has a rich history that dates back to the 1400s. It had to be rebuilt a few times because it burned down during the Onin War and once by a monk in the 1950s.
The temple is by a large pond and surrounded by numerous trees, making it a very beautiful spot to take pictures. You can come to the temple really early in the morning or near closing time if you want to avoid crowds.
Cost: The general admission fee is 400 yen.
7. 
Explore the Enchanting District of Gion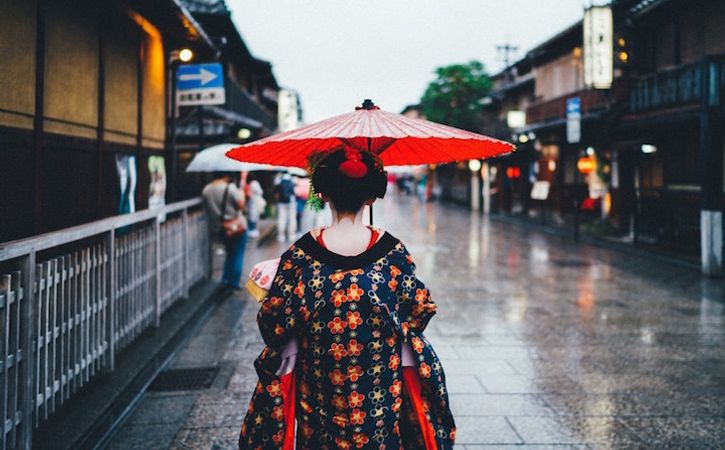 A neighborhood full of history and culture
Gion is a district in Kyoto that is best known as a geisha district. The traditional street and wooden houses at Gion attract many visitors to the neighborhood. There are many shops, restaurants, and teahouses located around the Gion. Be sure to also visit the Yasaka shrine, especially at night when the lanterns light up.
There are many expensive restaurants in this area but going to a teahouse, or ochaya, will guarantee the most exclusive dining experience in Kyoto. Dining at a teahouse with the company of a geisha is really expensive and is usually only exclusive to a few amounts of guests. You might be able to get a glimpse of a geisha walking towards a teahouse but don't mistake tourists dressed in kimonos as geishas.
Good to know: Geishas encounter many tourists that act like paparazzi, please be respectful if you happen to see one.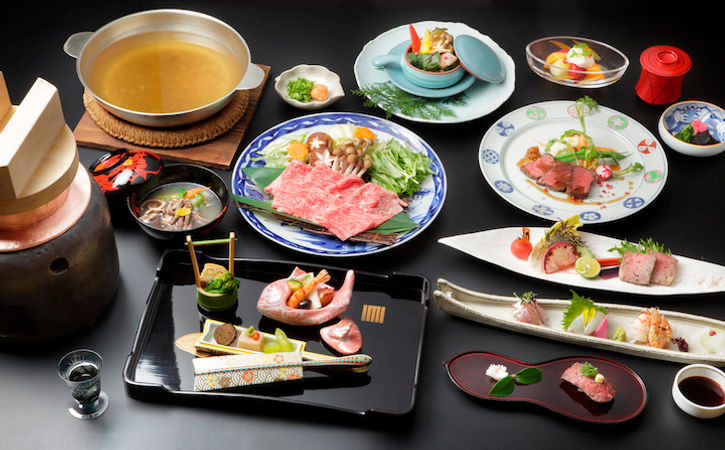 Get a Japanese fine dining experience
Kaiseki is a traditional Japanese cuisine that is served in multiple courses. It has often been referred to as a Japanese haute cuisine. In the past, a kaiseki meal was only served to the noble class. Most kaiseki meals cost over 10,000 yen however, there are a few restaurants that provide a more affordable option. The menu for these meals are usually seasonal and can vary from restaurant to restaurant.
It is often served in a ryokan, a traditional Japanese inn, but many restaurants also offer this type of meal. You can find many kaiseki restaurants in Gion and throughout other parts of Kyoto. You can get the best kaiseki experience by dining on a riverside terrace. A popular place to eat is along the Kamogawa river.
9. 
Take a Day Trip to Nara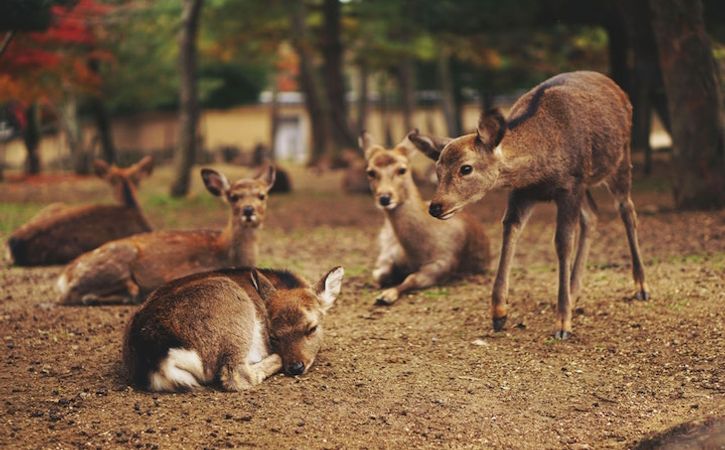 Feed deer at Nara Park
Nara has a lot of temples and beautiful parks but the number one thing that Nara is known for is the immense population of deer. Nara Park is a very popular place for visitors because of the hundreds of deer that roam freely around the field. You can buy crackers for about 150 yen and feed it to the deer. Although the deer are known to be friendly, be careful because a group of deer may come all of once if you have food. They might even try to eat your clothes.
Be sure to also visit Todaiji Temple while you are here. Todaiji Temple is just adjacent to the deer park so you will see some deer in the temple too. The temple is a significant landmark of Nara and attracts a lot of visitors because of the giant Buddha statue and stunning architecture.
How to get here: The best and fastest way to get here is by train. You can take the JR Nara Line or the Kintetsu Nara Line. It takes a little over an hour to get to Nara, or less if you take the express train.
10. 
Have Drinks at an Izakaya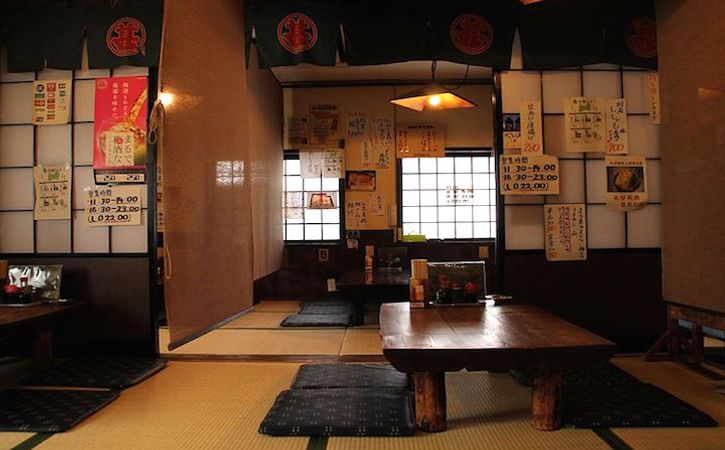 Wind down in a cozy and casual atmosphere
An izakaya is a Japanese style pub that is often visited by people who want a drink and socialize after work. It serves alcoholic beverages and appetizers such as skewers, edamame, and sashimi. Although an izakaya typically has small portioned food that is paired with alcohol, modern establishments are adding more food to their menus.
The menus are usually written on the walls in Japanese are there are no pictures so it can be difficult to order if you do not know the language. There are a few foreigner friendly izakayas that you can visit in Kyoto but you will get a more authentic experience If you have a Japanese friend that can take you to one.
This is it… plus a little bonus!

These were the top 10 fun things you must do in Kyoto. Hopefully, you've gotten some insight on what you must see in Kyoto and had fun doing so!
We also have a little something for you! If you're interested in a cooking class, use the promo code KYOTOBEST10 and get a 10% discount on www.cookly.me