Traditional Mexican cooking is always a real fiesta. The kitchen transforms into a party of flavors, aromas, and colors. Friends and family gather around the table to enjoy delicious food, conversations, laughter, and music together.
For Lily, the founder of 
Rivera Kitchen Tulum
, this is the true essence of Mexican cuisine.
Lily's love for ancient Mexican cuisine and its traditions have been part of her life for as long as she can remember. She was born in Mexico City and later moved to Yucatán. There, she got insights into the Mayan cuisine. As time passed, she accumulated over 30 years of experience in the hospitality industry. Eventually, in 2013, she decided to found Rivera Kitchen Tulum.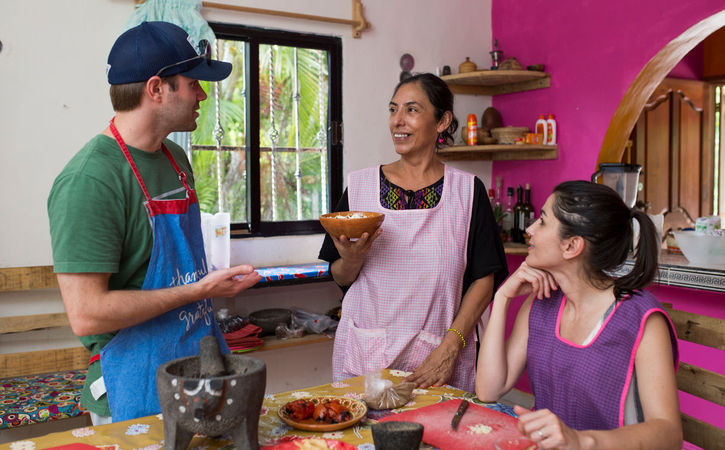 Lily's cooking style is highly influenced by her childhood memories. Above all, her greatest inspiration and deepest love for food comes from her grandmother's cooking. 
Every time I cook, my abuela is with me… She would dance around in the kitchen, creating flavors impossible to replicate because they were an expression of her beautiful soul.
When taking cooking classes with Lily, you are sure to get an authentic experience. The classes are held in a beautiful house on the way to Cobá. There is a big garden filled with vegetables and herbs to cook with. The dishes will be as fresh as they can be!
Visitors to Lily's kitchen can expect to cook up a delicious Mexican menu, including quesadillas tradicionales (a must-eat in Mexico), handmade corn tortillas, salsa meta (a versatile and delicious salsa), and Agua de Jamaica (a traditional drink made with dried hibiscus flowers).
Lily will provide the historical background of each dish and its key ingredients, so you can enjoy a first-hand experience of Mexican food culture.
I believe the locals are always the best source of knowledge about traditions.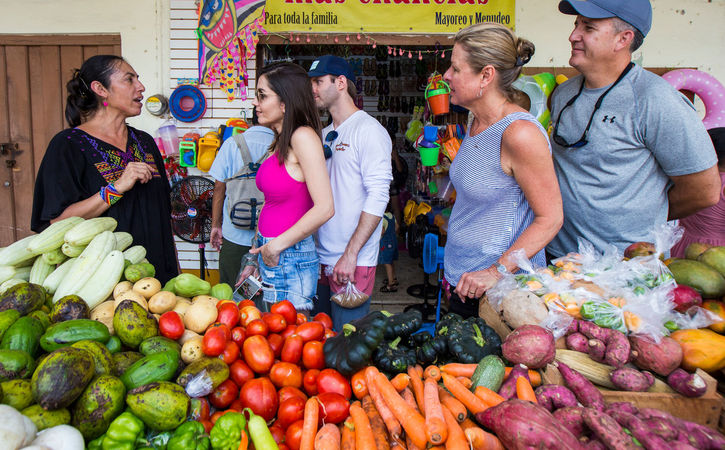 On the weekends, Lily carries out culinary tours. There she takes visitors to experience a cultural and gastronomical immersion in notable areas of Tulum and its neighboring communities.
Lily's hard work hasn't gone unnoticed. The renowned Condé Nast magazine featured Rivera Kitchen Tulum in their gastronomy section as one of their "30 Must-Do Experiences". In addition, TripAdvisor has awarded Lily and her team the much-coveted "Certificate of Excellence" for five years in a row. 
Most recently in 2018, Lily collaborated with Mexico's National Institute of Anthropology and History to organize a Traditional Mexican Culinary and Mezcal Tasting Festival at the entrance of Tulum's Archaeological Site.
Are you planning your next visit to Tulum?
Don't miss out on learning authentic Mexican food, culture and traditions that you can bring back to your own kitchen.