Osaka: A city filled with history, nightlife, and street food galore!
Even though Osaka is Japan's second largest city, it's often overlooked and seen as a stopping point on the way to Tokyo or Kyoto. But in recent years it has been bustling and growing as a tourism destination. With all the tourism, it can be difficult figuring out what to do in Osaka. But don't worry! This guide will take you through the most fun things to do in Osaka.
Osaka is filled with fun and adventure around every corner. We've curated a list of the top fun things you must do in Osaka to help you get started planning the trip of a lifetime.
Check out our list of the 13 Fun and Unique Things You Must Do in Osaka:
1. 
Experience Japanese History Inside Osaka Castle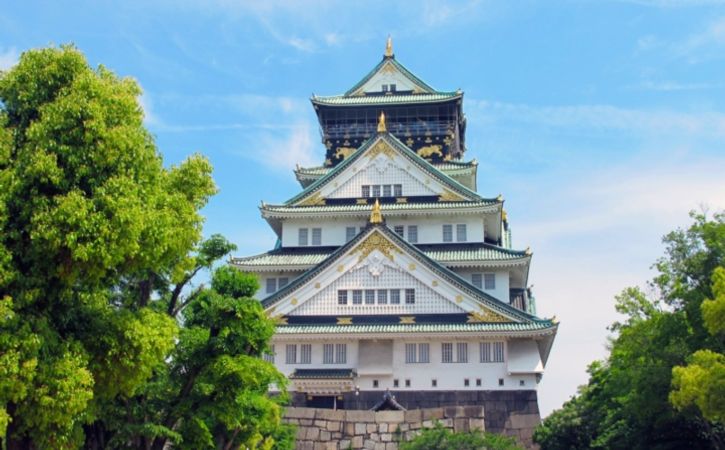 It's going to take a lot more than a war to bring this castle down!
Built in 1583, Osaka Castle is one of Osaka's most visited attractions with over 1 million people making the trip each year. The history-rich castle today is a rebuilding of the original which fell during the Battle of Sekigahara.
Today the castle doubles as a museum and the lawn outside has become a popular picnic spot. The museum features a beautiful display of cherry blossom trees surrounded by a pool of water. There's also the Nishinomaru Garden within the castle walls which opens during cherry blossom season.
Hours: 9:00 am- 5:00 pm
Prices:
Castle tower price: 600 Yen/person
Nishinomaru Garden price: 200 Yen, 350 Yen (during cherry blossom season)
Address: 1-1 Osaka-jo, Chuo-ku Osaka-shi
2. 
Meet the Real Pacific Rim at Kaiyukan Aquarium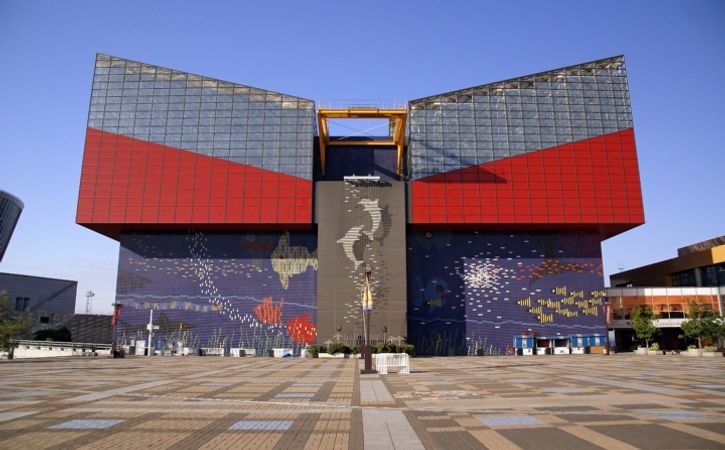 How can you fit all those fish in there?!
Not only does the Kaiyukan make the list of best things to do in Osaka, it consistently tops the charts for best aquarium in the world. Kaiyukan boasts 15 unique exhibits designed to take travelers across the varying environments found in the Pacific Rim.
Over 30,000 different animals can be found swimming peacefully alongside one another. Including gargantuan whale sharks which can grow to be 31 feet and weigh over 40,000 pounds.
Prices:
2,300 Yen for ages 16-60
2,000 Yen for 60+
1,200 Yen for ages 7-15
600 Yen for ages 4-7
Free for ages under 3
Operating Hours: 10AM-8PM Daily
Address: 1 Chome-1-10 Kaigandori, Minato Ward, Osaka, Osaka Prefecture 552-0022, Japan
3. 
Take a Photo in the Mouth of a Lion at Namba Yasaka Shrine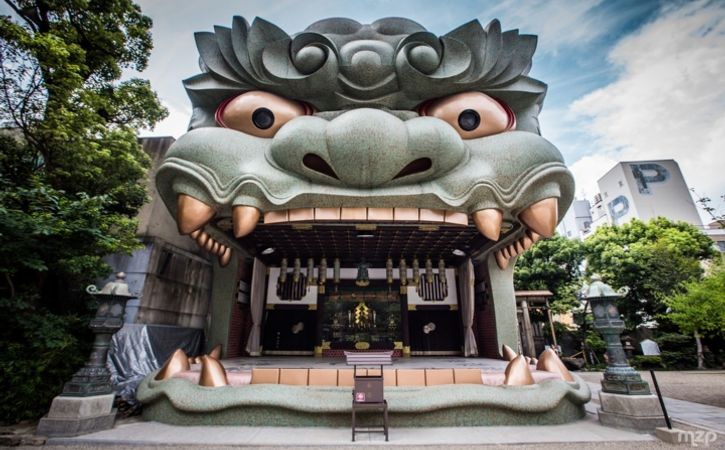 Don't worry, this lion doesn't bite.
Most famously known for its retro lion-shaped stage, Namba Yasaka was once part of a complex of Buddhist temples that were destroyed during World War II. The stage was built in 1975 and plays host to a variety of festivals throughout the year. Every 3rd Sunday of January is the shrine's anniversary where a massive tug-of-war competition takes place. The shrine and this competition are Osaka's first designated intangible folk cultural property.
Price: Free
Operating Hours: 6AM – 5PM Daily
Address: 2 Chome-9-19 Motomachi, Naniwa Ward, Osaka, Osaka Prefecture 556-0016, Japan
4. 
Sample Food at 170 Shops inside Kuromon Ichiba Market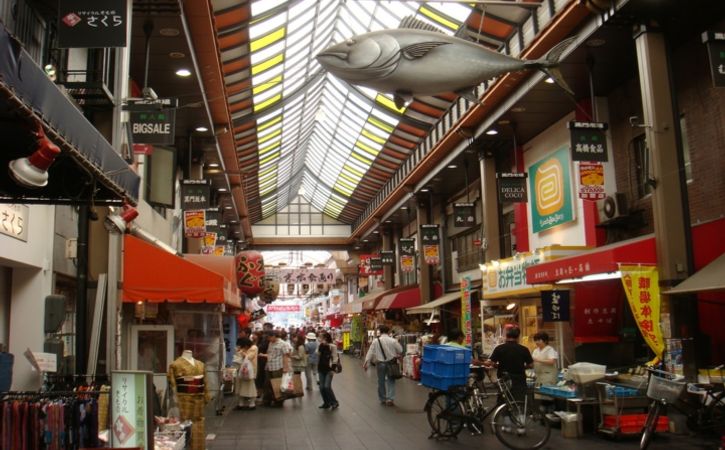 600 meters of fruits, veggies, meat, and fish.
This market is filled with fresh veggies, meats, eggs, and other produce from Japan and overseas. It's the ultimate stop for foodies wanting to try local Japanese produce. The market is primarily designed to cater to businesses, but in more recent days it has become a tourist hotspot. Visitors are able to sample many of the products and some shops will even sell fresh cut sashimi!
Operating Hours: 9AM – 6PM Daily
Address: 542-0073 2-4-1 Nippombashi, Chuo-ku, Osaka
After taking a look a Osaka's finest ingredients at Kuromon Market, why not learn how to cook with them?
Cookly offers a wide variety of classes that'll show you how to make professional grade sushi, tempura, udon, and more. There's even a sake tasting class!
6. 
Watch the Kabuki Performance of a Lifetime in Shochikuza Theatre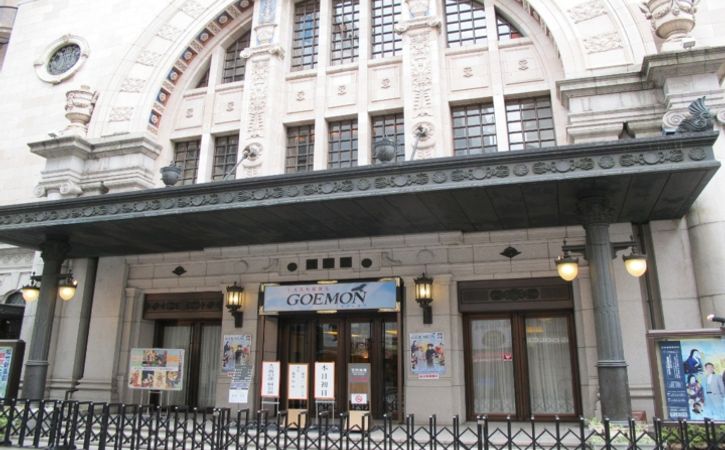 Looking to experience traditional Japanese theater? Shochikuza has got you covered. This theater specializes in Kabuki, a classical dance-drama characterized by performers wearing elaborate make-up.
The Shochikuza originally opened as a movie theater in 1923 and would occasionally host musical performances. It wasn't until 1994 the theater closed for renovations and reopened in 1997 as a place to watch traditional Kabuki along with other theatrical performances.
Tip: Tickets can be pricey. If you don't want to spend an arm and a leg try the "Hitomakimiseki". It's essentially a standing room only seat that costs a mere 1,000-2,000 Yen.
Address: 1 Chome-9-19 Dotonbori, Chuo, Osaka, Osaka Prefecture 542-0071, Japan
7. 
Enter a New World in Shinsekai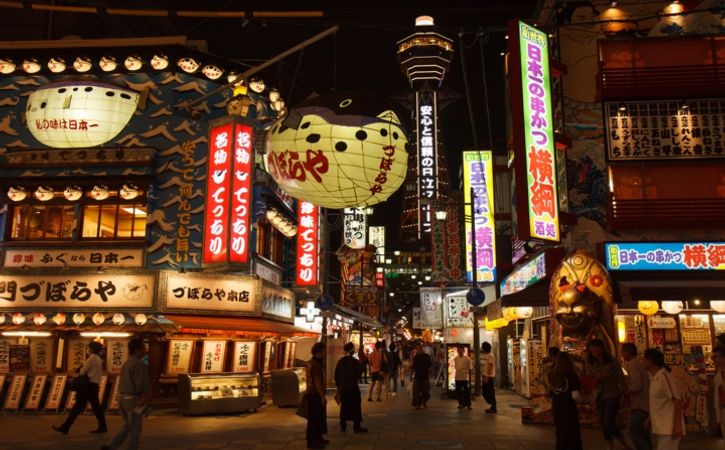 Shinsekai or "New World" is a district in Osaka that was constructed in 1912. It was meant to be the neighborhood of the future, but due to World War II it was neglected for decades. Thanks to its retro flair, Shinsekai is quickly becoming a must-see in Osaka. The style and architecture is reminiscent of Japan in the 80's and many of the shops reflect Osaka in past days.
Here you can find cheap cafeteria-like restaurants, Japanese-style bars, and some interesting dishes like hormone-yaki or barbecued cattle organs. You'll also find plenty of entertainment and street performers galore. Many shops feature a bard playing a Japanese banjo to attract patrons.
Address: 556-0002 Around Ebisuhigashi, Naniwa-ku, Osaka
8. 
Get Lost in the Dotonbori Lights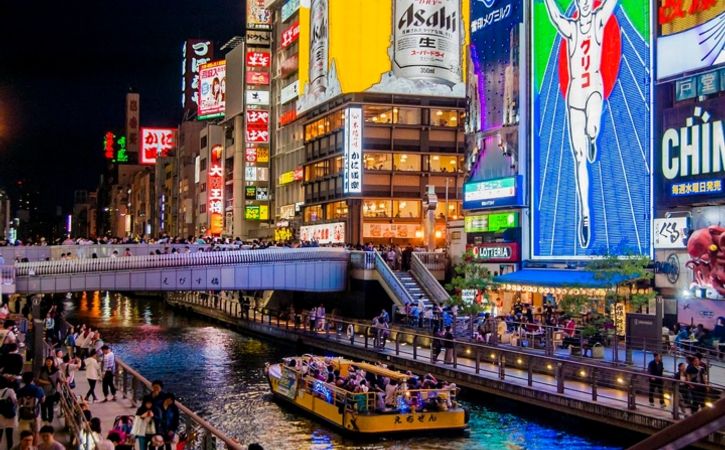 Who knew watching people play arcade games would be so fun?
Dotonbori is a street packed with restaurants, bars, lights, and most notably, arcades. Near the beginning of the street you'll find the famous Round 1 Stadium, a massive entertainment and arcade hall. Round 1 locations can be found throughout Japan and this place is so popular they've even begun popping up in the United States.
The best time to visit Dotonbori has to be a night. The street become packed, but the lights are a marvel to see. Huge animated signs deck the outside of bars and shops. Dotonbori explodes in an array of neon lights, it feels like something out of Blade Runner. It can be easy to be over whelmed, but don't keep an eye out for the Glico Man around the bridge and the Kuidaore clown banning his drum.
Address: 2丁目-4 Dotonbori, Chuo Osaka, 542-0071, Japan
9. 
Take a Dip in an International Bath at Spa World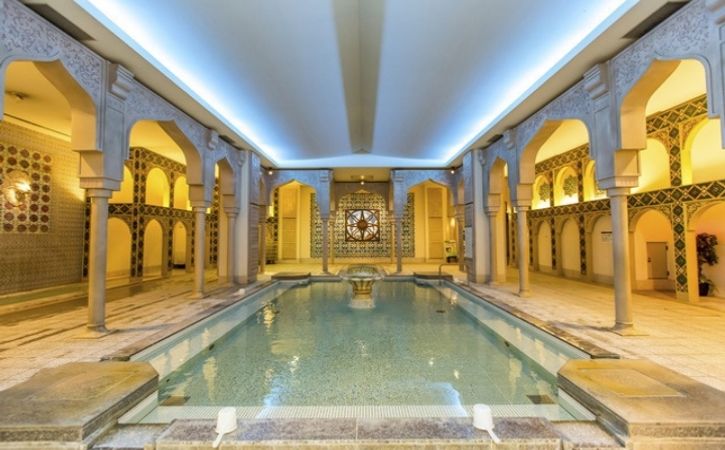 Experience the world one bath at a time.
This massive 7-story hot spring park contains a plethora of internationally-themed baths and saunas. The characterized baths are a little cheesy, but wonderfully relaxing at the same time. Unlike manly theme parks, not everything is fake in Spa World. If you're looking to experience a natural hot spring head up to the European Zone on the 4th floor or the Asian Zone on the 6th floor.
If baths aren't your thing, this park also has water slides, swimming pools, a gym, a tanning salon, souvenirs, a kids zone, and they even offer massages. Spa World is unique to Osaka and something you won't find anywhere else in the world.
Tip: The hot springs and saunas are separated by gender, so be careful and pay attention to which on you enter!
Prices:
2,400 Yen for 3 hours
2,700 Yen for an all-day pass
1,300 for children
Operating Hours: 12AM – 11:59PM Daily Address: 3-4-24 Ebisu-higashi, Naniwa-ku, Osaka 556-0002, Osaka Prefecture
10. 
Eat a Crispy Maple Leaf in Minoo Park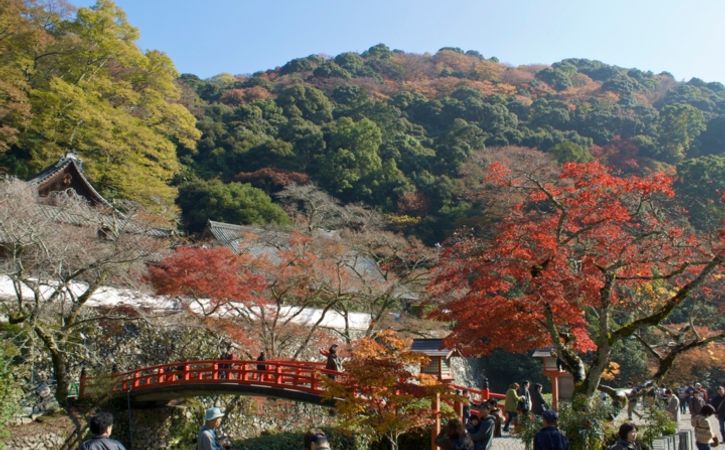 Never eaten a leaf before? Now's the time to try.
Minoo provides an escape from the city in the city. This park with gorgeous scenery all around. It features gardens, a waterfall and river lined with traditional buildings and temples. The park is beautiful year round, but truly shines during autumn. Majestic maple trees surround the park and glow bright red when fall comes around.
Recommendation: Don't leave the park without trying a deep-fried maple leaf! It sounds strange, but it's a local speciality and fan favorite.
Price: Free
Operating Hours: Wednesday – Monday: 10AM – 5PM; Tuesday: Closed
Address: 1-18 Minookōen, Minoo-shi, 562-0002, Japan
11. 
Be a Movie Star and a Wizard Inside Universal Studios Japan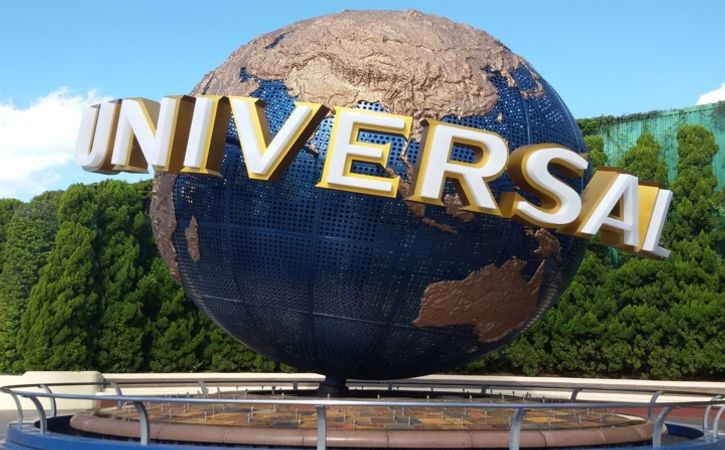 With over 8 million visitors each year it's no wonder this place is a top attraction in Osaka. Universal Studios Japan puts a Japanese spin on its' American counterparts. It features several famous attractions including: The Wizarding World of Harry Potter, Jurassic Park-The Ride, JAWS, and more. They've also incorporated several Japan exclusive attractions which featured popular video game and anime franchises, like One Piece and Monster Hunter.
Tip: Try going in October when the park becomes themed for Halloween. You'll see spooky zombies roaming the grounds and costumes galore.
Price:
7,315 Yen for an adult 1-Day Pass
5,000 Yen for kids 4 to 11
6,575 Yen for adults over 65
Address: 2 Chome-1-33 Sakurajima, Konohana Ward, Osaka, Osaka Prefecture 554-0031, Japan
This crispy snack is popular throughout Japan and is especially popular in Osaka. It's made with a special batter and carefully fried, so the tempura remains greaseless and crisp. Shrimp tempura is the most popular, but you're also able to find vegetable and chicken tempura pretty easily as well. It's the perfect snack for on the go and perfectly compliments udon. It's definitely a must-try on your trip to Osaka! 
Try your hand at making tempura!
Cookly offers several courses specializing in tempura. Learn how to make grease-free fried foods and eat a delicious meal at the same time! 
13. 
Become a Kid Again at the Pokemon Center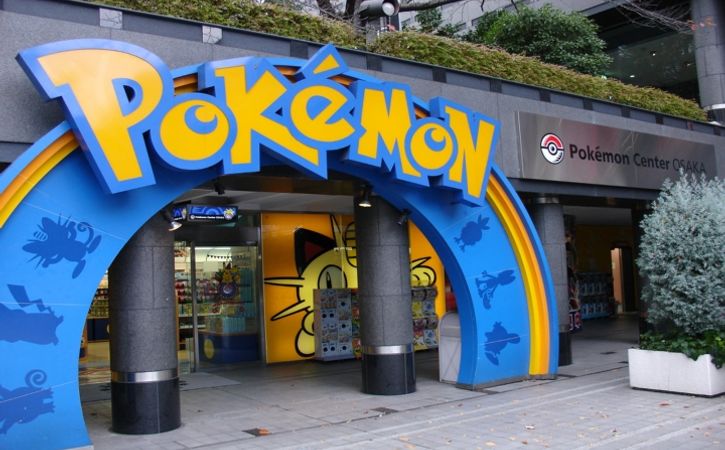 Gotta catch 'em all!
Regardless of whether you watched Pokemon when you were younger or not, this shop is adorable. Walls are lined with plushies and you'll see Pikachu's face on just about everything. You can find everything from stationary, cutlery, phones cases, to doormats all featuring characters from the Pokemon series. There's also plenty of Japan themed memorabilia. So even for those unfamiliar with the franchise, these characters sure are cute and would make an excellent souvenir.
Tip: The Pokemon Center is located within the Daimaru Umeda department store. Check out all the others shops and restaurants, if you've had enough of Pikachu for one day.
Operating Hours: 10AM – 8PM Daily
Address: Daimaru Umeda Store 13F, 3-1-1 Umeda, Kita-ku, Osaka 530-8202, Osaka Prefecture
---
That's it! Plus we've got a little bonus for you…
We hope that our list of "13 Fun and Unique Things To Do in Osaka" will help you discover Osaka's most fun things to do and other enjoyable activities for a 4-5 day itinerary. 
We also have a little something for you! If you're interested in a cooking class, use the promo code OSAKABEST10 and get a 10% discount on www.cookly.me