Enjoy the Finest and Freshest Sushi in Tokyo.
There are so many things you must do in Tokyo and eating sushi is one of them. It is believed that this city was where sushi became popularized and then embedded into Japanese cuisine. It can be a little overwhelming to choose the best place for sushi in an abundance of amazing restaurants in Tokyo. Sushi can taste very different depending on the restaurant you go to.
In this guide, we have prepared a list of restaurants that serve the best sushi in Tokyo. This list ranges from inexpensive sushi to Michelin star restaurants. You can enjoy high-quality fish that will melt in your mouth without paying an expensive price. We have included restaurants that will fit everyone's budget.
Make sure to stay until the end of the article for a little surprise, but first here are 10 Best Sushi Restaurants in Tokyo: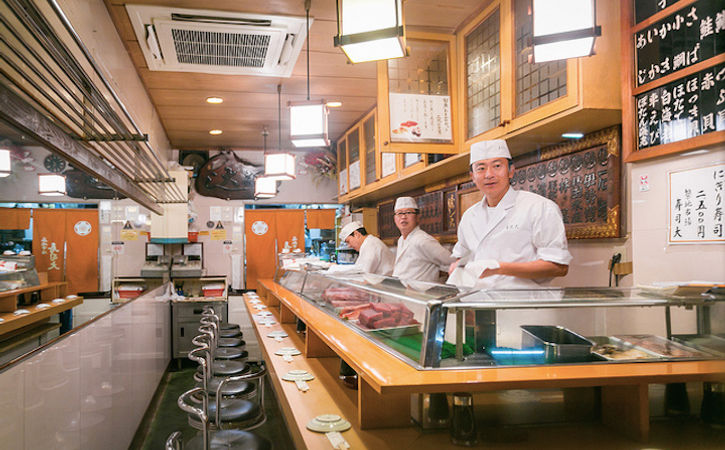 Be prepared to wait in line.
Sushi Dai is one of the most popular restaurants at the Tsukiji Fish Market. The line is extremely long and the wait time can be hours. Lining up at this restaurant may not necessarily guarantee you a spot to eat in the restaurant since they close at 2pm. This restaurant is so popular that people start lining up hours before the restaurant even opens!
As crazy as it might sounds, a lot of the customers say that it is worth the wait. If you are a huge fan of sushi then you should definitely give this restaurant a try. The fish is always fresh since the restaurant is located in the fish market. A customer favorite would have to be the tuna since it melts in your mouth as soon as you bite into it.
Address: 5-2-1 Tsukiji, Tsukiji Fish Market 6th Bldg., Tsukiji, Chuo 104-0045, Tokyo Prefecture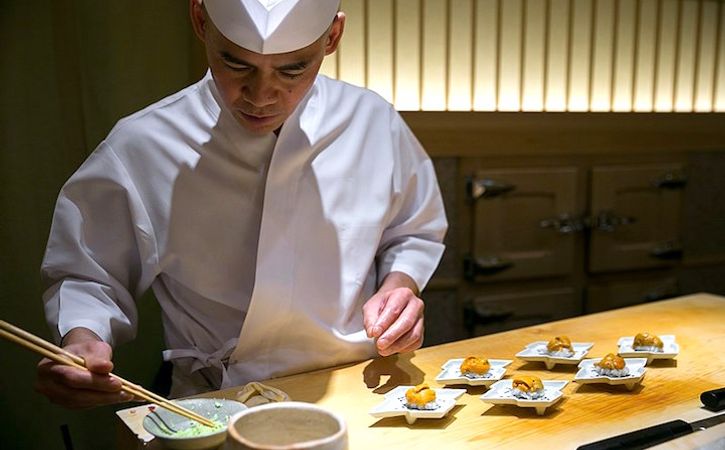 Dine at a 3 Michelin star restaurant.
Sushi Saito is ranked as one of the top 50 restaurants in Asia. Reservations are extremely difficult to make due to its popularity and limited seating. Chefs from all over the world have regarded Sushi Saito as the best sushi restaurant in the world. This restaurant also holds 3 Michelin stars since 2009.
The simple yet refined decoration at this restaurant reflects well on the food. If you are curious to see what makes this restaurant so amazing, be sure to make reservations ahead of time. It can take at least 6 months to get a seat at this restaurant.
Address: 1-4-5 Roppongi, 1F Ark Hills South Tower, Minato 107-0052, Tokyo Prefecture
3. 
Sukiyabashi Jiro Honten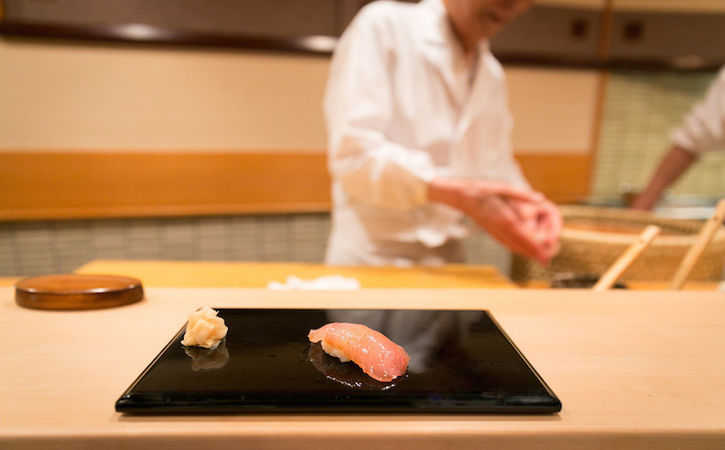 Eat from a world renowned sushi master.
Jiro Ono is a well-known sushi chef that owns the restaurant Sukiyabashi Jiro Honten. This restaurant also holds 3 Michelin stars and is often compared to Sushi Saito. Despite the comparisons, this restaurant has its own charms.
This restaurant has been popular for many years but attention grew after the documentary film "Jiro Dreams of Sushi" was released in 2011. Its popularity also increased when the former American President, Barack Obama, and Prime Minister of Japan, Shinzo Abe, dined at this restaurant.
Address: 4-2-15 Ginza, Tsukamoto Sogyo Bldg. B1F, Ginza, Chuo 104-0061, Tokyo Prefecture
4. 
Himawari Zushi Shintoshin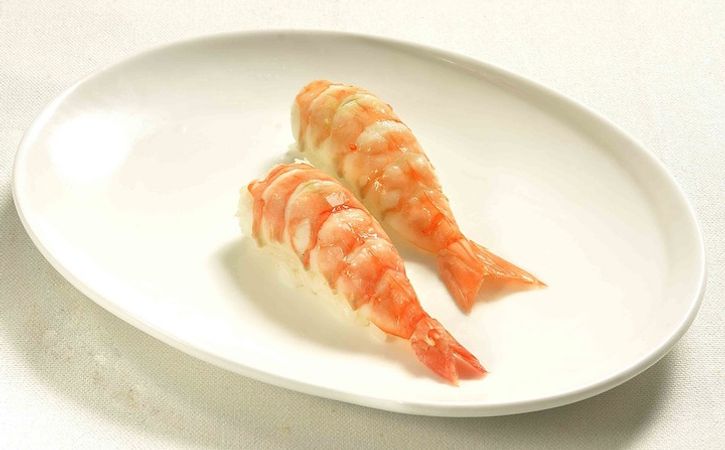 Who doesn't love affordable sushi?
Himawari Zushi Shintoshin is a local restaurant that serves sushi on a conveyor belt. The price of the food is determined by the color coordinated plates. You can order your favorite sushi if you do not see it on the conveyor belt.
This is a great place to go for quick and hassle free lunch. The restaurant has an English menu so it makes it a lot easier to order. Be sure to bring cash if you decide to eat here because this restaurant does not accept credit cards.
Address: 1-15-3 Nishishinjuku, Shinjuku 160-0023, Tokyo Prefecture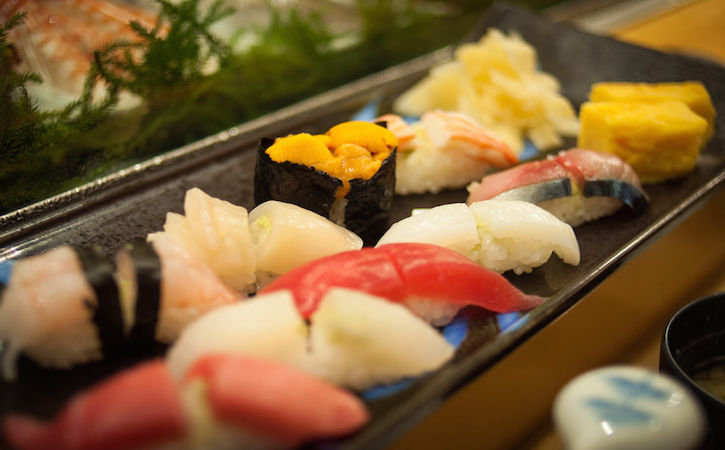 Eat sushi for breakfast.
Yamazaki can be crowded sometimes since it is located at Tsukiji Market. It is recommended to arrive early since many people go to the market really early in the morning. Try to get here as early as possible if you want to avoid the long lines.
Since this restaurant is located at the fish market, it is no doubt that the fish will be fresh. This place is loved by many visitors and locals as well. You will not be disappointed with the food if you eat here.
Address: 5-2-1 Tsukiji, Tsukiji Market Building 6, Chuo 104-0045, Tokyo Prefecture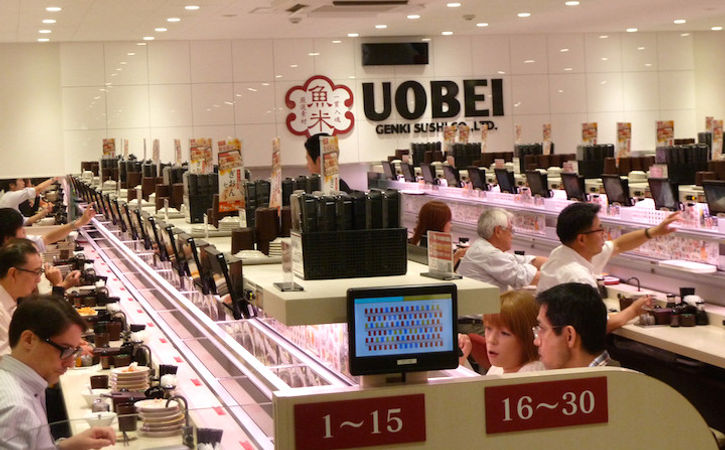 Sushi delivered to you by a "high speed train".
Uobei is another restaurant that specializes in conveyor belt sushi. Unlike the previous conveyor belt restaurant that was just mentioned, Uobei does not have food rotating around. You have to order your food from a touchscreen. The sushi will then be delivered to you on a "bullet train".
Uobei is part of the Genki restaurant chain so you will see many similar restaurants around Tokyo. This is a great place to eat if you are looking for an affordable meal and a unique way to dine. This is a fun place to eat as you witness plates of sushi zooming pass you.
Address: 2-29-11 Dogenzaka, 1F, Shibuya 150-0043, Tokyo Prefecture
7. 
Umegaoka Sushi No Midori Sohonten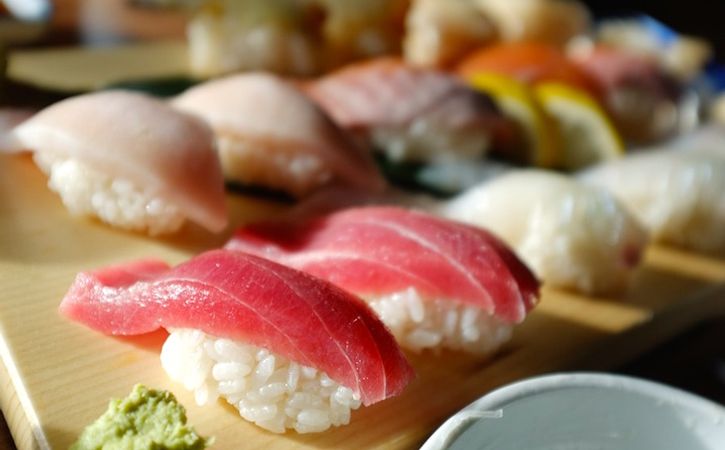 Nontraditional sushi, but still delicious.
Umegaoka Sushi No Midori Sohonten is unlike many sushi restaurants in Tokyo. First of all, the portions of the sushi are larger than the typical portions in Japan. Traditional sushi is usually very simple but this restaurant also offers a variety of special rolls.
You might be familiar with this type of sushi outside of Japan, however, to many Japanese, this is not considered traditional. Despite the how the rolls are made, many people still love the food here. You will be expected to see very long lines at this restaurant. Make sure to make reservations ahead of time to avoid the wait.
Address: 1-12-3 Dogenzaka, Shibuya Mark City East 4F, Shibuya 150-0043, Tokyo Prefecture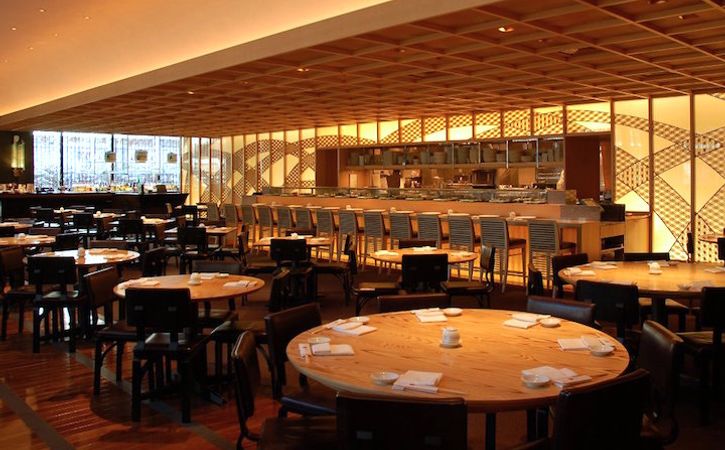 Japanese cuisine with a fusion twist.
Nobu Tokyo is part of a Nobu restaurant chain that is located all over the world. This fine-dining restaurant specializes in fusion Japanese food. With that being said, the food and sushi here is not your typical Japanese cuisine.
Nobu prepares sushi in a more unique way that caters to the international palate. The rolls here are unique from other sushi restaurants in Japan. They even serve mini tacos with pieces of raw fish in it! Aside from sushi, they also serve some popular Japanese dishes such as soba noodles, wagyu beef, and more.
Address: 4-1-28 Toranomon, Toranomon Tower Office1F, Minato 105-0001, Tokyo Prefecture
A personal sushi experience.
Located in Ginza, Kyubey is one of the many upscale restaurants in Tokyo. It is considered to be one of the best sushi restaurants in Tokyo. Dining at Kyubey is special because you will be presented with a personal chef. The chef will walk you through each piece of sushi while you eat it individually.
This renowned restaurant is a little more on the pricey side, however, it is a great place to go if you are willing to splurge on your meal. You'll be offered the best service by giving you an unforgettable and authentic experience.
Address: 7-6, Ginza 8-chome, Chuo 104-0061, Tokyo Prefecture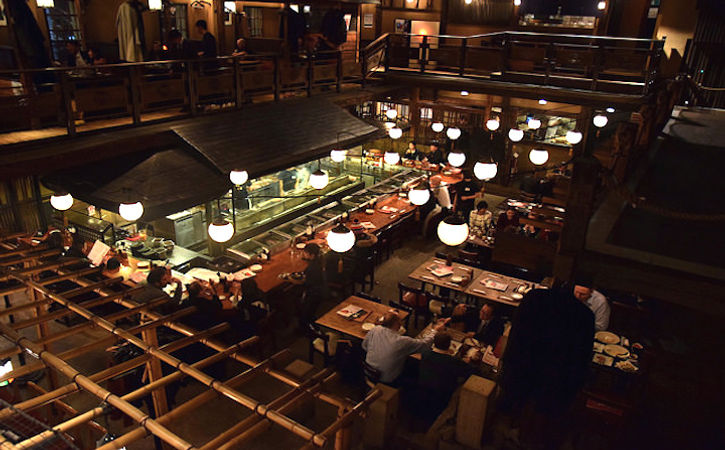 Also known as the "Kill Bill" restaurant.
If you ever watched the movie "Kill Bill", then this restaurant may look familiar to you. This was the restaurant that inspired the setting for the famous fight scene in the movie. The interior that is reminiscent of old Japanese architecture is what inspired the director of the film. Entering this restaurant will make it feel like you just stepped into a movie set.
Near the entryway, you will notice pictures of famous celebrities and politicians that have dined at Gonpachi. This restaurant serves a variety of Japanese cuisine and also has a sushi bar on the second floor. The delicious food, friendly staff, and atmosphere make this a wonderful place to eat. Whether you are a fan of the movie or not, this is a restaurant that you must visit when you are in Tokyo.
Address: 1-13-11 Nishi-Azabu, Minato 106-0031, Tokyo Prefecture
Wait we have a little extra for you!
There are plenty of sushi restaurants in Tokyo but we hope you found this guide to be helpful.
If you are interested in learning how to make sushi or other Japanese cuisines in Tokyo, use the promo code TOKYOSUSHI10 to get a 10% discount on www.cookly.me.