About
If you have an interest in Japanese cuisine 'Washoku' cooking is the easiest way to get closer! By joining us, you'll learn not just about the recipes and the methods but also the history and the stories related to Japanese cooking. Our cooking classes are suitable for anyone who loves Japanese food and culture!
---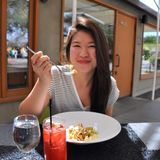 Expert Tips
by Cat Lau

Food Writer · Trained Cook · Hungry Traveler
"
A very hands-on class where we made everything from start to finish by ourselves! This means that we really learned by listening to our instructor and using our recipes to guide us.
"
What I liked: We learned how to make so many dishes! I loved how our instructor, Aya-san, taught us everything with ease. She made it seem so simple. Our cooking stations were also always organized and clean with the help of the team at Cooking Sun!
What to know: You will learn the about the history and the philosophy of Japanese food during the class as you cook each dish.
Good for: People interested in food and culture.
How to get there: Short walk from Yotsuya-sanchome or Shinanomachi
---
Included Highlights
7 types of sushi
All ingredients
Hands on experience
Home cooked
Matcha drinks
Sushi shaping tips
---
Schedule
Afternoon Class:
1:30 pm: Introduction to Washoku cooking
2:00 pm: Cooking Class
4:30 pm: End of course
---
Rolled Egg
Sushi Rice
Inari Sushi
Tuna Roll
Cucumber Roll
California Roll
Nigiri Sushi
Miso Soup
* Please inform us regarding any dietary requirements upon booking.
If you are interested in Wagyu Beef & Kaiseki Class please click here
---
Additional Information
Meeting Point
If you have wifi, please use Google Map, search'Cooking Sun Tokyo'(Shinanomachi 18, Shinjuku-ku, Tokyo).
Coming by Taxi? Show this to taxi driver!Cooking Sun Tokyo:
外国人観光客向けの日本料理教室電話:03−6380−6028  住所:東京都新宿区信濃町18 マヤ信濃町2番館 314号室外苑東通りより東電病院前の信号を入り、道なりに150m程の所にマヤ信濃町3番館がございます。その角を左折、突き当り右手に見えます建物がマヤ信濃町2番館です。(日独協会の日本とドイツの国旗が目印です。)
---
Confirmation
You will receive the confirmation of your booking's availability within 24 hours. Once confirmed, please present your booking reference number at the cooking school.
Cancellation
Full refund will be issued for cancellation made at least 48 hours prior to the activity